MLB.com Columnist
Roger Schlueter
Stats of the Day: For XBH, he's the Manny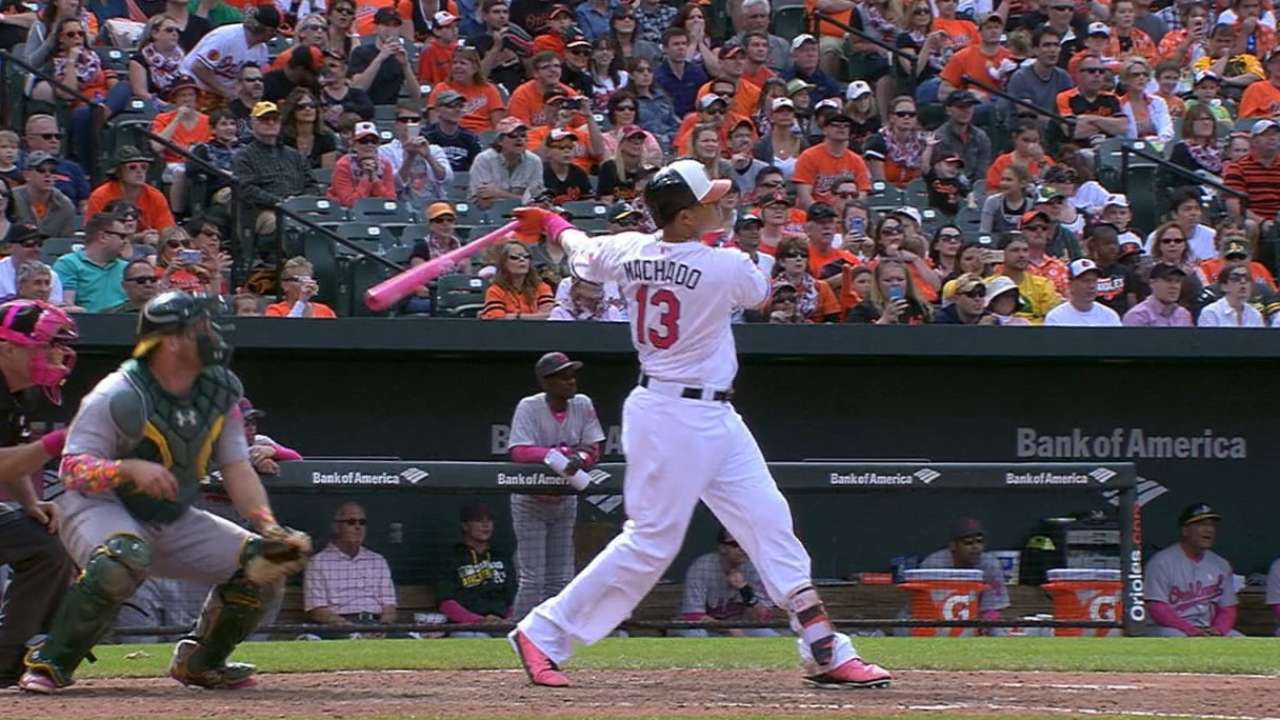 Here are four interesting items from around the big leagues this weekend …
• Manny Machado homered twice on Sunday to help the Orioles to an 11-3 win over the Athletics. Machado's multihomer day gave him 24 extra-base hits over 30 team games, tied for the most for any Orioles player. In 1996, Brady Anderson had 24, and he went on to finish with an American League-leading 92. Machado, playing in his age-23 campaign, leads the AL with his 24 extra-base hits.
• Cast your Esurance All-Star ballot for Machado and other #ASGWorthy players
• On Sunday, Robinson Cano upped his homer tally against the Astros in 2016 to five (in seven games against them). On Sunday, David Ortiz raised his 2016 roundtripper total against the Yankees to five (in six games). The most homers hit by a player in one season against the Astros is 11, by Sammy Sosa in 2001. The most home runs hit by an individual in a season against the Yankees is 11, by Hank Greenberg in 1938. Lou Gehrig owns the single-season record for the most homers against a single club, with 14 against the Indians in 1936.
Houston will be happy to see @RobinsonCano leave town. Watch him go yard again: https://t.co/V18gaPPEyE #YesWeCano pic.twitter.com/6hv32JU85k

— Seattle Mariners (@Mariners) May 8, 2016
#BigPapi ♥️'s Yankee Stadium. #RedSox

HR No. 1: https://t.co/GrLx9EK8pr

HR No. 2: https://t.co/er28IpH4ew pic.twitter.com/BZuMNp432y

— Boston Red Sox (@RedSox) May 9, 2016
• In the Nationals' 13-inning loss to the Cubs on Sunday, Bryce Harper was 0-for-0 with six walks and a hit-by-pitch. The 23-year-old received three intentional walks. Harper set Expos/Nationals team records for walks and times reaching safely, and he tied the team record for intentional free passes, matching Tim Raines from a game on June 15, 1989. Harper became the 72nd player since 1913 to reach safely at least seven times in a game, but he fell shy of the Major League record of nine, shared by Max Carey (1922), Johnny Burnett ('32) and Stan Hack ('42). Of the 72 players to reach safely at least seven times, Harper is the first to do it while recording no at-bats. Harper tied the Major League record for walks in a game, matching the number previously attained by Walter Wilmot (1891), Jimmie Foxx (1938), Andre Thornton ('84) and Jeff Bagwell ('99). In the four previous cases, the walker's team won.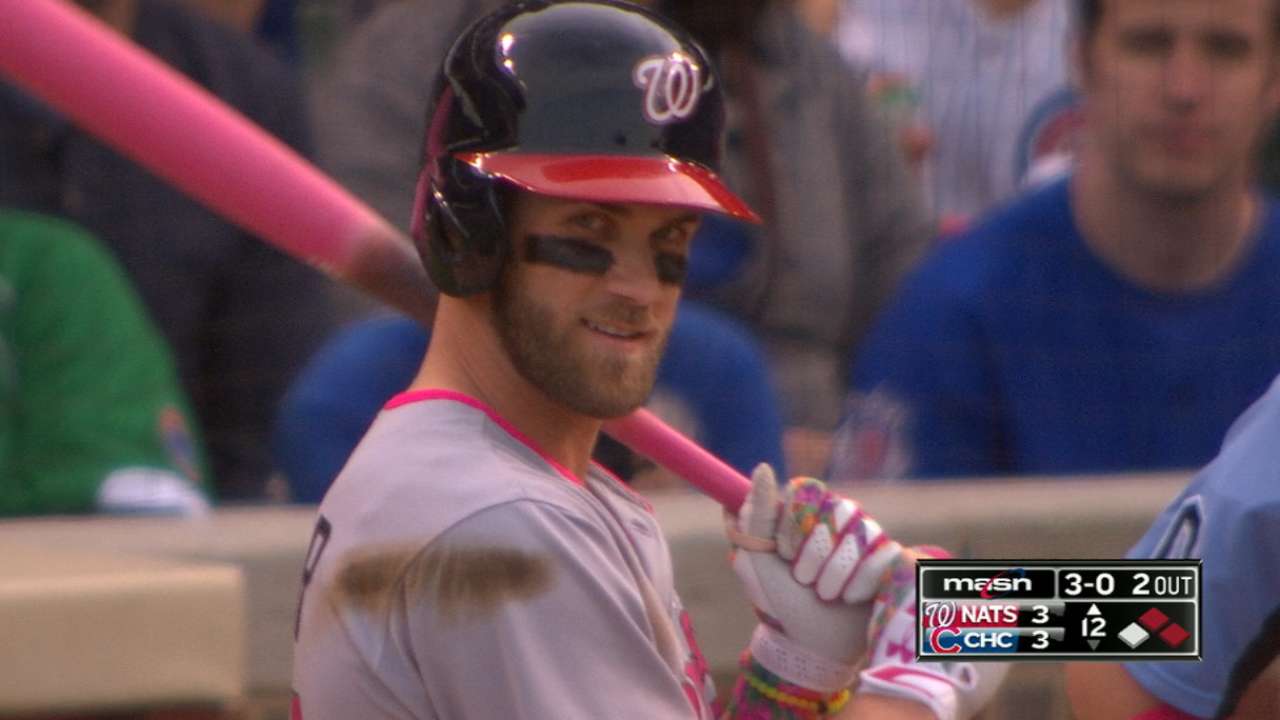 • On Saturday, Chris Sale made it seven wins in seven starts as the White Sox downed the Twins, 7-2. Sale became the 39th pitcher since 1913 to open his year with wins in at least seven straight outings. Within the 39, Sale became the first to do this since Arizona's Brandon Webb opened up with nine in a row in 2008; the first lefty to do this since Dontrelle Willis (seven) in 2005; and the fourth White Sox pitcher since 1913 to accomplish this, joining John Whitehead in 1935 (eight), Jon Garland in 2005 (eight) and Jack McDowell in 1992 (seven).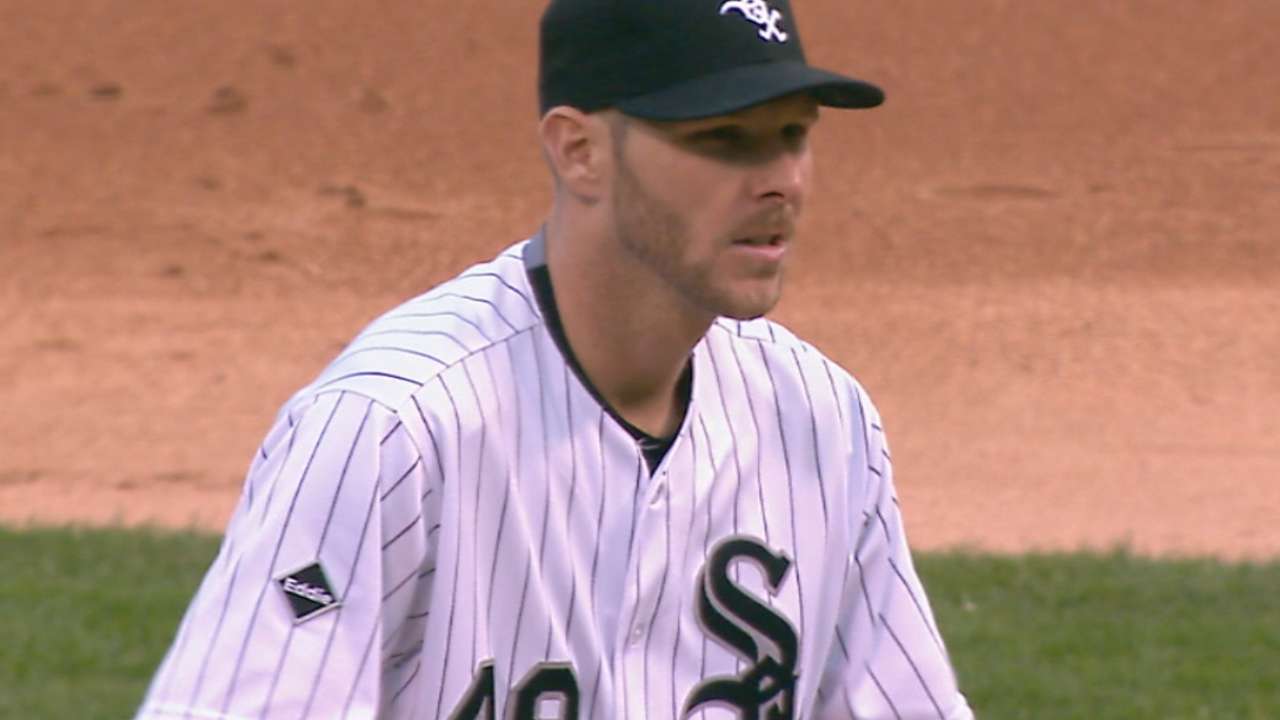 Roger Schlueter is a statistical researcher and writes for MLB.com. This story was not subject to the approval of Major League Baseball or its clubs.