Donning pink 'special' for Zimmerman
Nationals first baseman happy to honor moms on Mother's Day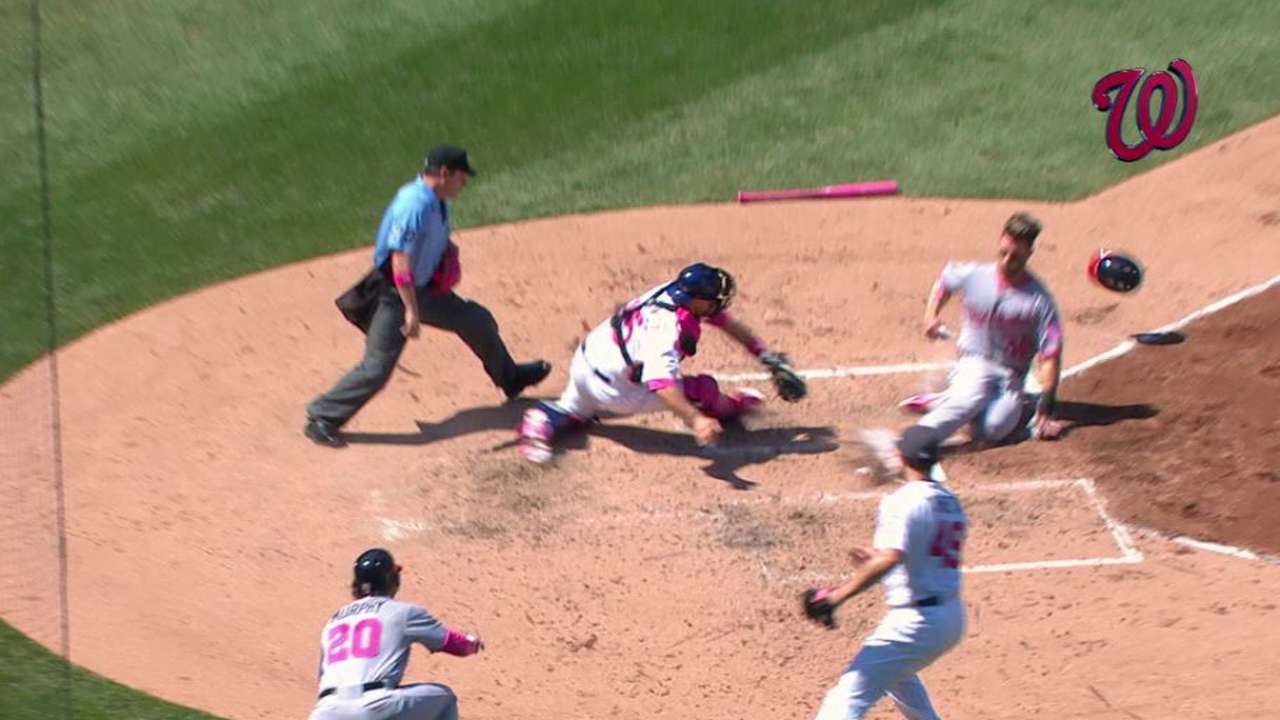 CHICAGO -- The result did not end up going the way the Nationals wanted after dropping Sunday's game, 4-3, in 13 innings to the Cubs, but Washington showed its support for the fight against breast cancer by decking out in pink gear on Mother's Day.
Numerous Nationals players used pink bats, cleats, batting gloves and sleeves as Major League Baseball stepped up its "Going to Bat Against Breast Cancer" initiative. The Nationals jerseys featured pink lettering, numbers and undershirts. Some players sported floral sleeves and shoes. Manager Dusty Baker wore custom pink wristbands with a drawing of his mother.
"We're not all here without help from that person," first baseman Ryan Zimmerman said. "The sacrifice, and being a parent now, you see how much you do have to sacrifice for kids. I don't think you realize it when you're young, but once you look back you really realize how much your parents do for you to give you the opportunity to even have a chance to be here. Just being able to honor them and wear that one day out of the year is special."
Authentic game-used Louisville Slugger pink bats and other gear from Mother's Day games will be auctioned exclusively at MLB.com, with proceeds benefiting the fight against breast cancer. The complete Mother's Day collection -- which includes the special caps and jerseys being worn by players on Sunday -- is available at the MLB.com Shop.
Jamal Collier covers the Nationals for MLB.com. Follow him on Twitter at @jamalcollier. This story was not subject to the approval of Major League Baseball or its clubs.