Fruitless 8th leaves Padres perplexed
Trailing by one with bases loaded and no outs, SD unable to deliver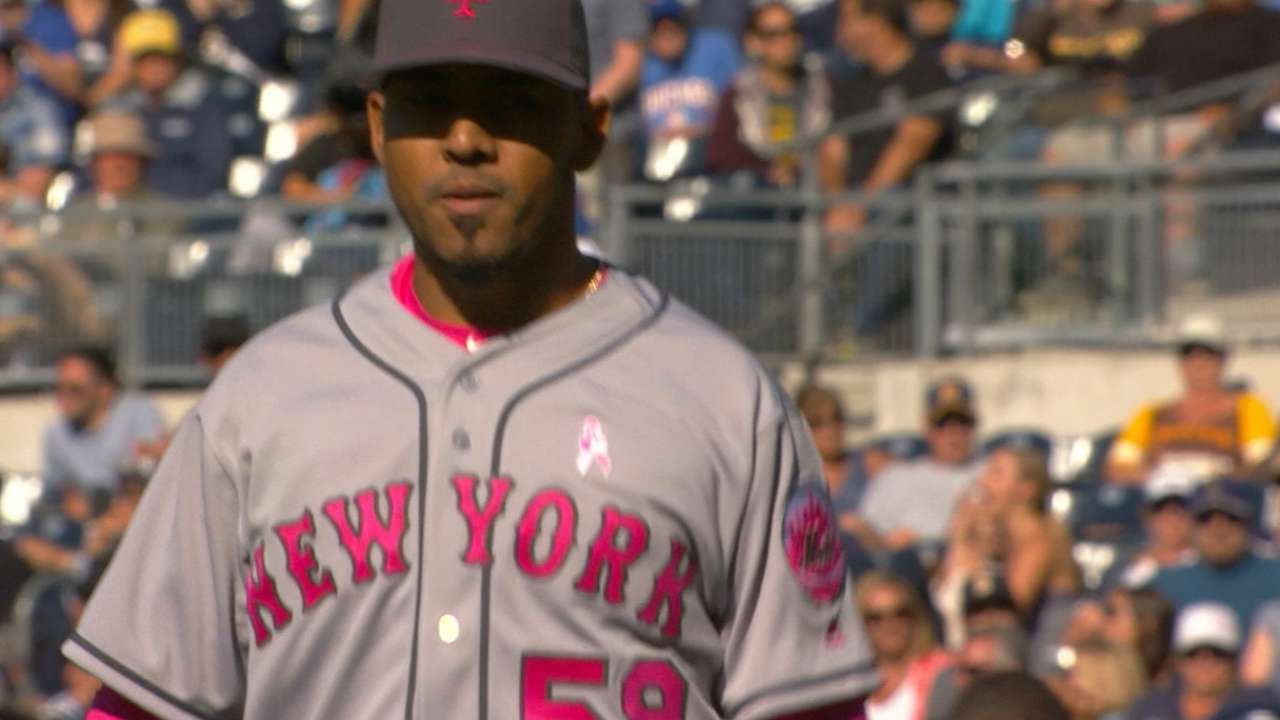 SAN DIEGO -- Manager Andy Green liked the Padres' chances in the eighth inning of Sunday's game, in which all the players wore pink.
But Green was seeing red after a scenario unfolded that seemed unlikely in a 4-3 loss to the Mets.
Trailing the Mets by one run, the Padres had the bases loaded with no outs and the heart of the lineup coming up. Third-base coach Glenn Hoffman, knowing the outs and who was on deck, didn't hesitate in flashing a stop sign on Jon Jay when he approached third, advancing from second on Matt Kemp's single.
"You want to be a little more risk aversive at third base with no outs,'' said Green, Arizona's third-base coach last year. "He's making those kind of calls based on that and we had three chances to get [Jay] home.''
But the home team could not deliver. Three up, three down and it was basically game, set and match.
"We were right in the middle of the order and I think that plays a part of it,'' Green said of Hoffman holding Jay. "You are out there in real time, making real decisions and you factor the risk you want to take in that given moment.
"You believe in your players enough that your 4-5-6 guys, your horses, are going to come through and that is what [Hoffman] did there and we didn't pick it up.''
Instead, the Padres were sent down by reliever Antonio Bastardo.
With an anxious Jay inching down from third, pinch-hitter Derek Norris struck out swinging.
With Jay still leading off, Melvin Upton Jr. popped up to first base.
With Jay wondering if he would ever score, Bastardo fanned Ramirez with a high pitch out of the strike zone.
"I know everyone in the clubhouse takes it really hard when they don't come through in those chances because everyone wants to come through,'' Green said.
Norris couldn't believe he didn't put one of Bastardo's offerings in play. After missing strike three, Norris had to see the tape to get confirmation of what went askew.
"I looked at the video of the last swing and I'm not really quite sure how it got underneath my barrel or over my barrel,'' Norris said. "I couldn't figure it out. I thought I was right on it.''
Instead the Padres head to Chicago to play the Cubs, perplexed that the one big hit stayed in hibernation.
"I did everything I could do,'' Norris said. "I didn't try to strike out. It's just the way the game goes sometimes.''
Jay Paris is a contributor for MLB.com based in San Diego. This story was not subject to the approval of Major League Baseball or its clubs.