Black, gold and pink: Pirates celebrate moms
Club joins MLB in wearing special uniforms amid traditional Mother's Day tributes
ST. LOUIS -- The Pirates mixed some pink into their black and gold on Sunday, joining all 30 clubs in wearing special uniforms and gear to celebrate Mother's Day.
This is the first year Major League Baseball implemented new uniforms and caps for Mother's Day. Throughout baseball, players and on-field personnel wore the symbolic pink ribbon for breast cancer awareness on their specially designed uniforms.
• Going to Bat Against Breast Cancer
The Pirates' gray road jerseys added a splash of pink into their regular logos. Players wore dark gray caps featuring a pink "P," and their numbers were pink rather than black or gold.
Powerful,Strong,Caring,Courageous,and Faithful.My Mom. Happy Mother's Day to you and all the Mothers out there today pic.twitter.com/snyse5Vrsk

— andrew mccutchen (@TheCUTCH22) May 8, 2016
All nine players in Pittsburgh's starting lineup broke out their pink bats and put them to good use in a 10-5 win over the Cardinals at Busch Stadium.
Several players -- including Andrew McCutchen, John Jaso, Jordy Mercer and David Freese -- wore bright pink cleats, and a few sported specially made Mother's Day spikes. To honor his mother and wife, Josh Harrison laced up a pair of cleats covered in images of pink and purple flowers.
The Pirates wore pink undershirts and pink batting gloves. Before taking the field, they took to Twitter to wish every mom -- especially theirs -- a happy Mother's Day.
Also, I want to wish my Mom a Happy Mother's Day! Thanks for all that you have done! #MothersDay

— Jordy Mercer (@jordy_mercer) May 8, 2016
Chris Stewart, who had two RBIs, got in the spirit a day early, breaking in some Mother's Day-ready pink catcher's gear before Saturday's game. He put it on for Sunday's game, catching Gerrit Cole's strong six-inning start in a pink-and-gray chest protector and shinguards.
"I loved it. It wasn't too loud for me, which is good," Stewart said. "Mine was a little more subtle. It went well with the gray. I thought it was great."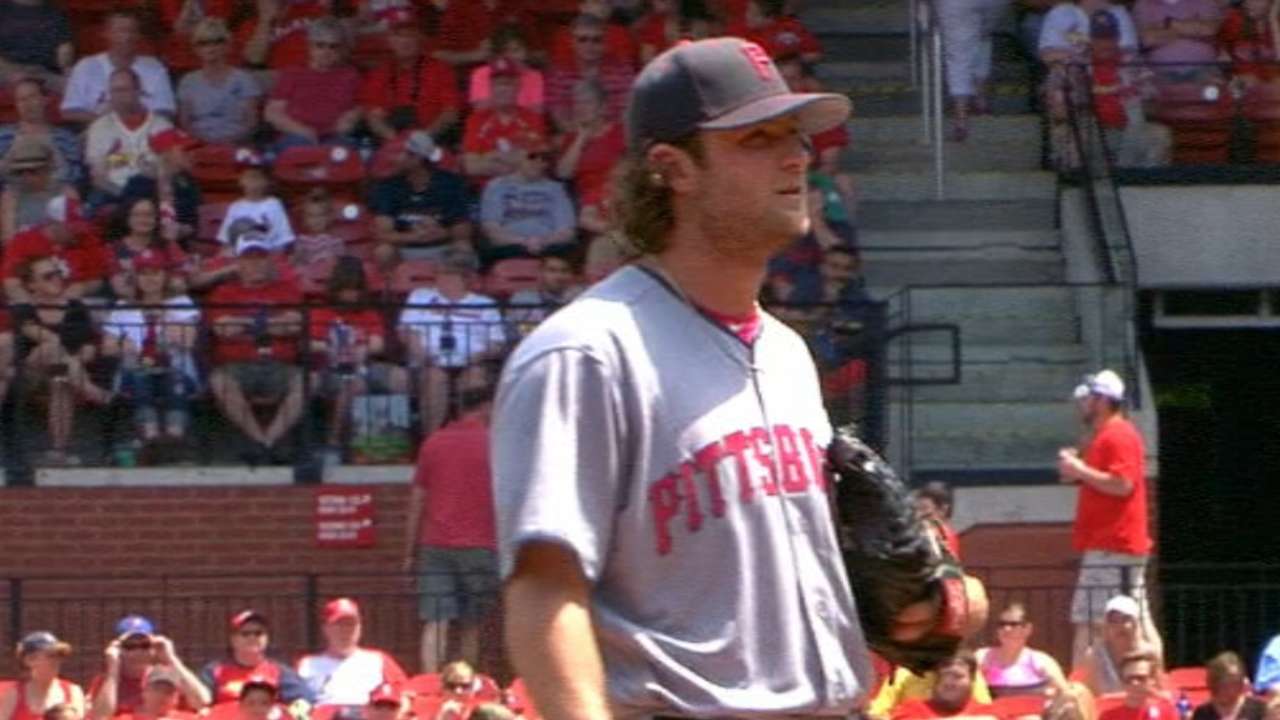 Authentic game-used Louisville Slugger pink bats and other gear from Mother's Day games will be auctioned exclusively at MLB.com, with proceeds benefiting the fight against breast cancer. The complete Mother's Day collection -- which includes the special caps and jerseys being worn by players on Sunday -- is available at the MLB.com Shop.
Adam Berry has covered the Pirates for MLB.com since 2015. Follow him on Twitter at @adamdberry. This story was not subject to the approval of Major League Baseball or its clubs.