Practice, patience paying off for Herrmann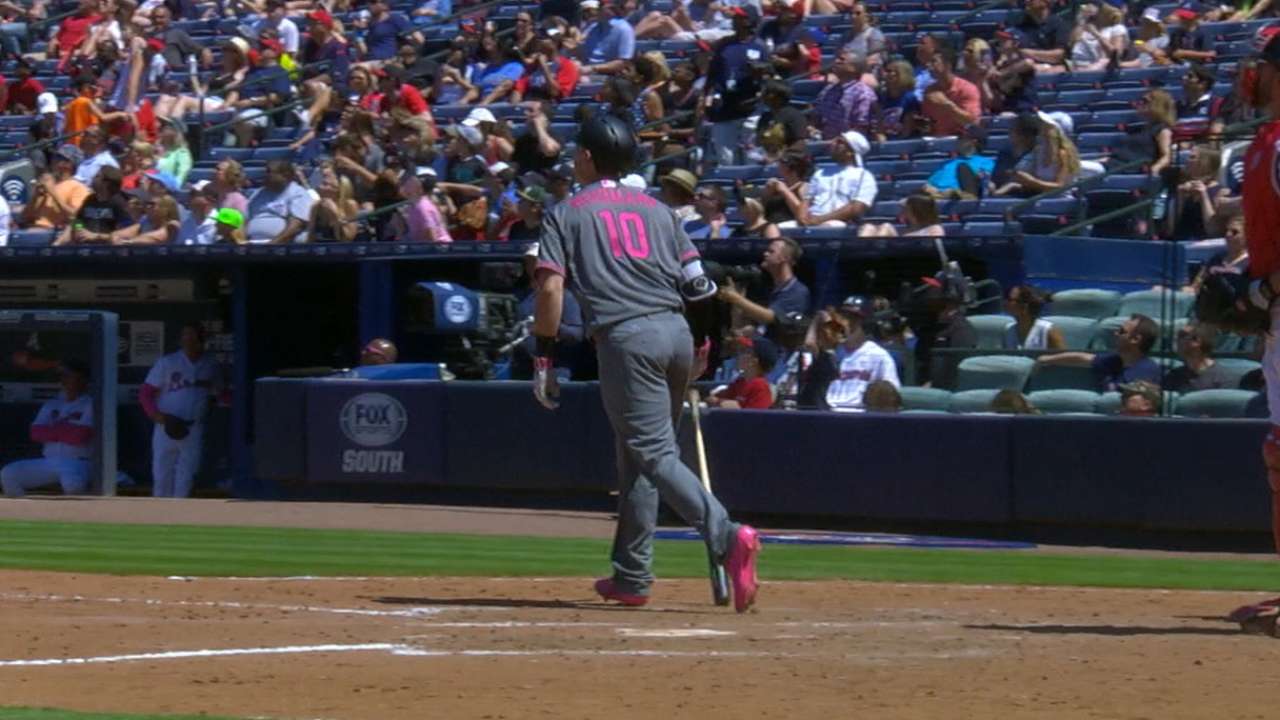 ATLANTA -- There were times during his 1-for-20 start to the season that D-backs catcher Chris Herrmann allowed the negative thoughts to crowd his mind.
It was hard at that time to envision a day like Sunday, when he hit a pair of home runs to lead the D-backs past the Braves, 5-3, at Turner Field.
"I was at a pretty low point that first couple weeks," Herrmann said.
He's riding high now, having gone 9-for-19 with three home runs in his last five starts behind the plate. It makes all the work he put in with hitting coach Dave Magadan and assistant hitting coach Mark Grace worth it.
"Just to finally have some good at-bats and not really striking out a whole lot -- like I was in the beginning of the season -- and just making adjustments feels really good," Herrmann said. "Just going up there with some confidence, knowing that something good is going to happen, has helped me out a lot. I've had Magadan and I've had Gracie to talk to about that stuff. Both of those guys have played a very long time, and if I need any help or any advice, I think those two are some good ones to go to. They've really helped me out with that."
Herrmann's first homer came in the seventh and hit about three-quarters of the way up the foul pole in right.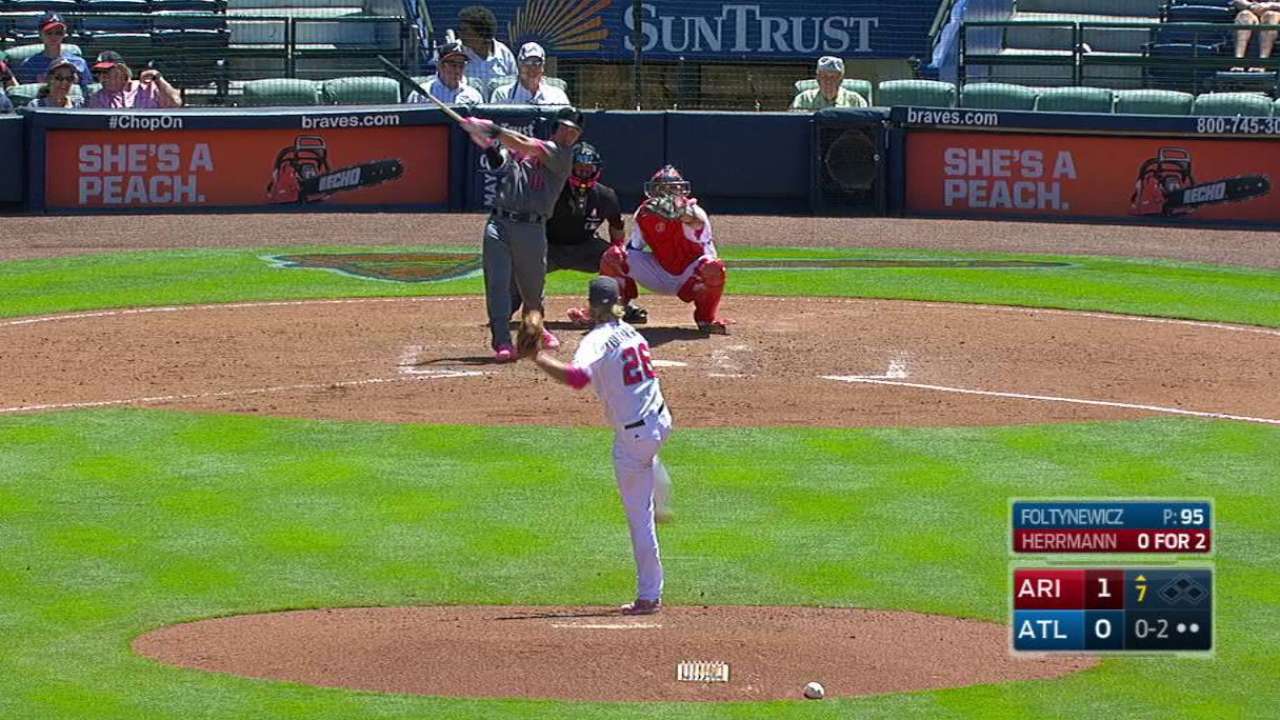 The second proved to be the game-winner, as the two-run shot to right in the 11th provided the margin of victory.
Both of the homers came on 0-2 counts. It's the first time a player has hit two home runs in the same game on 0-2 counts since the Astros' Lance Berkman did it on July 9, 2000.
"They were pretty big at-bats," Herrmann said. "I'm just happy I could help the team. That's the main thing here is just to help this team win. Everybody has to pick each other up, and I'm the one that came through today. One home run is great, but to hit two in one game is something else."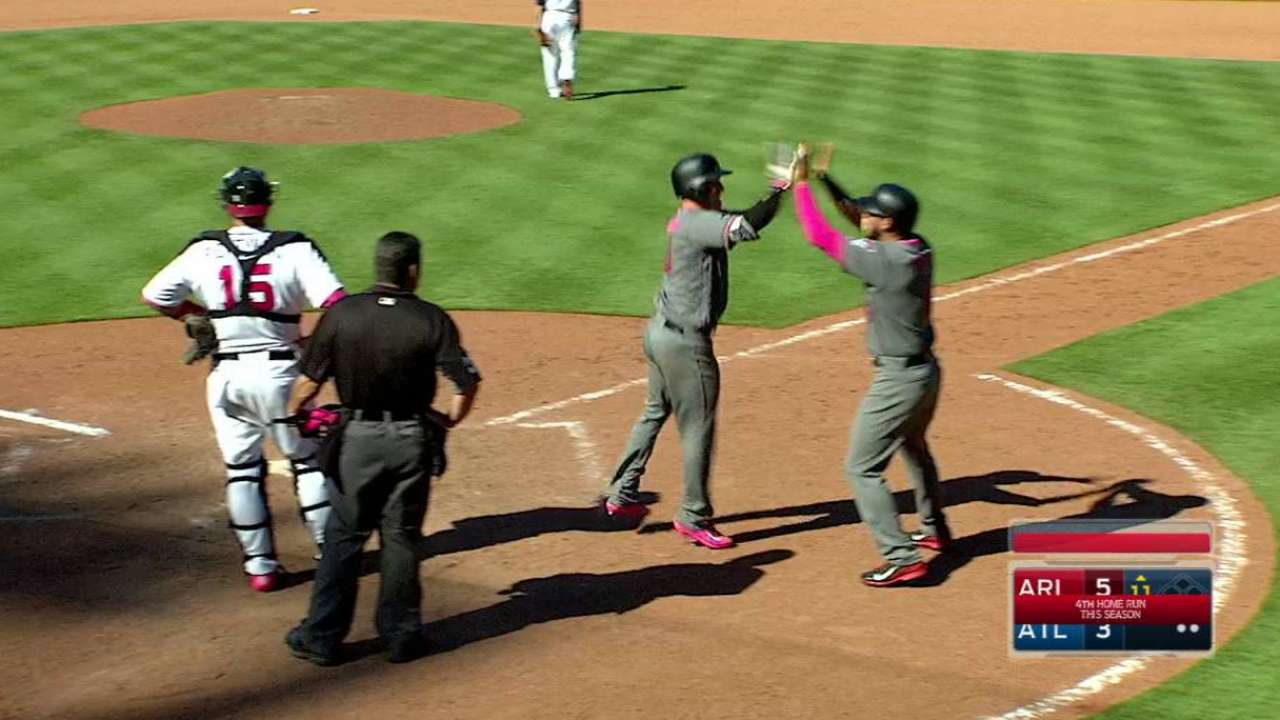 With the way Herrmann is swinging the bat, manager Chip Hale said he will look to get him more at-bats. That could come with more time behind the plate or in the outfield or first base, where Herrmann has also played during his career.
Herrmann came into this season with a .181 career mark in 353 big league at-bats. Arizona general manager Dave Stewart, though, used to be Herrmann's agent, and he believed that given enough regular at-bats, Herrmann would produce.
"So give the credit to Dave Stewart for this," Hale said.
Herrmann is just hoping to keep his success going so he can prove wrong those who doubted his abilities.
"It's been frustrating just to see how my career has been up until now," Herrmann said. "I just want to really keep what I have going and show everybody that I can play and that I am capable of competing at this level."
Steve Gilbert has covered the D-backs for MLB.com since 2001. Follow him on Twitter @SteveGilbertMLB. This story was not subject to the approval of Major League Baseball or its clubs.