Braves show some fight for embattled skipper
Despite poor start to season, Atlanta is playing hard for Gonzalez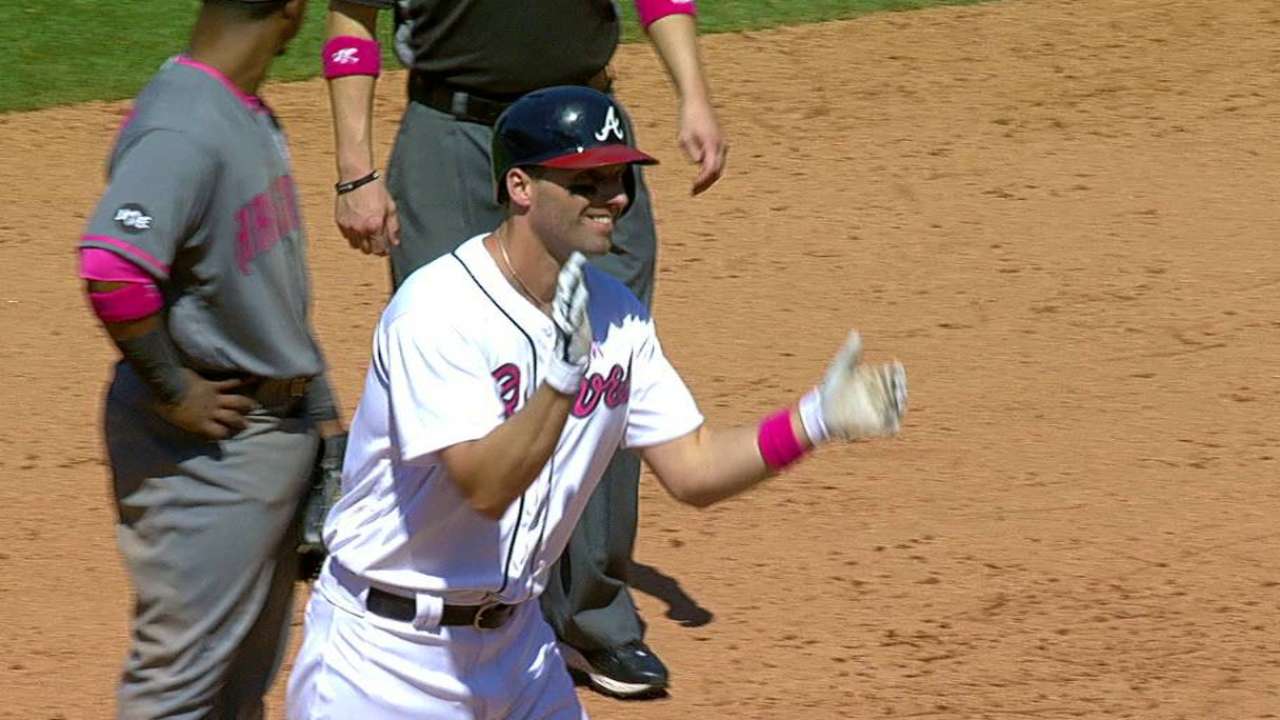 ATLANTA -- Though the result of Sunday's 5-3, 11-inning loss to the D-backs proved to be all too familiar to the Braves, who have won just seven of their first 30 games, the latter portion of this contest provided indication that there is still some fight in this team that understands its manager, Fredi Gonzalez, is definitely on the hot seat.
"I saw a lot more enthusiasm the last five or six innings," Atlanta outfielder Jeff Francoeur said. "I know it's tough to take a positive when we're losing like we are right now. But I saw some fight for the last five or six innings that I hadn't seen for a little bit."
After delivering a game-tying double during a three-run eighth inning, Francoeur had a chance to deliver a walk-off victory that would have certainly created some much-needed positive energy for a team that has lost 15 of its first 16 home games. But the veteran outfielder grounded out with the bases loaded, and the D-backs eventually won the game when Chris Herrmann capped his two-homer game by hitting Jim Johnson's 0-2 changeup over the right-center-field wall with two outs in the 11th inning.
"After we came back today, I think if anbody wonders whether we're playing for Fredi or anything like that, [they saw] we're still working and playing our [butts] off," Francoeur said.
As Gonzalez walked away from Sunday's loss and peered back across his dugout, he could see the toll this season's first five weeks has taken on his players.
"You sit in the dugout and you see guys' faces," Gonzalez said. "They're wearing it pretty good. It's not only me and the coaching staff. I was hoping to get a walk-off win just to get momentum going, but they made some pitches when they had to."
Though they were hoping to avoid having to address this development before the end of the season, Braves executives have been left with no choice but to at least discuss whether they need to relieve Gonzalez of his managerial duties and possibly give the job to either bench coach Eddie Perez or first-base coach Terry Pendleton.
There was speculation a change was either going to be made late last week or on Monday, when the Braves enjoy an off-day ahead of a three-game set that begins against the Phillies on Tuesday. But over the past few days, it seems Atlanta has become more receptive to giving Gonzalez at least a couple more weeks to compete against a kinder schedule and a roster that now includes Ender Inciarte, the energetic outfielder who returned on Saturday from a month-long absence caused by a strained left hamstring.
"We haven't had the chance to have the team together," Francoeur said. "We've got 13 or 14 [games] in a row after the off-day. It would be nice to kind of have the 25 guys that are here and see what we can do and build some momentum. I think we can."
Mark Bowman has covered the Braves for MLB.com since 2001. This story was not subject to the approval of Major League Baseball or its clubs.