Price thinks Pedroia may have solved the puzzle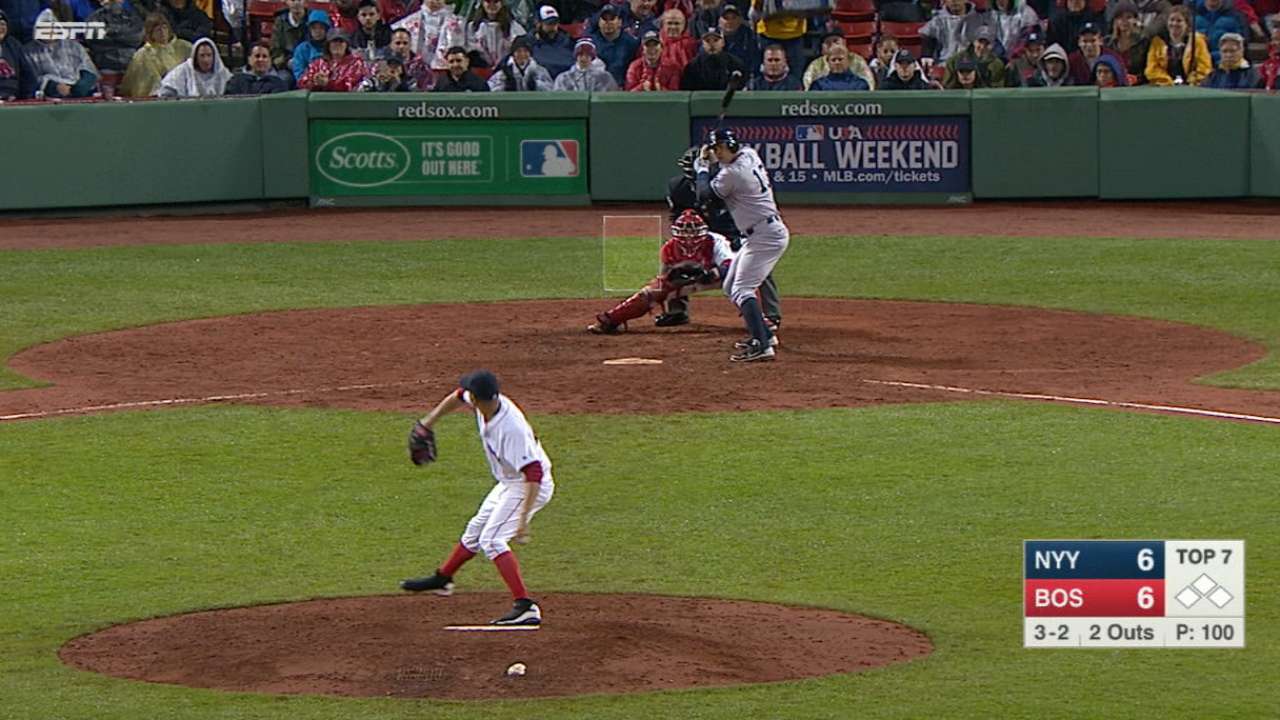 NEW YORK -- Struggling Red Sox ace David Price got a mechanical tip from teammate Dustin Pedroia that he thinks can make a significant impact going forward.
"You know, he was just watching video of himself hitting off lefties and I came into that video and he showed me," said Price. "We were talking in the food room -- and he was like, 'Man, something, you know, something doesn't like right. Something looks a little off.' And he showed me a picture of myself in 2012, '13, '14, and then, you know, what I've done so far this year."
• Cast your Esurance All-Star ballot for Pedroia and other #ASGWorthy players
Pedroia noticed that Price's hands weren't going up and down enough during his delivery.
"Whenever I talk to other pitchers or at baseball camps, it's something that I always say. I want my hands and my right leg or my right knee to be connected by a string," Price said. "Whenever my knee goes up, I want my hands to go up. Whenever my knee goes back down, I want my hands to go back down.
"My hands have stayed [in one place], and that's not allowing me to get my full leg lift. It's been about a half of a leg lift of what I'm used to and it takes away, you know, the rhythm of what I do out there on the mound. And whenever my hands stay here, I have to be able to time it up perfect for me to be able to execute that pitch. It gives me no margin of error, because I don't have that rhythm."
Price was grateful Pedroia would take the time to notice something like that, and also a bit annoyed that he didn't pick it up on his own before Sunday.
"I know I'm very good at making adjustments on the fly, and I didn't pick that up," said Price.
Pedroia helped teammate Mike Napoli detect a flaw in his swing last year, and the slugger went on his best hot streak of the season right after.
"We're here for each other. You want everybody to do good," said Pedroia. "Trying to win, man."
Manager John Farrell and pitching coach Carl Willis are also working with Price to help him get on track.
"As we've gone back and reviewed film, there have been some things he's migrated towards with some changes in his delivery," said Farrell. "As a number of people have dug through some video and looked at David and compared currently with 2013, 2014, there's some definite changes and adjustments that have taken place and that need to be made. This doesn't look like an overhaul, but right now he's blocking himself off and not getting to his natural power."
In his first seven starts with the Red Sox, Price is 4-1 with a 6.75 ERA. He has given up six earned runs or more in three of his last four starts. Price's velocity has also decreased, and he doesn't doubt the mechanical flaw had something to do with it.
"I'm not putting myself in my normal power position, absolutely," said Price. "My leg lift, it at least comes up to my belt if not a little bit higher. And for right now, it's getting about right here -- it's almost a slidestep out of the windup. And you know I'll fix that tomorrow, and hopefully Thursday I'll go out there and I'll be back to my normal self."
Price insists that the seven-year, $217 million contract he signed with the Red Sox hasn't impacted him negatively from the mound.
"Every 14 or 15 days when we get paid, I don't know what my paycheck looks like. I'm not going to ask my agent," said Price. "I'm not going to sit down and do the math. I don't spend money. I don't live a lavish lifestyle. I wear free Jordan stuff to the field every day. The money that I spend is probably on Amazon and that's with stuff I need for the house and stuff like that.
"I'm the same guy. I'm not going to let my struggles affect me. The amount of money that I make, I'm not going to change. I can't change. I love this game. I put everything I have into it. It's why I show up to the field the time that I show up and the reason I work as hard as I work. I love it."
Ian Browne has covered the Red Sox for MLB.com since 2002. Follow him on Twitter @IanMBrowne and Facebook. This story was not subject to the approval of Major League Baseball or its clubs.