Pink-clad Braves gain perspective on Mother's Day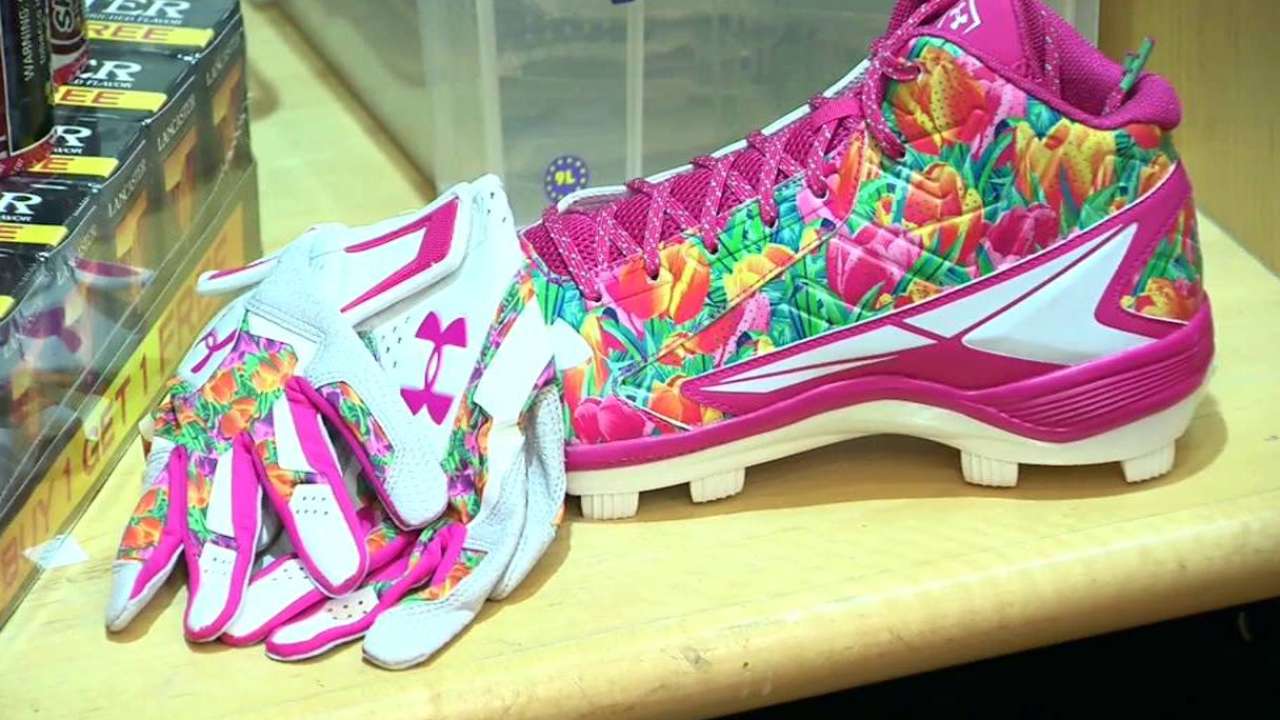 ATLANTA -- Braves outfielder Jeff Francoeur's wardrobe does not consist of many pink articles. But like many other Major Leaguers on Sunday, Francoeur gladly did his part to help celebrate Mother's Day and promote the fight against breast cancer.
The color pink was predominantly displayed as it adorned many of the bats, spikes, uniforms and sleeves used during the Braves' 5-3, 11-inning loss to the D-backs on Sunday afternoon. Atlanta right fielder Nick Markakis used a pink bat throughout his three-hit performance, and Francoeur swung a pink bat when he delivered a game-tying, two-run double in the eighth inning.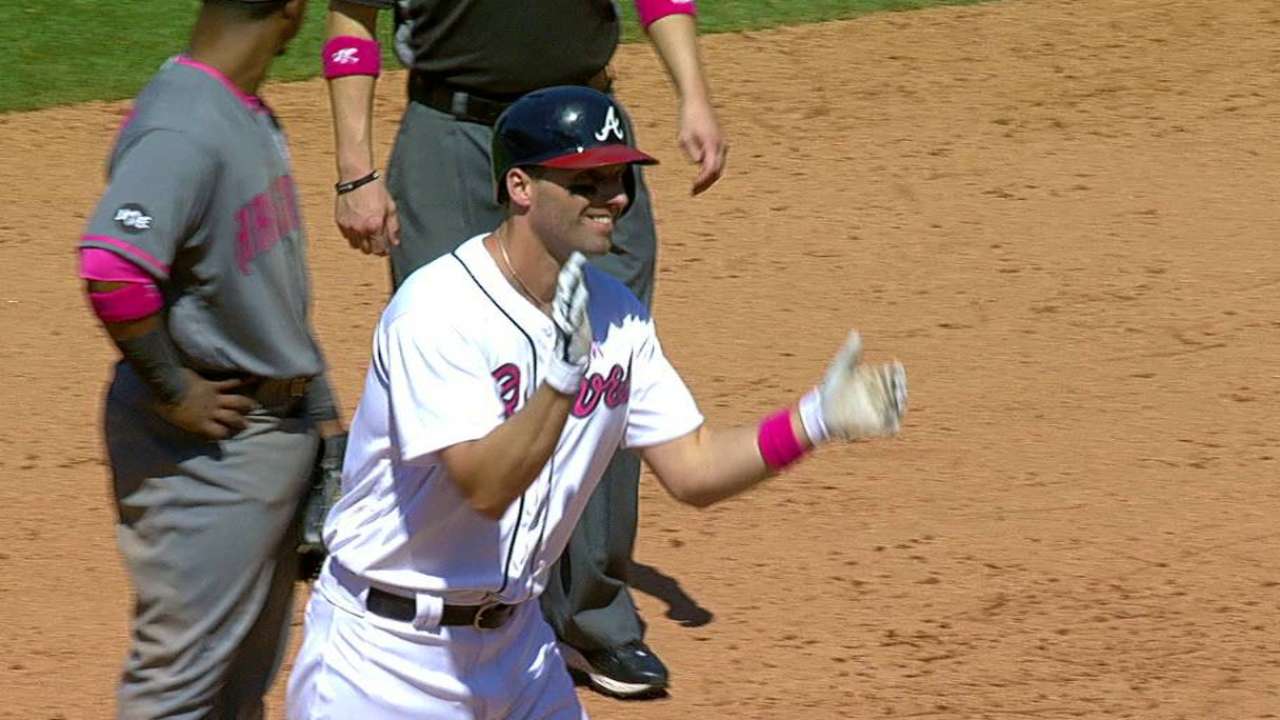 "It's really pretty cool when you see a lot of the moms out there today," said Francoeur, who lost an aunt to breast cancer. "I know my wife and [Freddie Freeman's] wife came in today and met with one of the ladies undergoing chemo for breast cancer. As tough as we grind, it puts everything in perspective a little bit for our sport in that at the end of the day, this isn't life and death, and that is."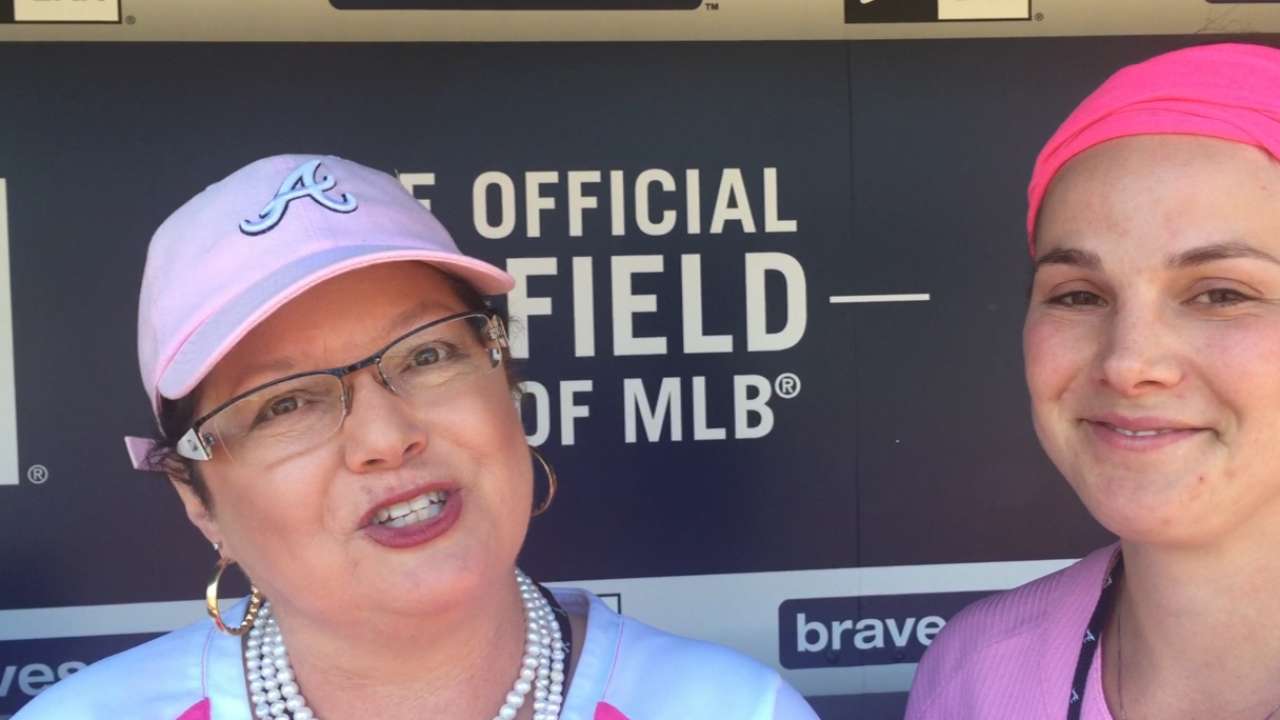 Francoeur, Freeman and Markakis spent some time before the game with Honorary Bat Girl Carol Thomas, a 50-year-old Alabama native who has battled breast cancer since 2013. Thomas' fight provides the kind of inspiration Major League Baseball has tried to highlight while promoting the "Going to Bat Against Breast Cancer" initiative annually on Mother's Day.
Authentic game-used Louisville Slugger pink bats and other gear from Mother's Day games will be auctioned exclusively at MLB.com, with proceeds benefiting the fight against breast cancer. The complete Mother's Day collection -- which includes the special caps and jerseys being worn by players on Sunday -- is available at the MLB.com Shop.
Braves right-hander Mike Foltynewicz certainly did not seem to be bothered as he wore pink cleats adorned with flowers while limiting the D-backs to two runs over seven innings. Foltynewicz was happy to pitch in front of his mother, who just last month had to bury her own mother.
"Those spikes look better with the pants over most of them, but it's special to not only support my mom, but all of the moms out there," Foltynewicz said. "They do a heck of a lot for everyone out there."
Mark Bowman has covered the Braves for MLB.com since 2001. This story was not subject to the approval of Major League Baseball or its clubs.