Cardinals miss early opportunities to KO Cole
Club unable to cash in runs during first and third innings, goes 3-for-12 with RISP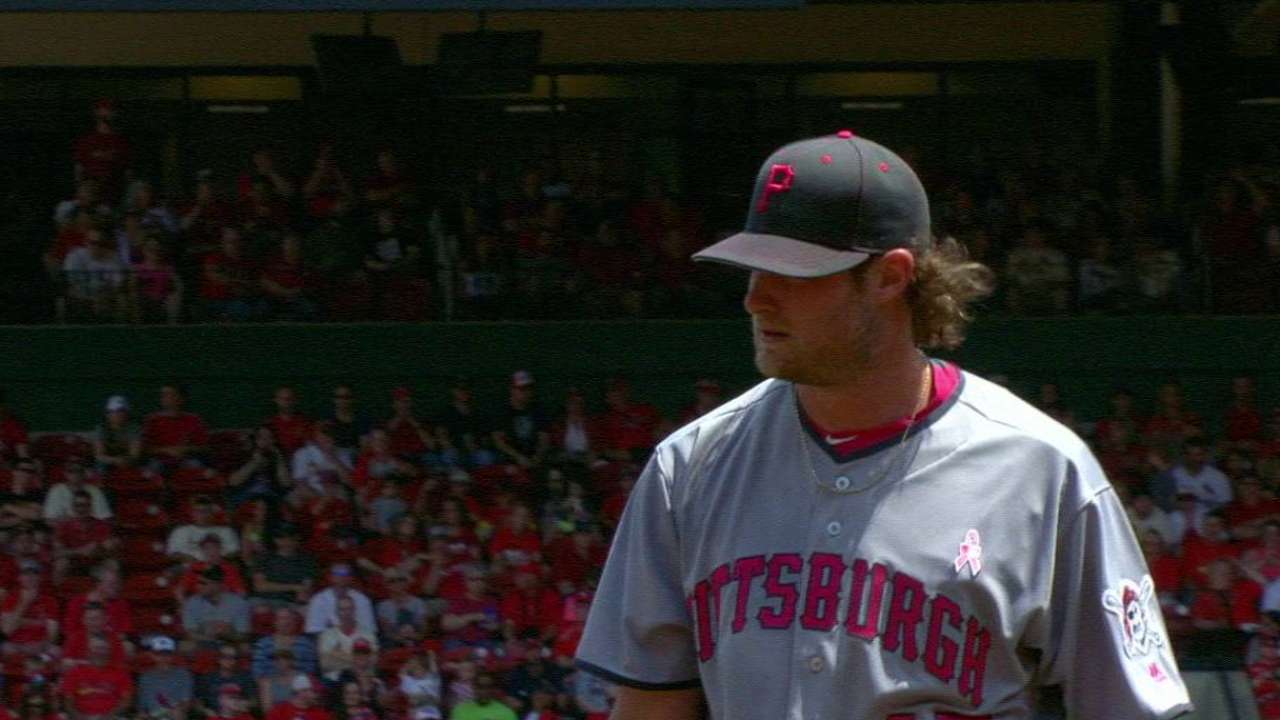 ST. LOUIS -- Missed scoring opportunities always seem to come back and bite a team.
That's what happened to the Cardinals in their 10-5 loss to the Pirates on Sunday. St. Louis had chances in the first and third innings to put crooked numbers up against Pirates starter Gerrit Cole and couldn't do it.
"We let him gain some traction, he got back into the game, and a good pitcher will do that," Cardinals manager Mike Matheny said. "He'll figure out a way to give his team a chance to stay in the game, and the next thing you know he's out there in a position to get the win, which he did."
In the first, Stephen Piscotty singled, stole second and moved to third when Matt Holliday struck out but reached first on a wild pitch. Brandon Moss struck out, bringing up Yadier Molina with two outs. Molina was intentionally walked, but Jeremy Hazelbaker struck out looking.
"Any time you've got the bases loaded and I come up in a big situation and strike out like that, it's a frustrating situation," said Hazelbaker, who hit his sixth homer of the season in the sixth inning. "But there's eight more innings and a lot of baseball left."
In the third, Matt Carpenter and Piscotty singled to lead off the inning, but Piscotty was erased when Holliday grounded into a double play. Moss doubled home Carpenter, but that was the only run the Cardinals got in the frame.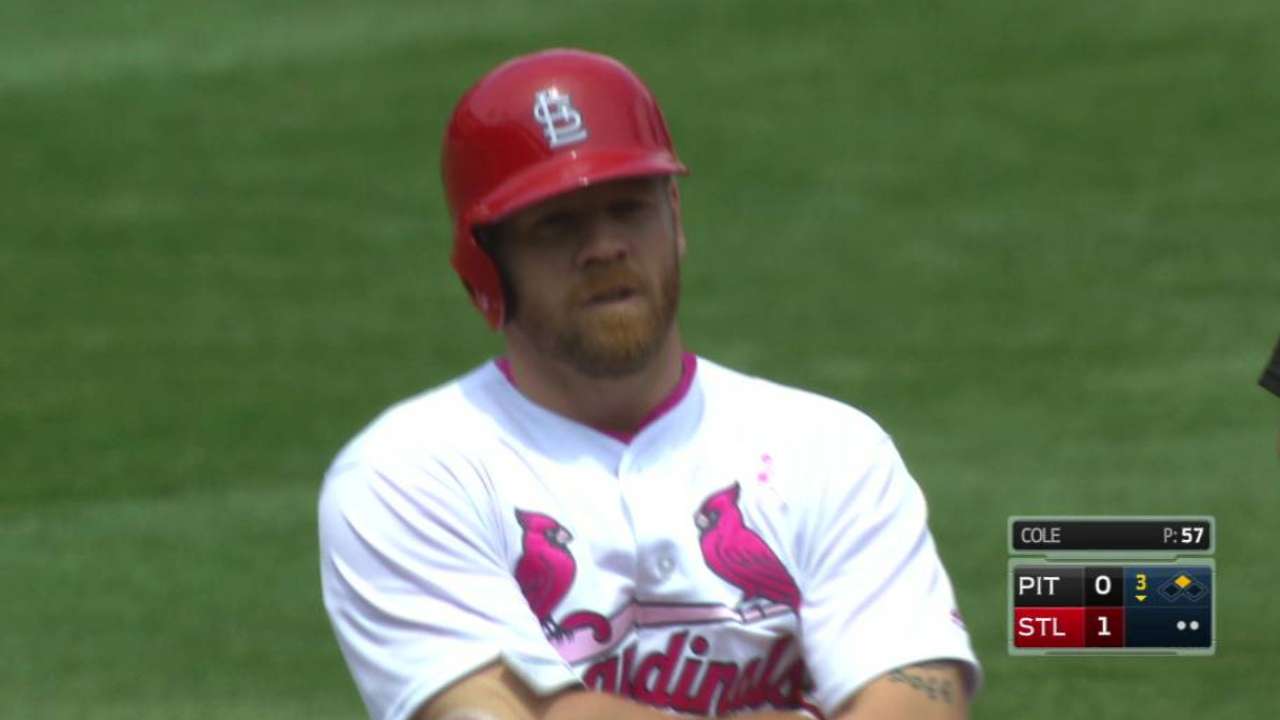 "You want to get ahead there, but Moss came up with a big hit, got us on the board early, which was very important," Piscotty said. "We just didn't quite have it today."
The Cardinals -- who also left the bases loaded in the ninth, when Molina grounded into a double play to end the game -- went 3-for-12 with runners in scoring position.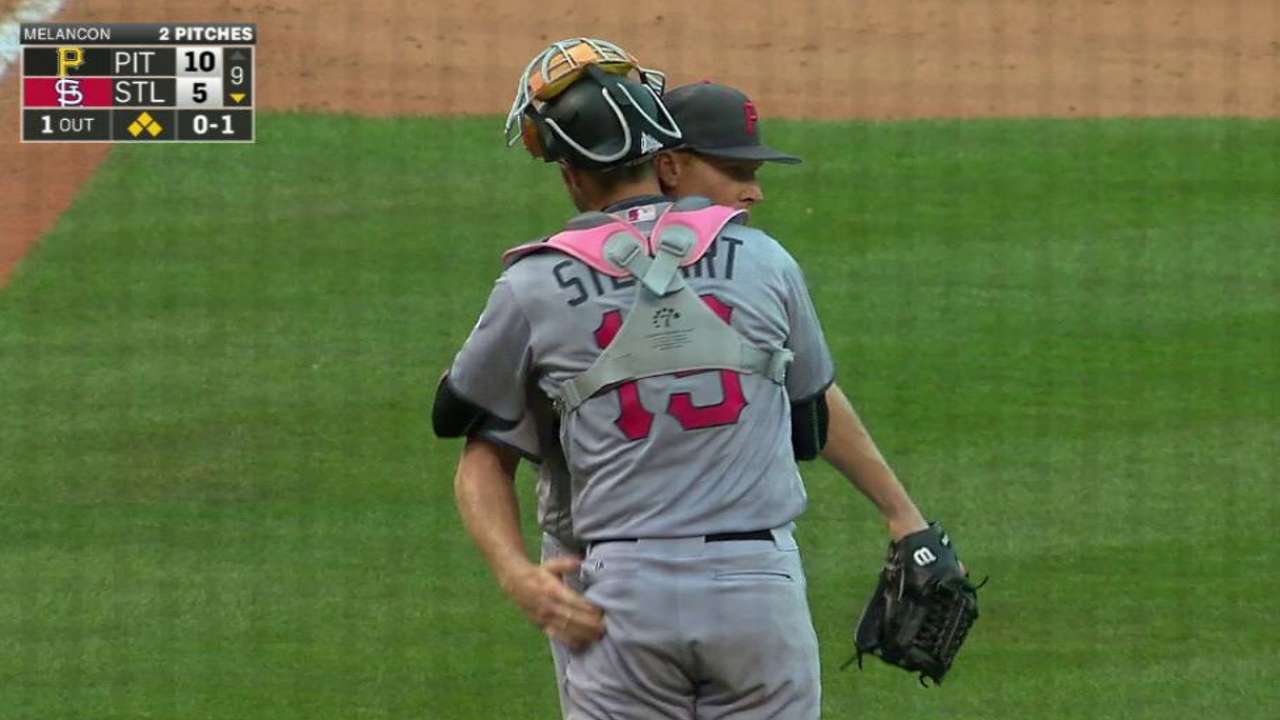 "We had a great opportunity in the first -- we get the bases loaded, and we worked him up to 33-34 pitches, and we need to make a dent, at least in that inning -- and then try to capitalize on that in the second, too, and he's already got his pitch count up high," Matheny said.
Starter Michael Wacha (2-3) was unable to record a quality start for the first time in five starts, giving up four runs over six innings despite starting out with three perfect frames.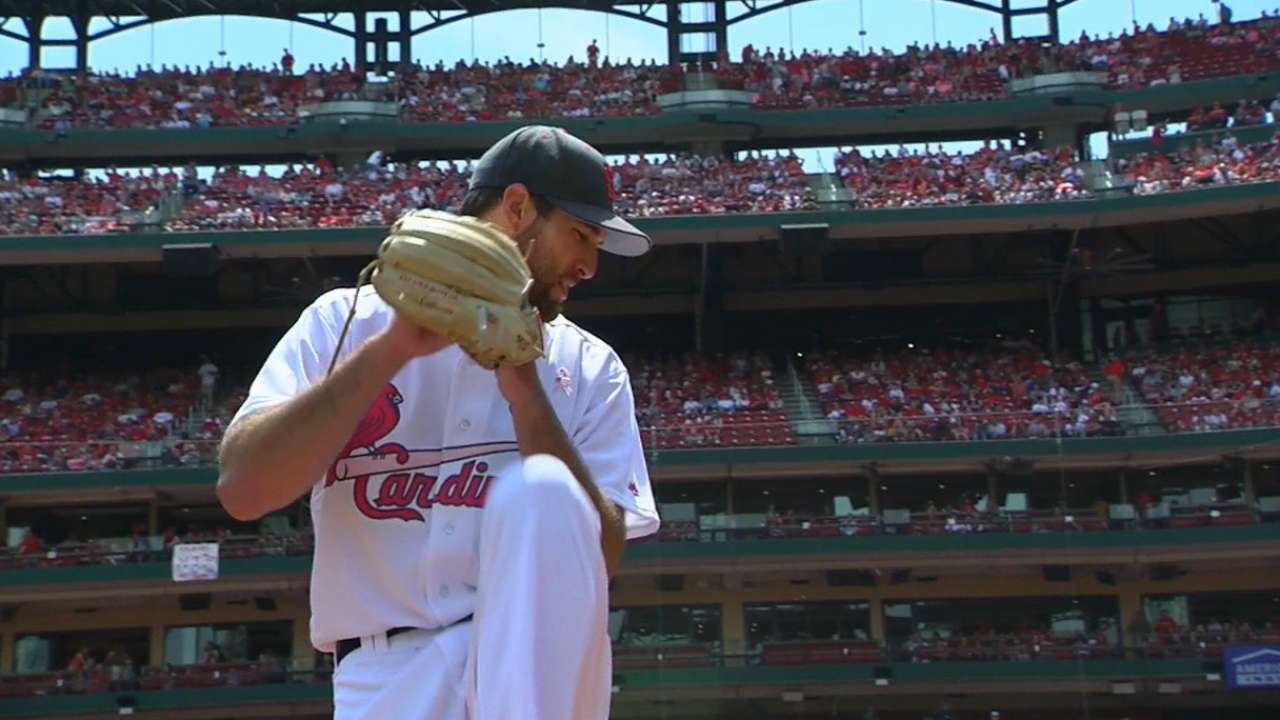 Matt Bowman had his worst day as a Cardinal, giving up four runs without recording a single out in the seventh as the Pirates blew the game open. Bowman hadn't been scored on in seven of his previous eight appearances. His ERA ballooned from 2.25 to 5.25.
"Matt's been a guy with good sink, getting on top of the ball, working the ground balls to be able to get us out of some tough spots," Matheny said. "Today, he was elevated."
Jonathan Broxton also gave up two runs.
Piscotty had his second career four-hit day and his first at Busch Stadium. He feels the 16-16 Cardinals are close to going on a run.
"Hopefully it's going to happen soon for us," Piscotty said. "I've got a really good feeling that this team is just going to get real hot and absolutely take off."
Joe Harris is a contributor to MLB.com based in St. Louis. This story was not subject to the approval of Major League Baseball or its clubs.