Astros turn Minute Maid Park pink for moms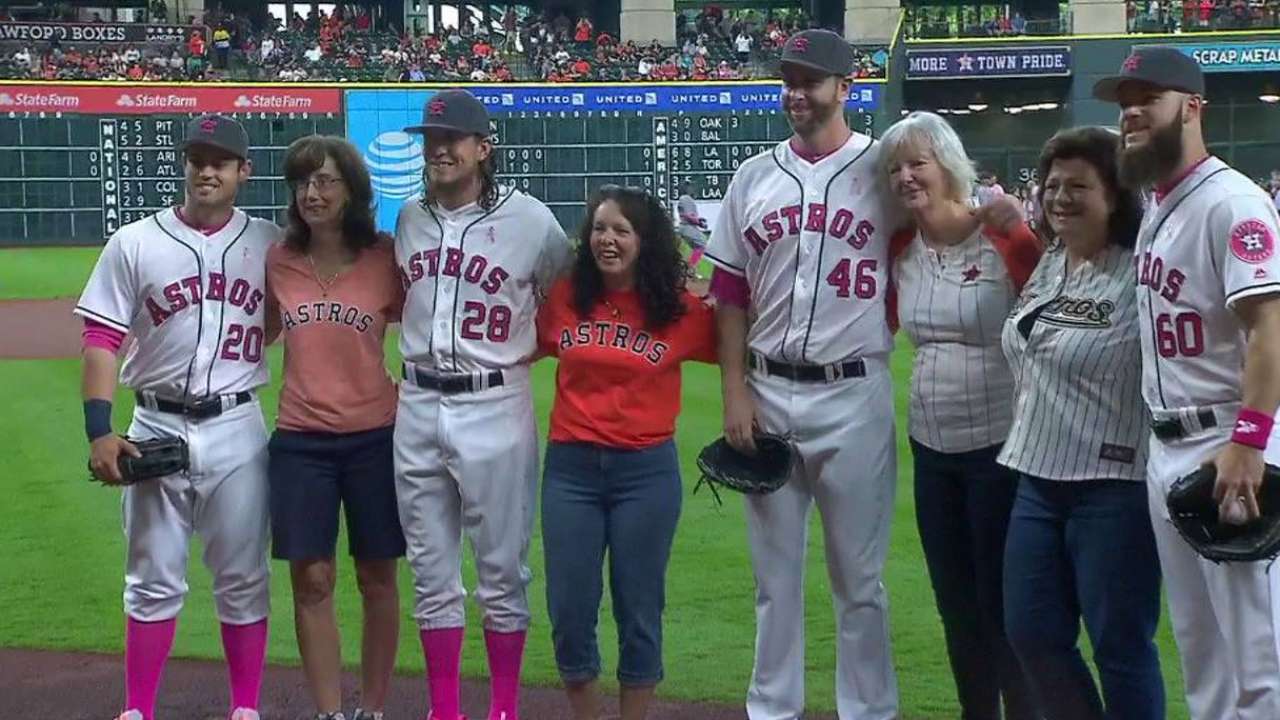 HOUSTON -- Mother's Day was the talk of baseball on Sunday, and like the rest of baseball, the action at Minute Maid Park had a colorful flair to it during the Astros' 5-1 win over Seattle.
Authentic game-used Louisville Slugger pink bats and other gear from Mother's Day games will be auctioned exclusively at MLB.com, with proceeds benefiting the fight against breast cancer. The complete Mother's Day collection -- which includes the special caps and jerseys being worn by players on Sunday -- is available at the MLB.com Shop.
The players were decked out in pink nearly from head to toe -- be it socks, shoes, bats, hats, jersey numbers or wristbands.
"I've got an aunt I'm very close with who battled breast cancer, so it hits close to home for me," said Houston pitcher Will Harris. "My mom is not living, so it's a day for my grandma and my Aunt Patty and my wife. And so it's great we can raise money and awareness for a good cause."
Houston recognized its Honorary Bat Girl, Belinda Sheldon, a breast cancer survivor, to kick off the pregame festivities. She fired a strike to Chris Devenski before the national anthem, when area youth formed the famous breast cancer ribbon in the outfield while wearing pink.
Four players joined their mothers on the field for pictures, flower exchanges and a round of ceremonial first pitches. Dallas Keuchel, Colby Rasmus, Scott Feldman and Preston Tucker each honored their mothers on the field and squatted to catch their pitches.
It was a role reversal for Keuchel, who said his mother was always the one catching for him growing up.
"Helping me out in the back yard, playing catch and throwing Wiffle balls to me," Keuchel said. "Taking me to practice and games -- the whole nine it seems like she did for me. I'll always be appreciative of that.
"Moms are the core of families, and anything we can do to show our appreciation is great, and this is just a small token of how we much we care."
The Astros also ran a Happy Mother's Day message on the video board after the sixth inning, with players like George Springer and Carlos Gomez sending out merry wishes to their mothers and all mothers in attendance.
Astros starting pitcher Collin McHugh's mother wasn't in attendance -- she watches every game from home, he said -- but the uniforms and the spirit of the day still inspired some reflection.
"To be able to do a little thing, to have some fun with it out there and for a great cause that affects a lot of moms, it means a lot," McHugh said. "None of us came out of nothing, we had people holding us up along the way, and that was my mom for me."
Chris Abshire is a contributor to MLB.com based in Houston who covered the Astros on Sunday. This story was not subject to the approval of Major League Baseball or its clubs.