Aroldis excited to close behind star setup men
Following lefty's suspension, Yanks may have top trio with Betances and Miller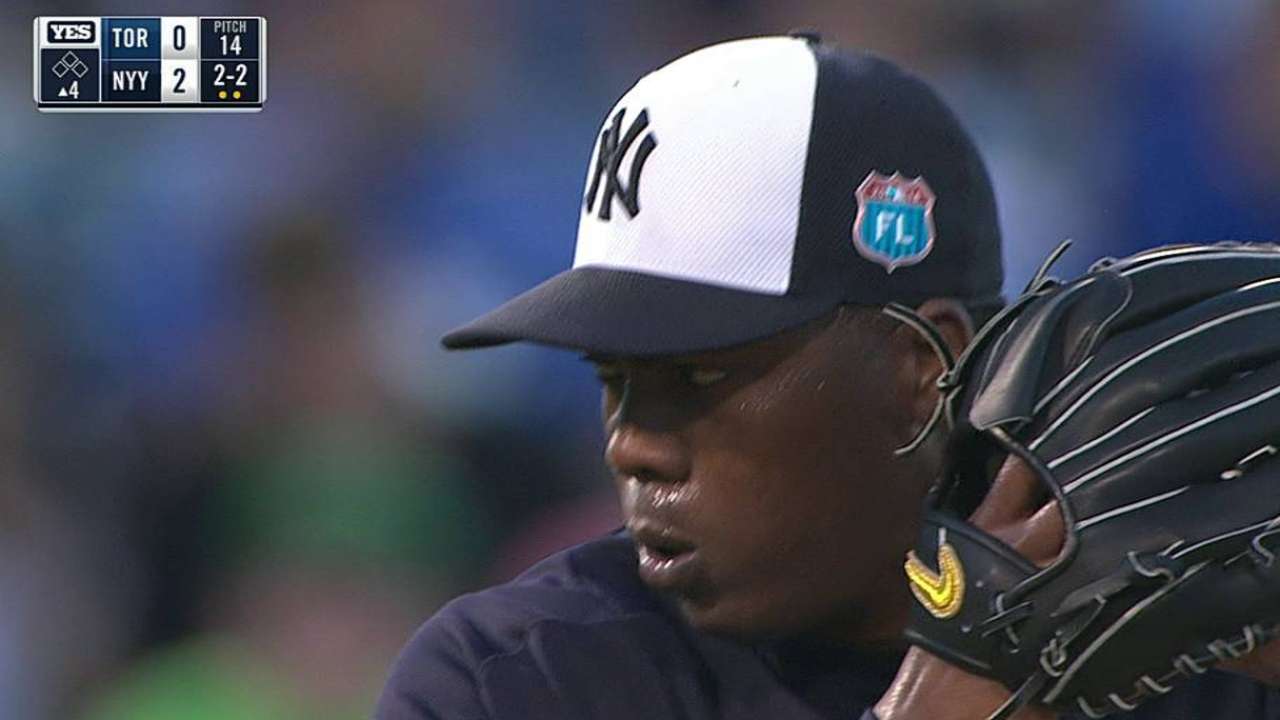 NEW YORK -- Now that Aroldis Chapman is about to be cleared to re-join the Yankees' roster, with his suspension expiring for Monday's game against the Royals, the left-hander is looking forward to having Dellin Betances and Andrew Miller as setup men in what could be the best bullpen in the Majors.
"First of all, I just want to say that I'm super excited and happy that the manager has given me that vote of confidence and that I will be the closer," Chapman said. "At the same time, I'm very humbled by Betances and Miller, their moving down in the order to allow me to pitch the ninth. I'm very happy and excited."
Chapman said that he tried to keep up with his teammates as best he could while serving a suspension for violating baseball's domestic violence policy, watching games on his iPad from Florida.
Acquired from the Reds in December, Chapman's suspension stemmed from an October incident in which Davie, Fla., police said he fired eight shots into the wall of his garage following an altercation with his girlfriend, Christina Barnea, who told police at the time that he had choked her.
Upon accepting the suspension, Chapman insisted that he never hurt his girlfriend, but he apologized for his "bad judgment," adding that he no longer possesses any firearms. When the Yankees went north, Chapman continued working out at the team's complex in Tampa, Fla., participating in extended spring training games.
"I learned a lot from it," Chapman said. "Like any human being, we learn every day. It's just part of life. You keep on learning. The good thing is it's something that's behind me now. I want to focus on baseball, being here with my teammates and having the opportunity to contribute and hopefully win."
Yankees manager Joe Girardi said that he plans to speak to Betances and Miller to explain how their roles will change. Girardi is looking forward to having all three relievers active, and also taking advantage of added opportunities to rest Betances and Miller.
"Your hope is every night you at least have one of them available," Girardi said. "That's your hope. Maybe you don't. Maybe you run into a streak where they've pitched a lot and maybe you don't [have them], but if I don't have them, that probably means we're winning a lot of games, and that's a good thing too."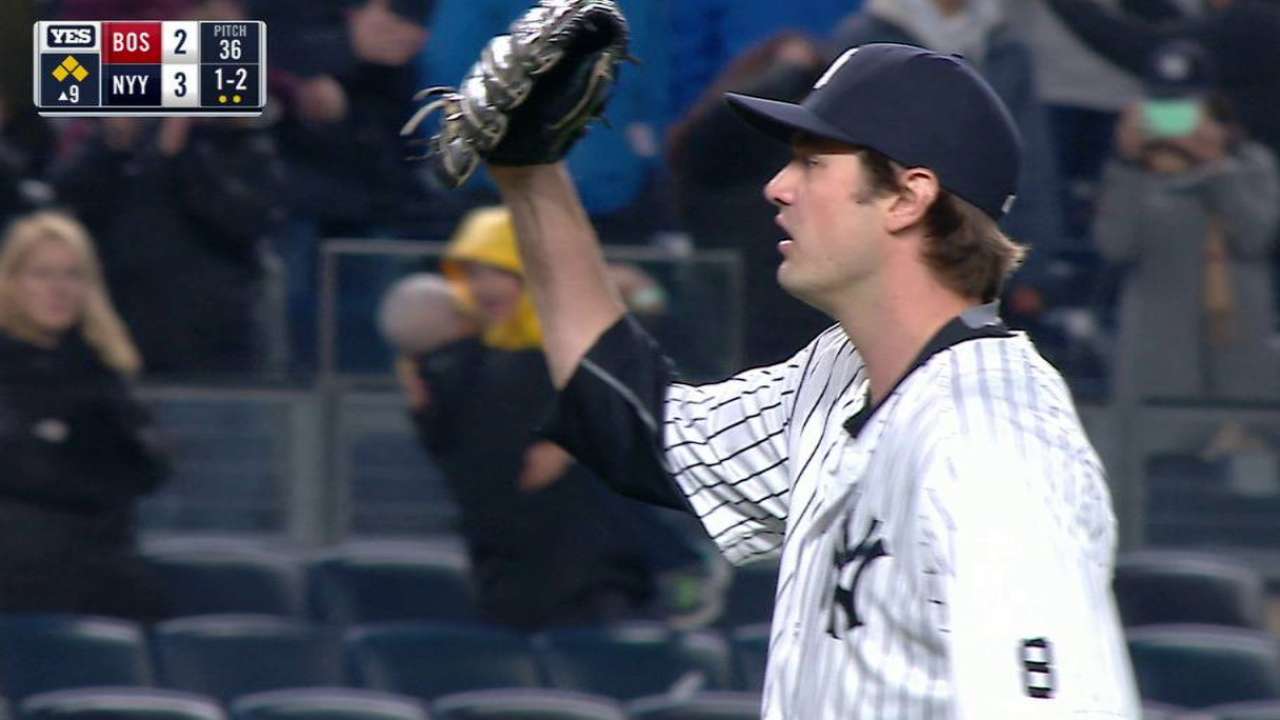 Miller says that he believes adding Chapman will make a good bullpen even better, but it has not been an area of need for the Yankees. Miller has been excellent in the closer's role, owning a perfect 0.00 ERA and 20 strikeouts against one walk in 11 2/3 innings, spanning 12 appearances.
Even so, Miller has consistently said that he will have no issue yielding the ninth inning to Chapman, who recorded 33 saves and a 1.63 ERA in 65 relief appearances with Cincinnati last year.
"What do you want me to do? You want me to throw a fit?" Miller said. "The goal here is to win. I think if you go around and ask, there's 25 lockers in here and I think everyone is going to say that. We haven't gotten off to the start that we want to.
"I think we've played well in the last couple of days, and the goal is to keep that going. Wins are what's fun at the end of the day. It doesn't matter if you're saving games for a last-place team."
Bryan Hoch has covered the Yankees for MLB.com since 2007. Follow him on Twitter @bryanhoch, on Facebook and read his MLBlog, Bombers Beat. This story was not subject to the approval of Major League Baseball or its clubs.