Johnson homers, blows kiss to wife on Mother's Day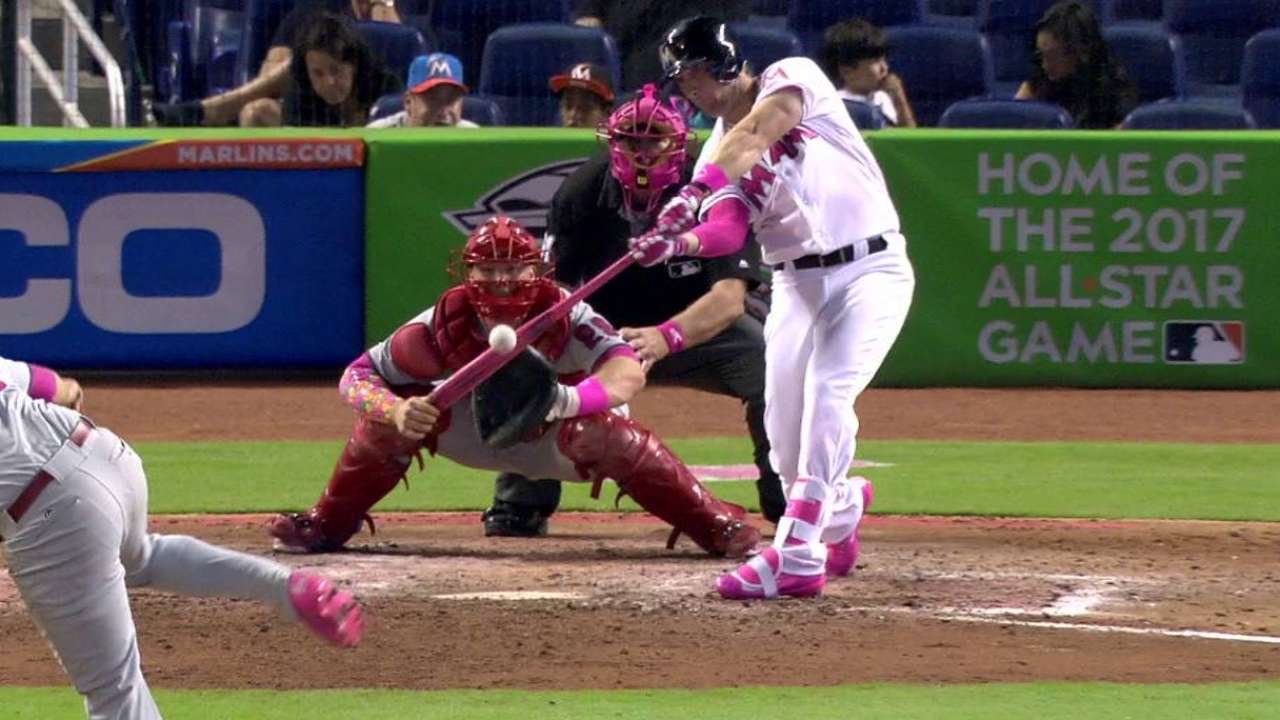 MIAMI -- A day after his eighth-inning catching error cost the Marlins in a loss, Chris Johnson came off the bench and delivered his first home run of the season, something that some might see as redemption for his defensive miscue the night before at Marlins Park.
Johnson's pinch-hit solo homer in the seventh tied the game at 4 and sparked a two-run rally that gave the Marlins a one-run lead before the Phillies rallied for a 6-5 win in the final game of the three-game weekend series.
• Honorary Bat Girl throws out 1st pitch
"It was good for today, but it doesn't make me feel any better about yesterday, that's for sure," Johnson said of his second career pinch-hit homer. "Just because I hit a homer, I mean, the mistake was on defense [on Saturday night]. That was a big error."
Marlins manager Don Mattingly complimented Johnson on the way he handled himself, stepping up to the plate and facing the music in interviews following his costly error in Saturday's loss.
"Basically, [I] just told him to move on," Mattingly said. "His comments last night were just what you expect from him. It shows a lot about him."
• Baseball daughter to baseball mom
Like all of his teammates, Johnson was sporting plenty of pink as part of his uniform Sunday in appreciation of Mother's Day and the fight against breast cancer.
Authentic game-used Louisville Slugger pink bats and other gear from Mother's Day games will be auctioned exclusively at MLB.com, with proceeds benefiting the fight against breast cancer. The complete Mother's Day collection -- which includes the special caps and jerseys being worn by players on Sunday -- is available at the MLB.com Shop.
"It's very cool," Johnson, who threw a kiss in the direction of his wife as he rounded the bases, said of the pink bats, socks and shoes worn by the players. "Obviously, everybody in here has a ton of love for their mom, and we probably wouldn't be here without them. And then for guys in here like myself who have babies, it's cool that we show them how much we respect them and thank them for everything they've done."
Steve Dorsey is a contributor for MLB.com covering the Marlins on Sunday. This story was not subject to the approval of Major League Baseball or its clubs.