Angels celebrate "superhero" as Honorary Bat Girl
Patty Raburn throws out first pitch on Mother's Day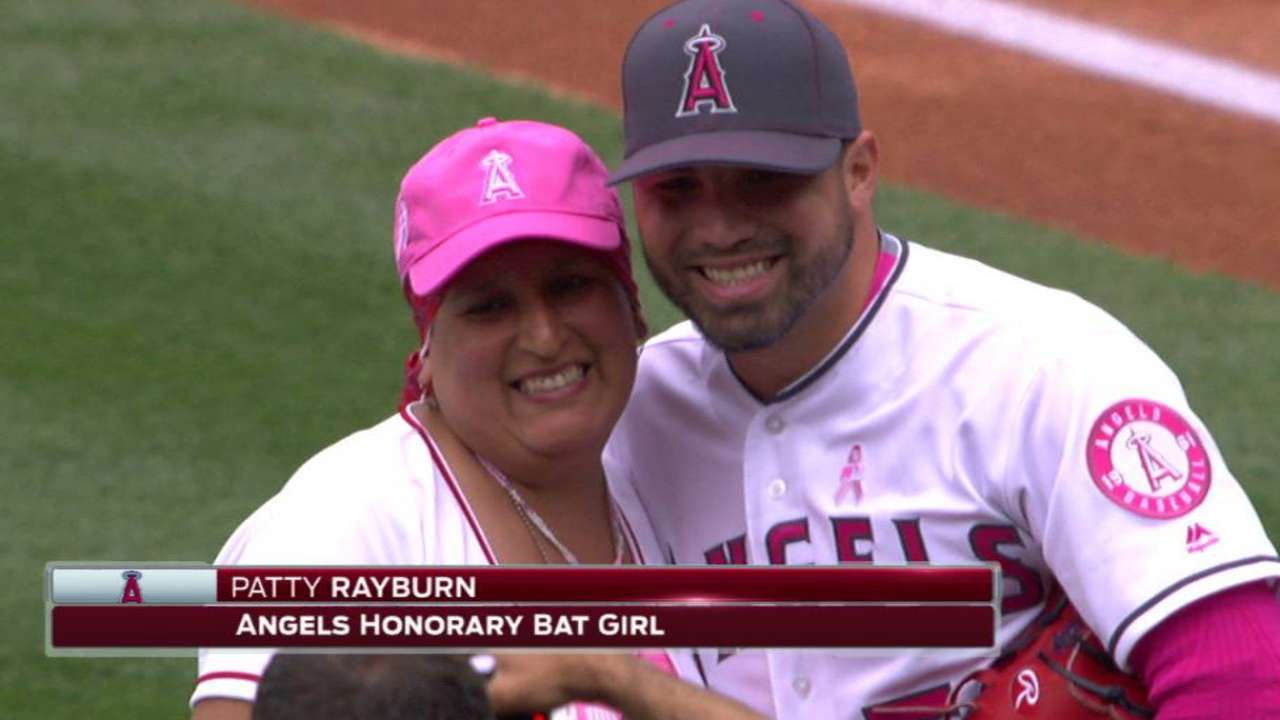 ANAHEIM -- Patty Raburn is used to fighting for her health. She was born with a heart condition, suffered from debilitating asthma as a child and at the age of 30, a massive stroke left much of her body paralyzed and took away her speech.
She successfully battled through each and every one of those fights, so when the lifelong Angels fan and Orange native was diagnosed with breast cancer late last year, it was simply just another fight that she was determined to win, much like all of the others. Raburn was honored by the Angels for her fighting spirit on Sunday, as one of the winners of Major League Baseball's Honorary Bat Girl Contest.
"I'll go through all of this so that they never have to," Raburn said, pointing at her family. "I want to be here. I want to be here for dance recitals and Little League games, everything. I will do all of this and keep fighting."
#Angels Honorary Bat Girl & Super Hero, Patty Raburn, throws out the first pitch! #MothersDay pic.twitter.com/xa0qaCH2hI

— Angels (@Angels) May 8, 2016
But it's about more than just her family, she said. A former teacher in the Los Angeles area, Raburn is now trying to teach people how to be more aware of their own bodies and their own health. She's been outspoken about early testing and prevention.
If it wasn't for that one early checkup last year, she might not be alive.
"You've got to be an advocate for yourself," Raburn said. "If you feel something is not right with yourself, you need to go get it checked. A lot of people are like, 'Oh, it will pass.' And I've been encouraging people to know if something is not right with them."
Raburn was nominated by her niece, Vanessa Luna, who flew out from Denver for the day to see her aunt throw the first pitch.
"She's such an inspiration," Luna said. "Patty here is one of my role models. When I saw they had the contest, I jumped at the chance because she's just been through so much and she just keeps fighting. She's my superhero."
Raburn began coming to Angels games when she was 8 years old. She affectionately refers to the team as her "boys," so the opportunity to be on the field with her family and throw out the first pitch left her speechless.
"I kind of blacked out for a minute," Raburn said. "The guy on the phone said, 'Are you OK?' and I said, 'I'm trying to be cool, but it's just not working.' I just was at a loss and I think I kind of screamed a little bit. It was just amazing."
Authentic game-used Louisville Slugger pink bats and other gear from Mother's Day games will be auctioned exclusively at MLB.com, with proceeds benefiting the fight against breast cancer. The complete Mother's Day collection -- which includes the special caps and jerseys being worn by players on Sunday -- is available at the MLB.com Shop.
Abbey Mastracco is a contributor to MLB.com based in Anaheim. This story was not subject to the approval of Major League Baseball or its clubs.