With playing time, Goeddel showing flashes at plate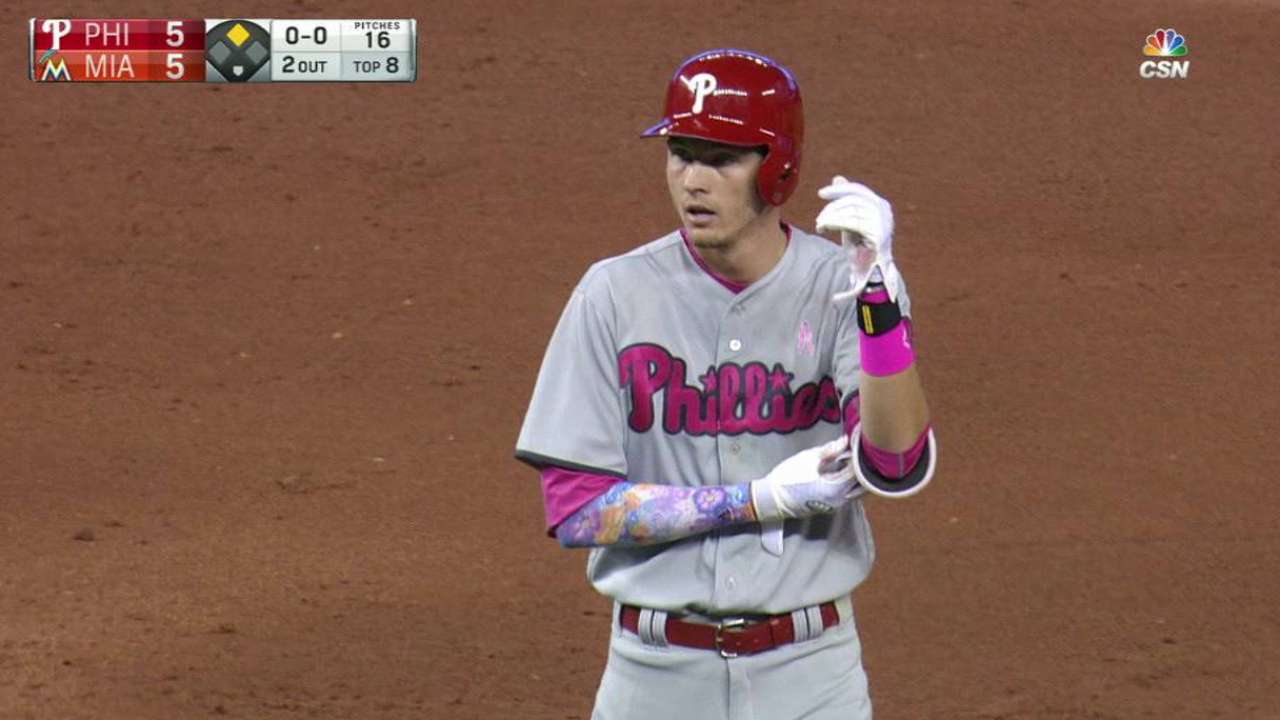 MIAMI -- The Phillies broke out the bats on Sunday -- pink ones in fact, as part of Major League Baseball's recognition of breast cancer awareness on Mother's Day.
After 12 straight games of scoring four runs or fewer, the Phils took the series from the Marlins with a 6-5 comeback victory.
The Phillies overcame deficits of 3-0 and 5-4 to win with a two-run eighth inning. Back-to-back RBI doubles from Tyler Goeddel and Andres Blanco made the difference.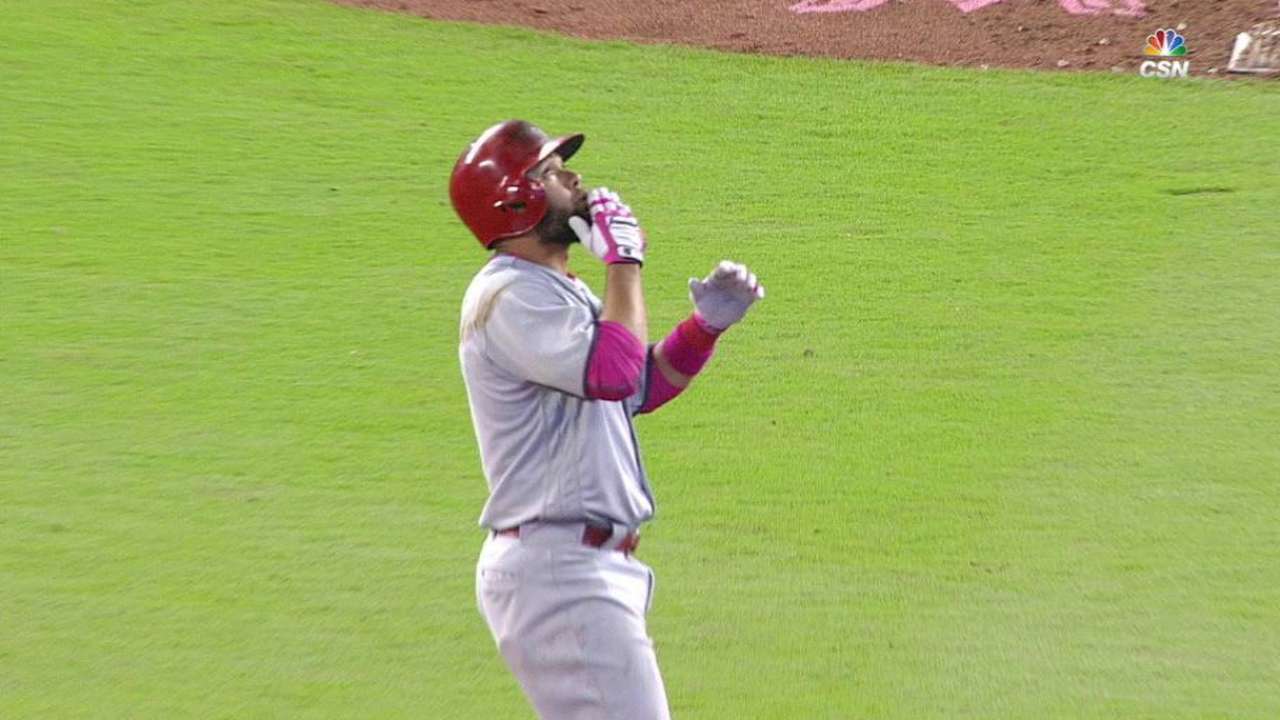 "Goeddel's was a big hit and 'Whitey' [Blanco], he's special," manager Pete Mackanin said. "He just seems to come up big in the pinch all the time. And with a little bit of playing time, [Goeddel] is starting to look like the kind of hitter we think he's got a chance to be. He hit a good fastball. I'm happy for him."
Goeddel entered the game looking to break out of a .147 slump and came up with the clutch hit.
"I've been working in the cage," said Goeddel, who believes he can be productive with more playing time. "The results haven't been where I want them to be, but for [the double] to be a big part of the game was huge. It's getting my timing down. That's baseball. I'm glad I was finally able to come through."
The nail-biter was Philadelphia's 11th victory in 14 one-run games already this season.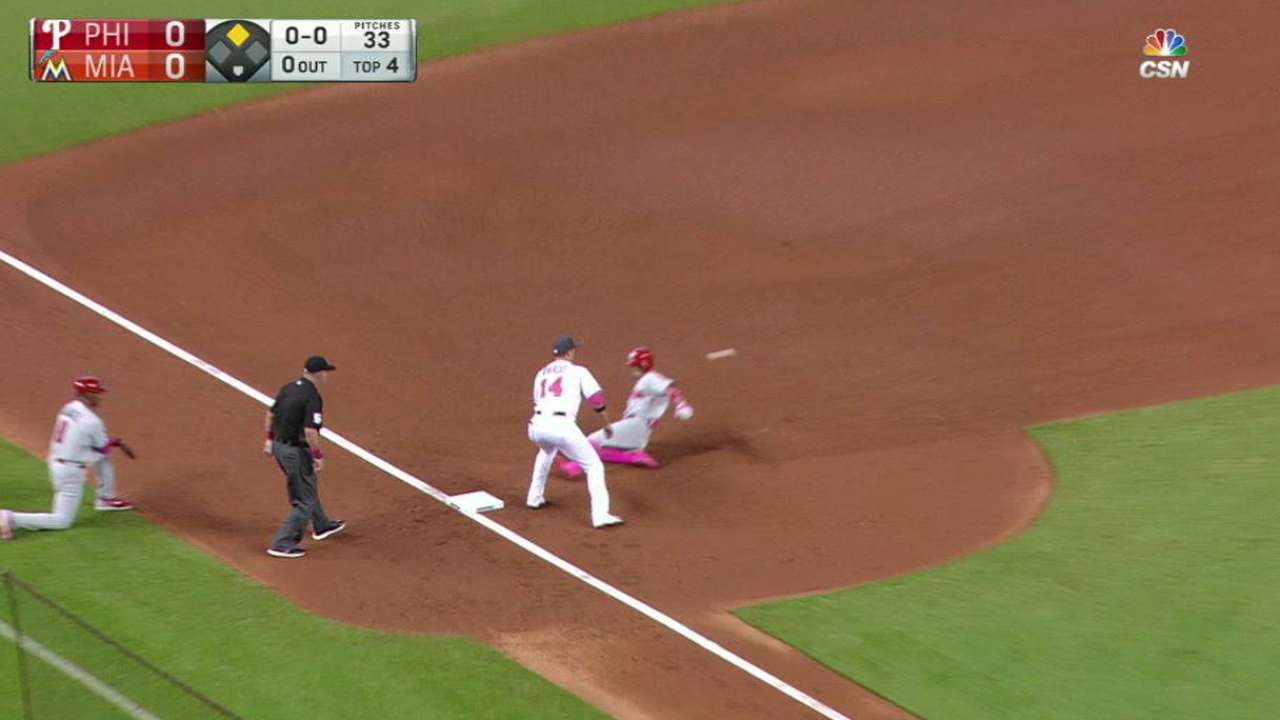 "It's pitching and defense," Mackanin said. "We seem to scratch and get a run here and there. But you're not going to be in games if your pitching isn't good."
As a team, the Phils banged out 10 hits and got at least one from each of the nine positions in the batting order. Cesar Hernandez collected two hits, including a leadoff triple in the fourth inning, and a single and a run scored in the sixth. He leads the club with nine multi-hit games this season. All of those have come on the road.
Glenn Sattell is a contributor for MLB.com covering the Phillies on Sunday. This story was not subject to the approval of Major League Baseball or its clubs.