Brewers show pop with special pink bats
Braun continues to dominate in Cincinnati, while Perez fends off two pitchers to go deep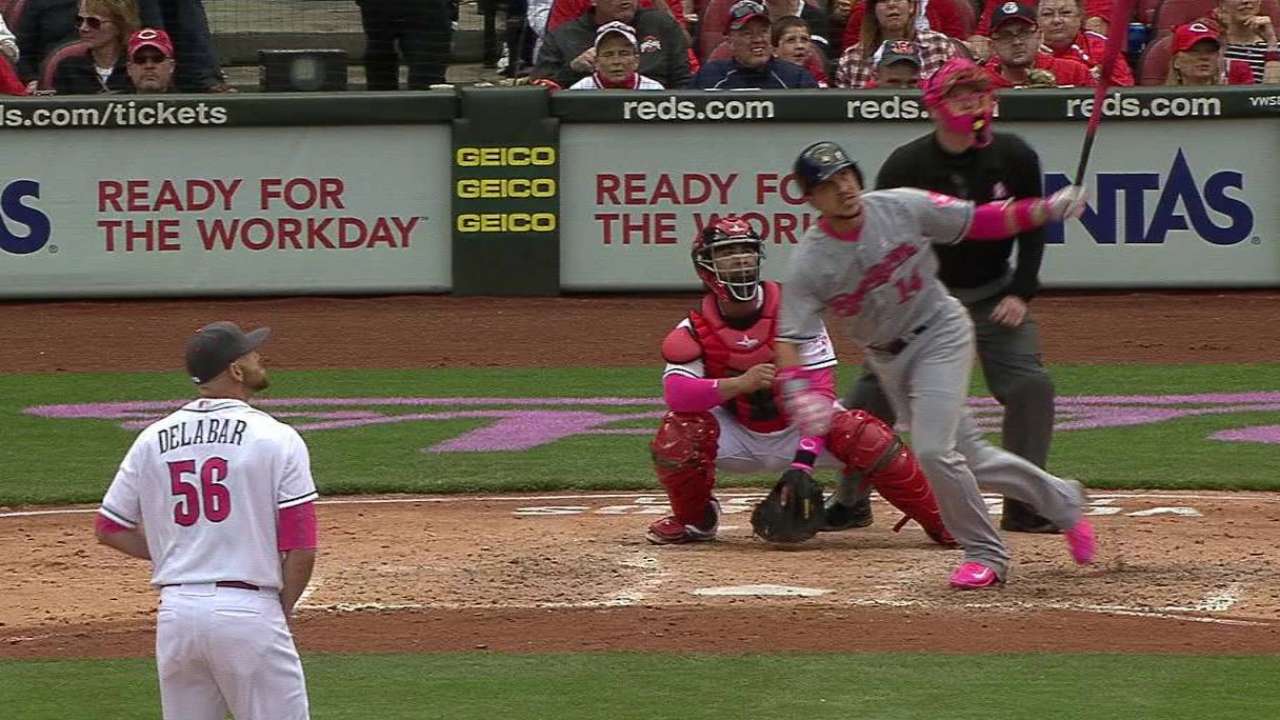 CINCINNATI -- Ryan Braun moved into a tie for second on the list of home run-hitting opponents at Great American Ball Park, but he only had to face one Reds pitcher. Hernan Perez had to contend with two.
Both of those Brewers home runs in Sunday's 5-4 win were hit with pink bats, continuing Major League Baseball's tradition of raising awareness and funds for breast cancer research on Mother's Day. Perez's was odd, in that his at-bat began against Reds starter John Lamb and ended against reliever Steve Delabar after Lamb left the game with a sprained left thumb.
"That was crazy," Perez said. "I was thinking he was hurt, because during the warmup, he was throwing the ball everywhere. I was expecting that."
But Perez said he had never experienced an at-bat in which the pitcher left with an injury. He stayed loose by taking swings and watching carefully as Delabar warmed up, then fouled off two pitches before connecting for a home run that cut Milwaukee's deficit to 4-2.
After the game, Perez revealed his secret: He was using one of backup catcher Martin Maldonado's pink bats. Last year on Mother's Day, Maldonado delivered a walk-off hit with a similar piece of lumber.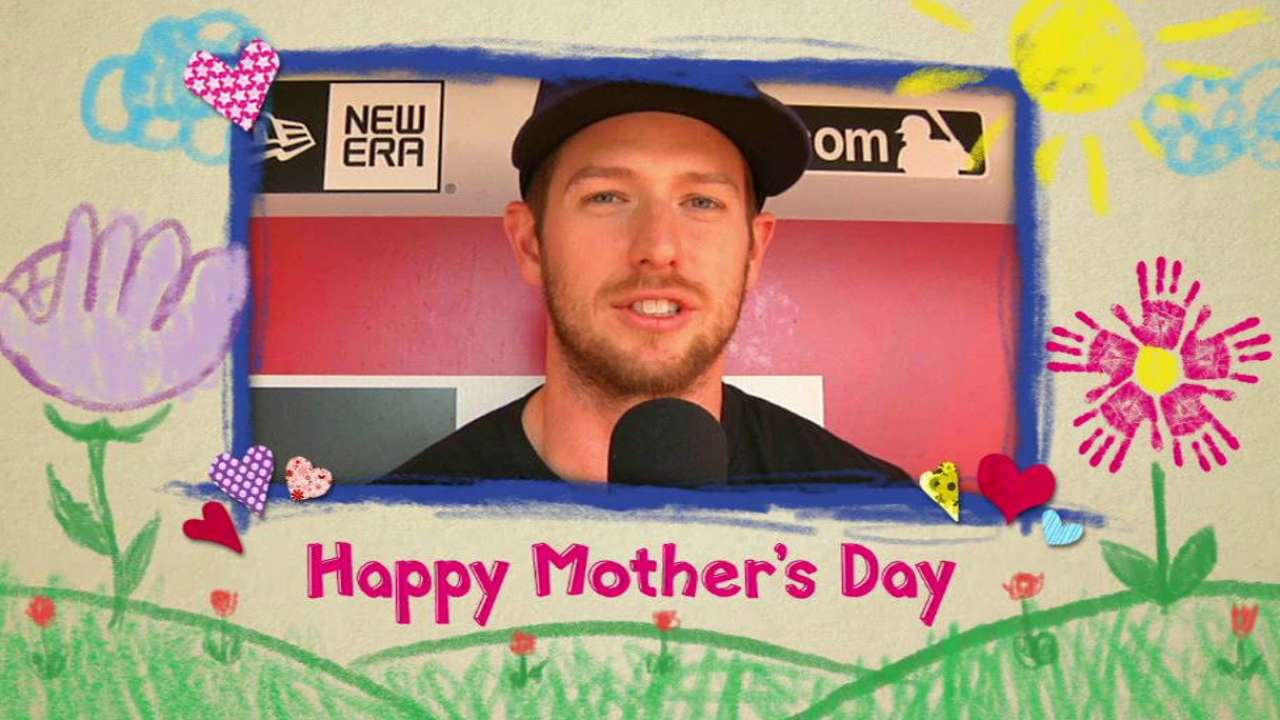 "It's nice for our moms," Perez said, mentioning his mother, Cristine. "Always, when you remember them, it's nice."
Through 4, the #Brewers trail 4-1. Hernan Perez leads off the 5th. #MILatCIN #BrewersHOFMom pic.twitter.com/lsHM4GX8Gh

— Milwaukee Brewers (@Brewers) May 8, 2016
Authentic game-used Louisville Slugger pink bats and other gear from Mother's Day games will be auctioned exclusively at MLB.com, with proceeds benefiting the fight against breast cancer. The complete Mother's Day collection -- which includes the special caps and jerseys being worn by players on Sunday -- is available at the MLB.com Shop. Pink was everywhere at Great American Ball Park on Sunday, from the Reds logo behind home plate to the bases to all over players from both teams, who donned uniforms and caps accented with pink for the first time, plus the traditional array of pink spikes, armbands and other accessories.
Perez tightened his pink batting gloves before stepping back into the box against Delabar.
"It's just a tough situation to be in, to start with two strikes on a new pitcher," Brewers manager Craig Counsell said. "From the get-go, you're under fire. That was big. That's not an easy at-bat at all."
By the time Perez hit his home run, Braun had already gone deep against Lamb for a 1-0 lead in the first inning. It was Braun's 20th home run at Great American Ball Park, matching Albert Pujols for second-most by a Reds opponent. Lance Berkman owns the record with 23.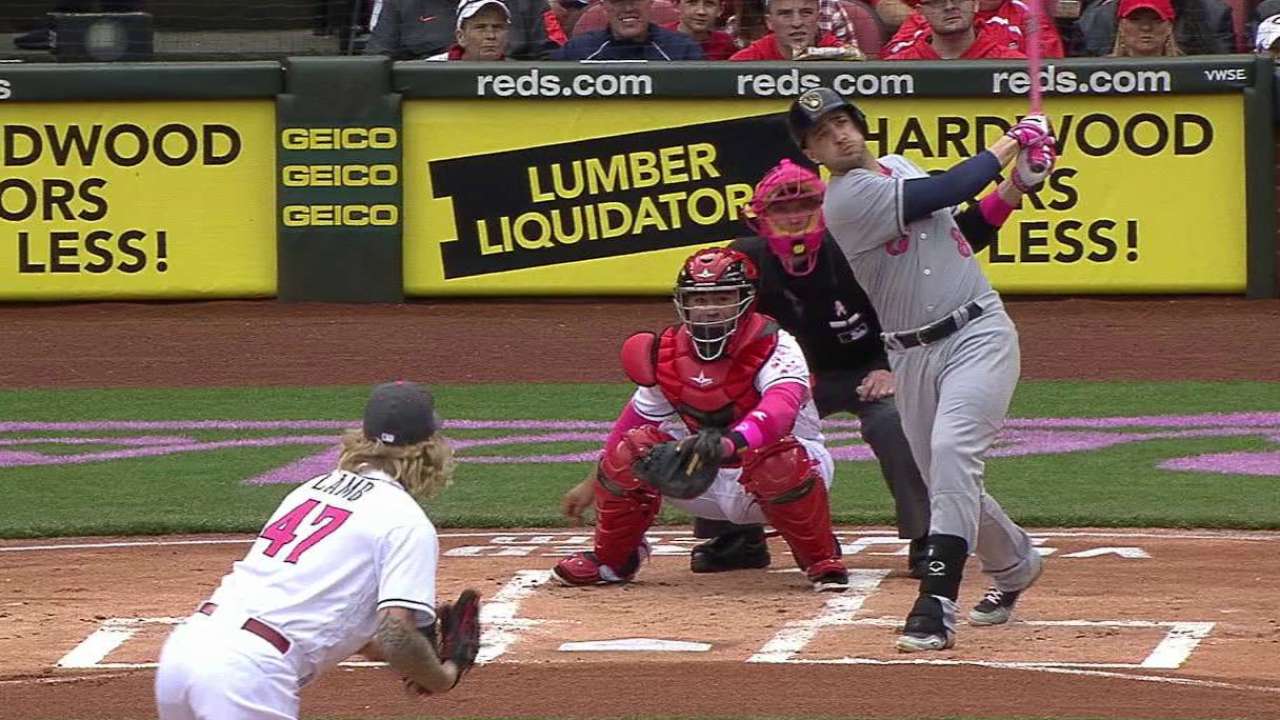 Ryan Braun! He knocks one outta here in the 1st with his pink bat on #MothersDay! #Brewers lead 1-0. #MILatCIN pic.twitter.com/7IL83svf5K

— Milwaukee Brewers (@Brewers) May 8, 2016
The stadium opened in 2003.
The Brewers hit eight home runs in winning the last two games of their four-game series in Cincinnati. Braun homered in each game.
"We got down the last two games early," Counsell said, "but our offense kept battling back, kept inching us closer."
Adam McCalvy is a reporter for MLB.com. Follow him on Twitter @AdamMcCalvy, like him on Facebook and listen to his podcast. This story was not subject to the approval of Major League Baseball or its clubs.