Royals' rally in 7th fizzles with play at plate
Cuthbert getting thrown out at home is key moment in loss to Tribe
CLEVELAND -- For a moment, it looked like the Royals were going to pull off some more of their late-game heroics.
They had the potential tying run at third and the go-ahead run at second with none out in the seventh. As quickly as the rally started, though, the inning unraveled without another run scoring and the Royals dropped a 5-4 decision to the Indians in Sunday's rubber game.
Christian Colon had just pumped an RBI double into the left-field corner, pushing rookie Cheslor Cuthbert to third.
With Jarrod Dyson at the plate, the Indians played their middle infielders back.
Dyson then grounded toward Indians shortstop Francisco Lindor. Cuthbert hesitated for a split-second, then broke for home. Cuthbert was easy prey for Lindor's arm and was out at home, and Colon held at second.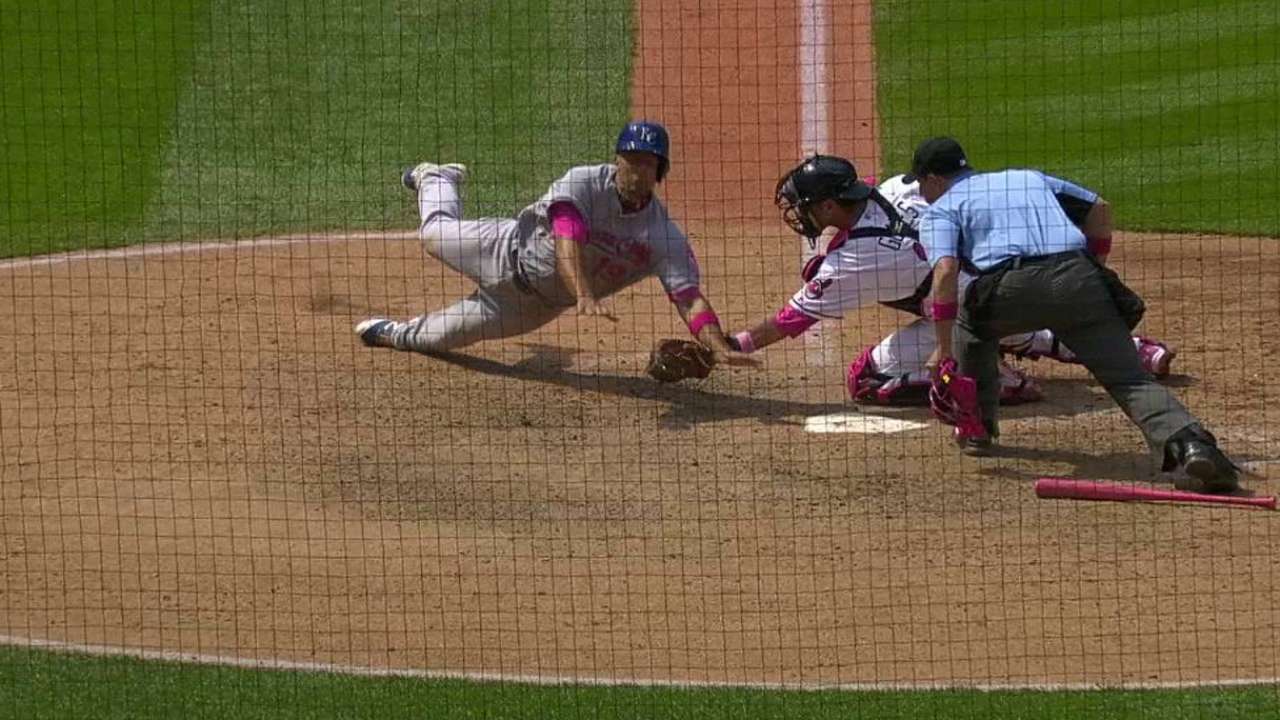 Moments later, Alcides Escobar bounced into a double play and the threat vanished.
Asked why Cuthbert broke for home, manager Ned Yost said, "It's not a contact play with the infield back. He just got a real late break on it. It wasn't a good read."
Cuthbert, though, believed he might have scored had he broke immediately, though he was out by quite a bit at the plate.
"I think I left really late," Cuthbert said. "[Third-base coach Mike Jirschele] said to go on anything up the middle. I was just late.
"Maybe if I just went right away. I was just trying to make sure the ball was past the pitcher. That's why I went late."
The play happened so fast that Colon wasn't able to advance to third, which might have then set up a chance for Dyson to steal second with Escobar up, thus keeping the Royals out of a double play.
"I thought about it [going for third base] when I saw [Lindor throw] home," Colon said. "But at the time, I was too close to the [second base] bag. I sort of went back to the bag and [froze]. It's a tough play there, a tough read and it didn't go our way.
"When the ball was hit, I looked and Lindor was like right next to me. I thought if I started to go I'd run right into him and he'd tag me. With no outs, I was just thinking we had two more chances at it. It just didn't work out. It's tough because we had a rally going and it just got killed."
The Royals now have lost nine of 12, and have dropped four straight series.
"We'll just go on to New York and keep fighting," Colon said.
Jeffrey Flanagan has covered the Royals since 1991, and for MLB.com since 2015. Follow him on Twitter @FlannyMLB. This story was not subject to the approval of Major League Baseball or its clubs.