Walker doesn't start due to welt on right shin
Mets second baseman hoping to start Monday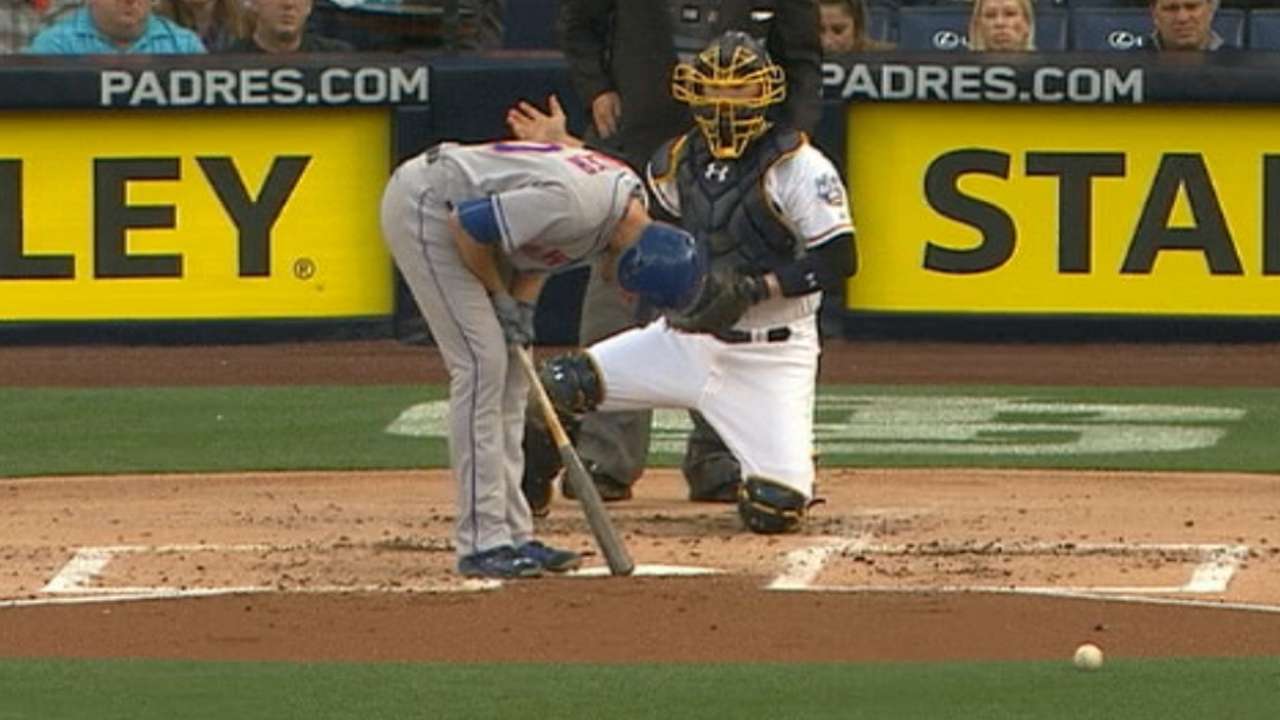 SAN DIEGO -- A baseball-sized purple welt adorning his right shin, Mets second baseman Neil Walker was not in the starting lineup for Sunday's 4-3 win over the Padres after twice fouling balls off the same spot on his leg. Despite spending much of the morning in the trainer's room, attempting to elevate his leg as much as possible, Walker expressed hope that he could return to the starting lineup as soon as Monday in Los Angeles.
"There's a significant amount of swelling," said Walker, who struck out as a right-handed pinch-hitter in the eighth inning Sunday. "It hit right above the leg guard in the exact same spot, two swings. They're going to try to flush some of the [swelling] out. It's not as bad as it looks, but certainly there's a lot of swelling so we're going to try to get it out of there."
Walker originally fouled a ball off the inside of his right shin in the eighth inning Thursday. He sat out the next day against a left-handed pitcher, later appearing as a pinch-hitter. Trainers then taped up Walker's leg well enough for him to start Saturday, but he fouled a ball off the exact same spot during his first at-bat against James Shields. Though Walker finished the game, finishing 0-for-5, the swelling in his leg had not subsided enough by Sunday morning for him to play nine more innings.
"He needs a day," manager Terry Collins said. "We just can't afford to lose him for a long period of time."
Though Walker has cooled somewhat since matching a club record with nine home runs in April, he is still batting .261 with a .514 slugging percentage in his first year in New York. Because the Mets will face left-handed starters Monday and Tuesday, the switch-hitting Walker would theoretically be less susceptible to aggravating his injury batting right-handed in those games, as he did Sunday.
"Doing it once is one thing," Walker said. "You can throw some ice on there, cover it up a little bit. But then when you do it twice in a matter of 36 hours, it was just terrible luck. It was the exact same pitch, the exact same location, the exact same swing and the exact same result."
Anthony DiComo has covered the Mets for MLB.com since 2008. Follow him on Twitter @AnthonyDiComo and Facebook, and listen to his podcast. This story was not subject to the approval of Major League Baseball or its clubs.