Lamb leaves game with sprained left thumb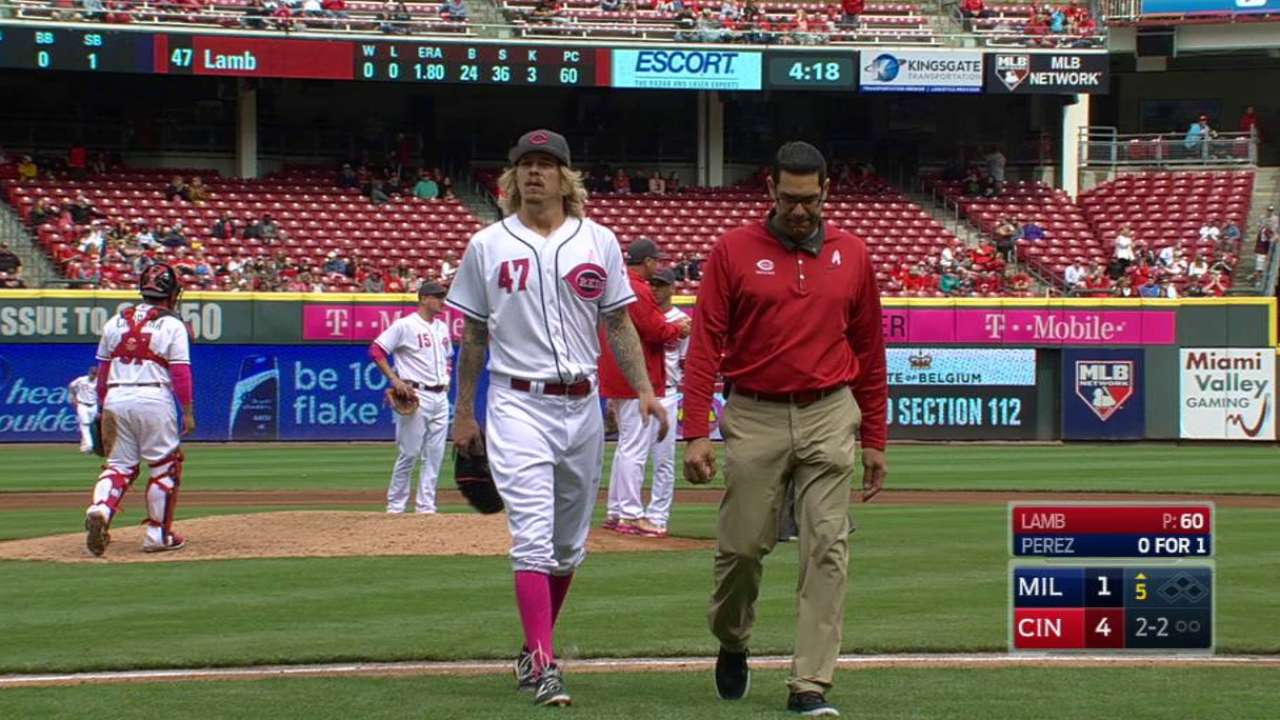 CINCINNATI -- John Lamb kept flexing his left hand as it dangled to the side of his body. He was speaking with reporters at his locker Sunday, patiently answering their questions. At the same time, he has to impatiently await word of whether he'll be able to make his next start for the Reds.
The left-hander was pulled from Sunday's 5-4 loss against Milwaukee with a sprained left thumb in the top of the fifth after making four pitches to leadoff hitter Hernan Perez. The Reds were leading 4-1 at the time. Assistant trainer Tomas Vera went to the mound to check on Lamb, who then threw a couple warm-up pitches before being removed from the game.
"I couldn't grip the ball," said Lamb. "I still had finger control, but the thumb was just not able to keep the ball from sliding out."
Steve Delabar relieved Lamb. Perez fouled off two pitches before hitting a solo home run into the left-field seats to begin Milwaukee's comeback.
Lamb had offseason surgery to repair a ruptured disc in his back. He was making just his second start of the season. He jammed the thumb batting in the bottom of the fourth when he grounded into a fielder's choice to end the inning.
"I know I was doing everything I could to give it time and allow it to calm down," said Lamb. "It just didn't seem to calm down, so I let [manager Bryan Price] know it was tight. It wasn't allowing me to grip the bottom of the ball."
Lamb gave up one run on two hits -- a Ryan Braun solo home run and a single by Jonathan Lucroy -- in the first inning before retiring 10 of the final 11 batters he faced.
"He was throwing good," said Price. "That's a tough way to have to come out of a ballgame. Of all of the different things that have transpired with the pitching staff, getting jammed and having to come out of the game, where does that come from? Where is that on the list of injuries, from a freakish standpoint? It's a freak injury. Unfortunate, but there's no way he could have continued to pitch."
Lamb said he is scheduled to have an MRI on the thumb Monday to see how bad the injury is. His normal turn in the rotation is next Saturday in Philadelphia. He's hopeful he'll be able to stay on his regular routine in-between starts, including throwing a bullpen session in a couple of days.
The trainers gave him a brace to wear. He was reluctant to put it on, lest it signify that he is injured.
"It's frustrating," said Lamb. "I'm not going to look too far into it. I hope that I get back out there sooner than later."
Kevin Goheen is a contributor to MLB.com based in Cincinnati. This story was not subject to the approval of Major League Baseball or its clubs.