Lucroy delivers go-ahead homer, big final out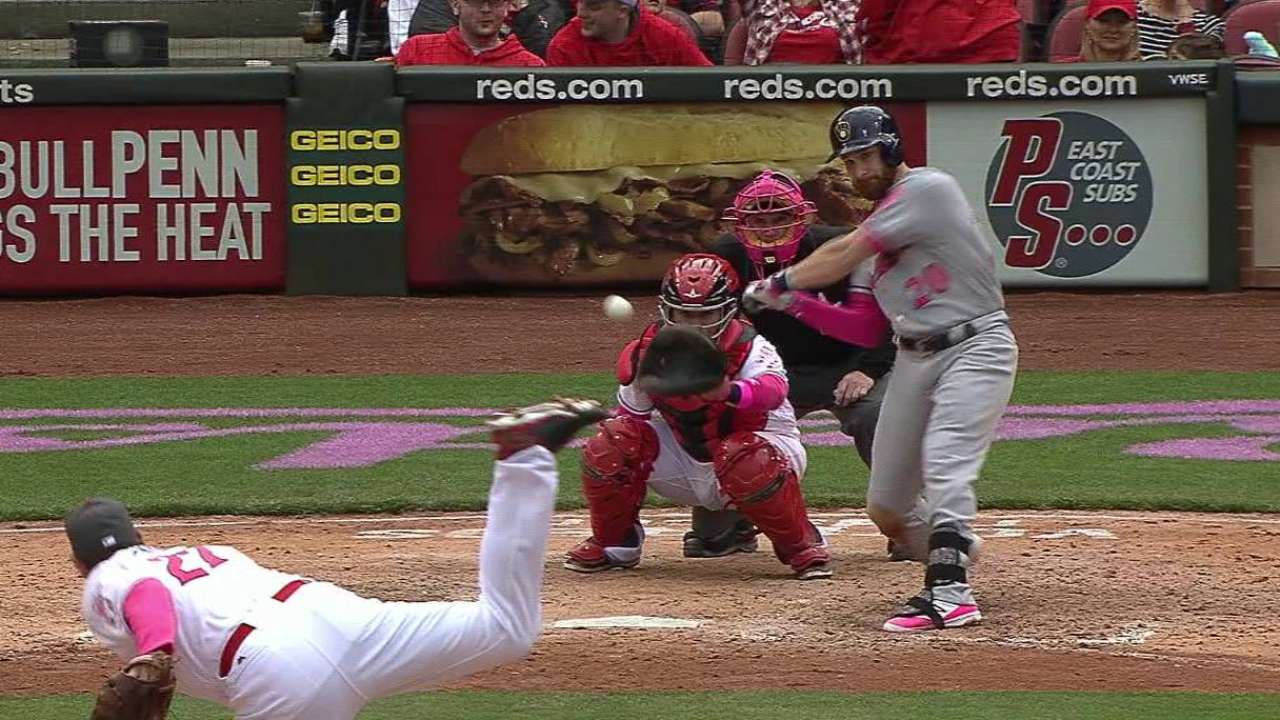 CINCINNATI -- On the same day Jonathan Lucroy reinforced the fact he has rediscovered his "slug," the Brewers' catcher also helped win a game with his arm.
Lucroy finished a triple shy of the cycle, including a go-ahead home run in the eighth inning, then threw out Billy Hamilton trying to steal second base in the ninth to end a thriller of a 5-4 win over the Reds at Great American Ball Park on Sunday. It gave the Brewers their second straight come-from-behind win.
"I was just trying to be like Maldy over there," Lucroy said, referring to backup catcher Martin Maldonado. "Maldy is the only guy who's ever thrown him out that I can remember."
The Reds challenged the call on the field, but it stood upon replay review, giving the Brewers a split of the four-game series.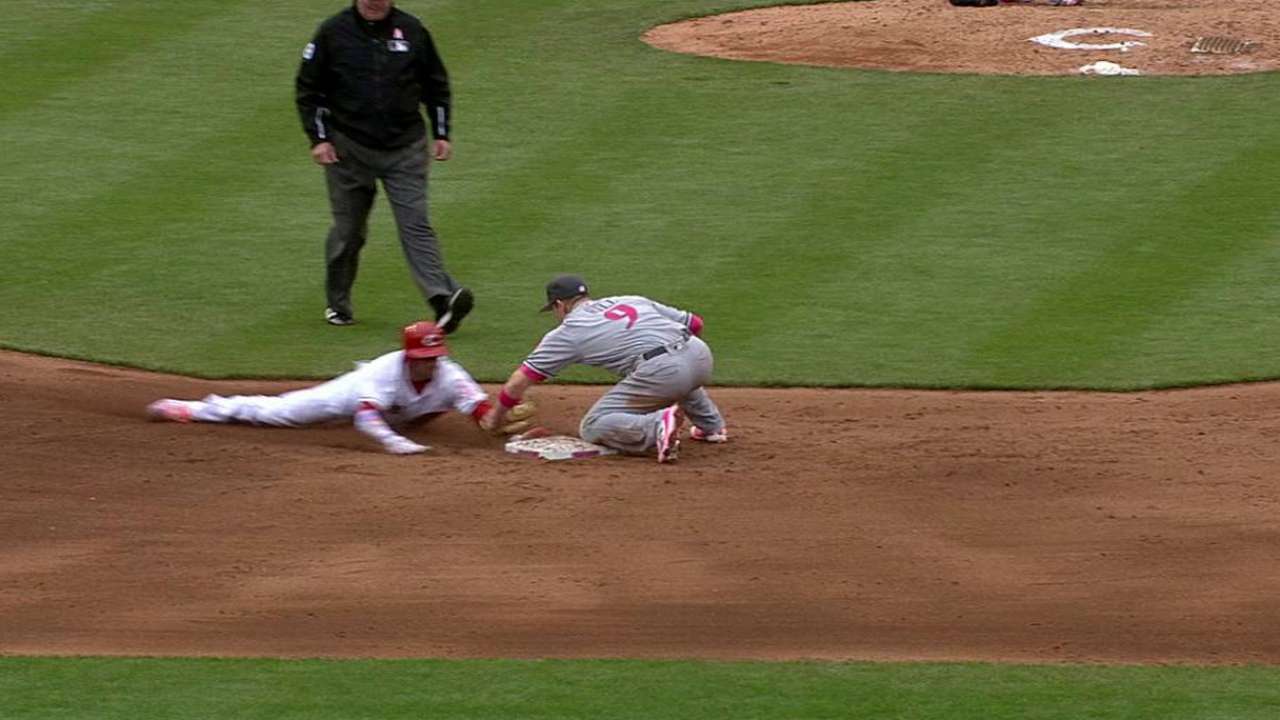 Lucroy shared credit with closer Jeremy Jeffress, who had kept Hamilton at bay during the previous at-bat after Hamilton entered the game as the ultimate pinch-runner, and with second baseman Aaron Hill, who caught Lucroy's one-hop throw and applied a quick tag.
"Killed some worms at the same time," Lucroy said. "We got it done."
"You know [Hamilton] is running. Everybody knows he's running," Brewers manager Craig Counsell said. "Luc did a really nice job, and J.J. did a really nice job."
.@JLucroy20 will be behind the plate today sporting his pink #MothersDay gear! #MILatCIN pic.twitter.com/dSRBu9jsI1

— Milwaukee Brewers (@Brewers) May 8, 2016
Before his defensive contribution in the ninth inning, Lucroy had a big day with the bat, delivering a single in the first inning, an RBI double in the sixth that cut the deficit to 4-3, and a go-ahead home run in the eighth off Reds reliever Ross Ohlendorf.
After an April in which he had five extra-base hits and no home runs in 21 games, Lucroy has five already -- including three home runs -- in his first seven games of May.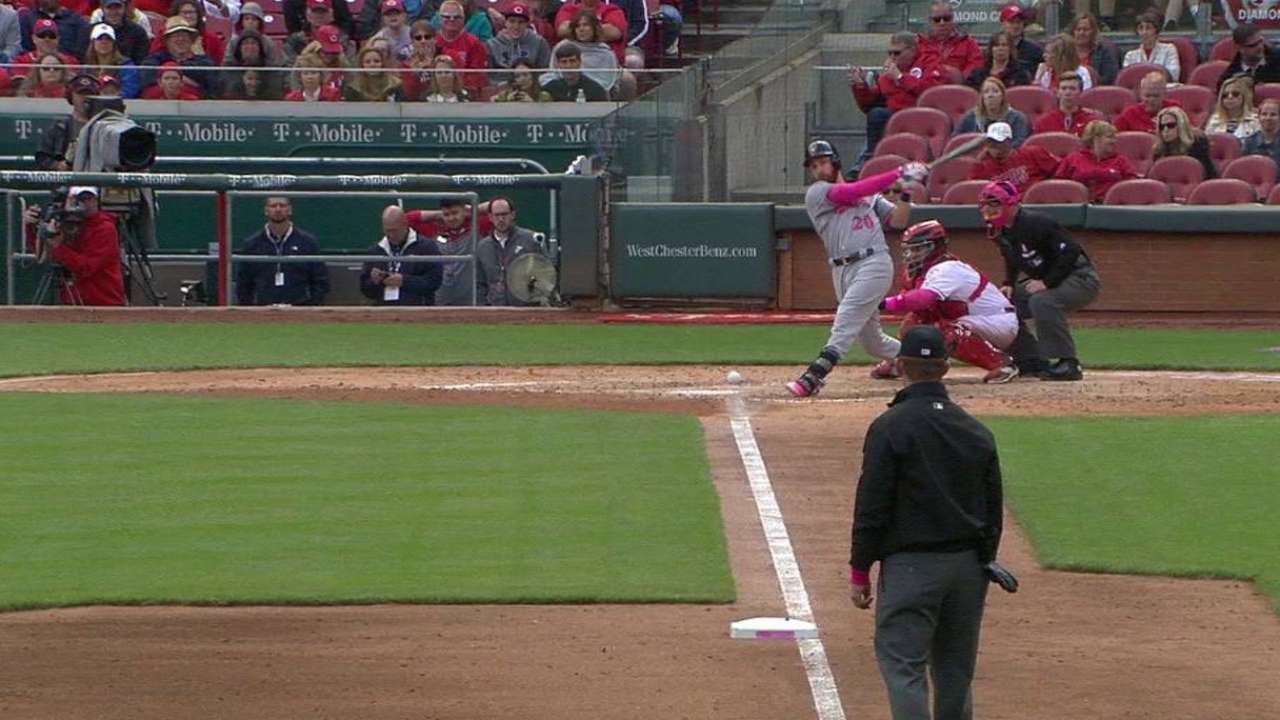 "He squares so many balls up, eventually he's going to start hitting gaps," Counsell said. "His home run today was a big one, obviously. It's just a matter of time, you feel like."
Two years ago, Lucroy became the first catcher to lead the Major Leagues in doubles. But he was injured for much of 2015, and he had been limited mostly to singles through the first month of this season.
"I'm not really paying attention to that stuff," Lucroy said. "I'm just trying to keep it simple and have good ABs. I'm not really worried about [the numbers]. Those numbers will be there in the end if you stay where you're supposed to be at. If I stay where I'm supposed to be at, hopefully I can continue to put damage up when I get a chance.
"I'm just trying to hit the ball hard. Keep it simple."
Adam McCalvy is a reporter for MLB.com. Follow him on Twitter @AdamMcCalvy, like him on Facebook and listen to his podcast. This story was not subject to the approval of Major League Baseball or its clubs.