Simmons set for MRI after spraining thumb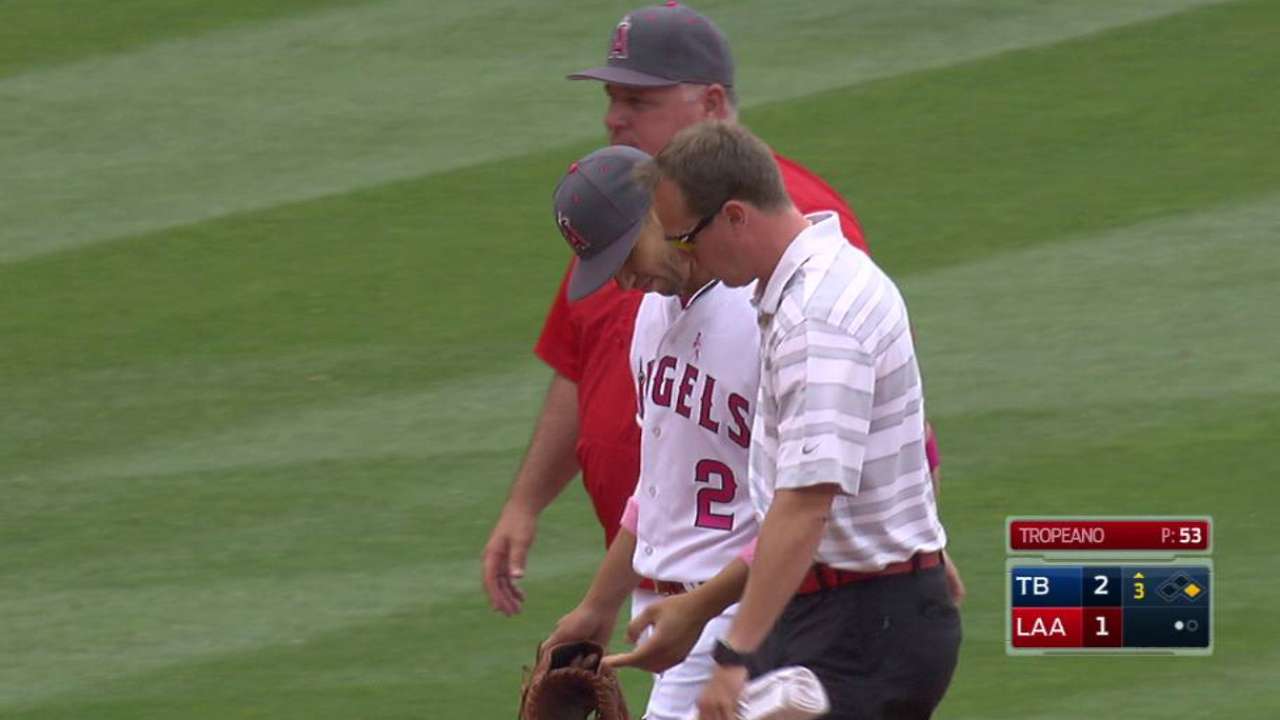 ANAHEIM - In what's fast becoming a troubling trend in Anaheim, the Angels lost another key player to injury on Sunday in a 3-1 loss to the Rays when shortstop Andrelton Simmons sprained his left thumb.
Simmons injured the thumb making a diving stop on a grounder by Evan Longoria in the third inning. While it looked as though he wanted to stay in the game, Angels manager Mike Scioscia made it clear that the injury was too severe.
"Obviously he wants to play, but we've got to evaluate this tomorrow," Scioscia said. "There's no way he could have continued playing."
Simmons, who was not available for comment after the game, will undergo an MRI on Monday. Scioscia didn't immediately know if the injury was bad enough to warrant a stint on the DL, but said that if he was lost for an extended period, second baseman Cliff Pennington would be a candidate to replace him.
"It's a huge blow," Angels outfielder Mike Trout said. "A starting shortstop, and just the way he handles himself on the field. He's a key part to this team and obviously if you lose him for a little bit, it's tough."
This is the second injury this weekend for the Angels, who likely lost ace Garrett Richards for the season after he was diagnosed with a torn ulnar collateral ligament on Thursday. In addition to Richards, the Angels are already without outfielder Craig Gentry and pitchers Huston Street, C.J. Wilson, Andrew Heaney and Tyler Skaggs.
"We have some guys that are banged up but you can't hang your head and you can't feel sorry for yourself," Scioscia said. "We still have a core group in there who can win games and that's what we're focused on. We're always going to have some guys that are banged up, we're going to lose some guys and we've lost some guys that are important. But we have guys who are still here that have a lot of heart, they're going to play hard and hopefully we'll have a little better results."
Trout said that while the injuries are a blow to the team, they aren't insurmountable obstacles to overcome. Trout said it's far too early in the season to think that the Angels, who are 3-7 in their last 10 games following the sweep by Tampa Bay, are out of the race.
"Things can turn. It's a long season," Trout said. "You lose your starting shortstop and you lose your ace and a bunch of pitchers and your closer, it's a tough stretch. But we can't hang our heads. There's a lot of baseball left."
Abbey Mastracco is a contributor to MLB.com based in Anaheim. This story was not subject to the approval of Major League Baseball or its clubs.