Pink supplants orange and black for good cause
Giants wear special gear to raise awareness for breast cancer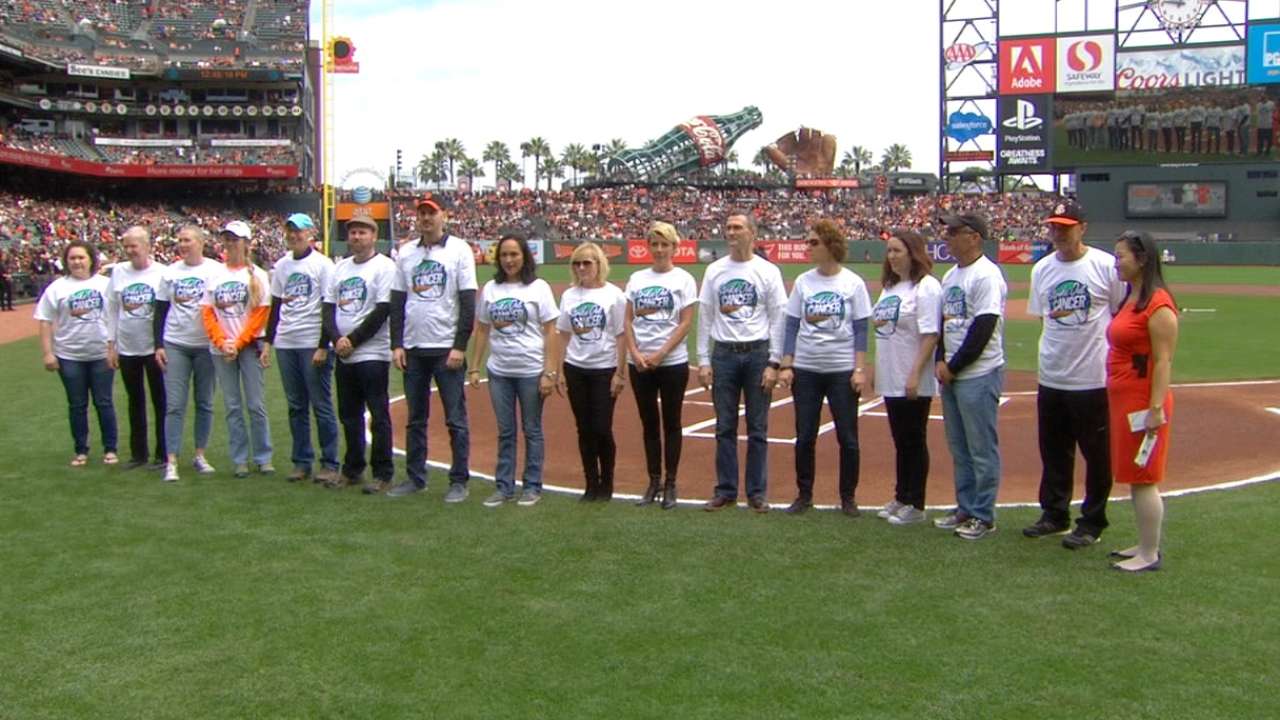 SAN FRANCISCO -- The Giants were in the Mother's Day mood, as were all the other Major League clubs on Sunday.
Pink took the place of orange and black and made the Giants' 2-0 loss in the series finale against the Rockies a little more special than a normal National League West matchup.
• Honorary Bat Girl Monique Glowniak tickled pink by salute
It is an extra special day for relief pitcher Albert Suarez, who reflected about the impact his mother made in his life and career, especially on the heels of the team selecting his contract from Triple-A last Friday.
"Every day I wake up and I call her," Suarez said in Spanish. "I thank her for the upbringing she gave me and I thank God for giving me my mom."
Suarez's mother, Laura, got an especially early call Sunday at her home in Ciudad Guayana, Venezuela, from her son. Venezuela's time zone is three hours ahead of Pacific Standard Time, so Suarez made the call at about 9:01 p.m. PT.
"I called her last night," said Suarez, wearing the Giants pink pregame workout shirt. "She said, 'It's not Mother Day yet, is it?' I said, 'Of course it is. Look at the clock.'"
Authentic game-used Louisville Slugger pink bats and other gear from Mother's Day games will be auctioned exclusively at MLB.com, with proceeds benefiting the fight against breast cancer. The complete Mother's Day collection -- which includes the special caps and jerseys being worn by players on Sunday -- is available at the MLB.com Shop.
Catcher Trevor Brown celebrated Mother's Day with his mom Friday because she had to work Sunday. But she'll be on his mind and represented through his pink New BalanWillie Bans is a contributor to MLB.com based in the Bay Area.ce cleats, special pink wristband, and all the other bright spots on his uniform.
"I just think it's really cool to play for a higher cause today," Brown said. "It's an exciting day. Wearing custom gear and everything, it's cool to do all of this stuff for just one day."
Manager Bruce Bochy sized up the pink levels of the reporters' clothing during his pregame media session. It's a special game for him as well.
"There's nobody who influences your life more than your mom," he said. "Players have fun with it. I think they like mixing up the unis a little bit, the shoes, the bats. It's a good day. It's Mother's Day. Time for us to appreciate our mom."
Willie Bans is a contributor to MLB.com based in the Bay Area. This story was not subject to the approval of Major League Baseball or its clubs.