Russell cherishes day as Tigers' Honorary Bat Girl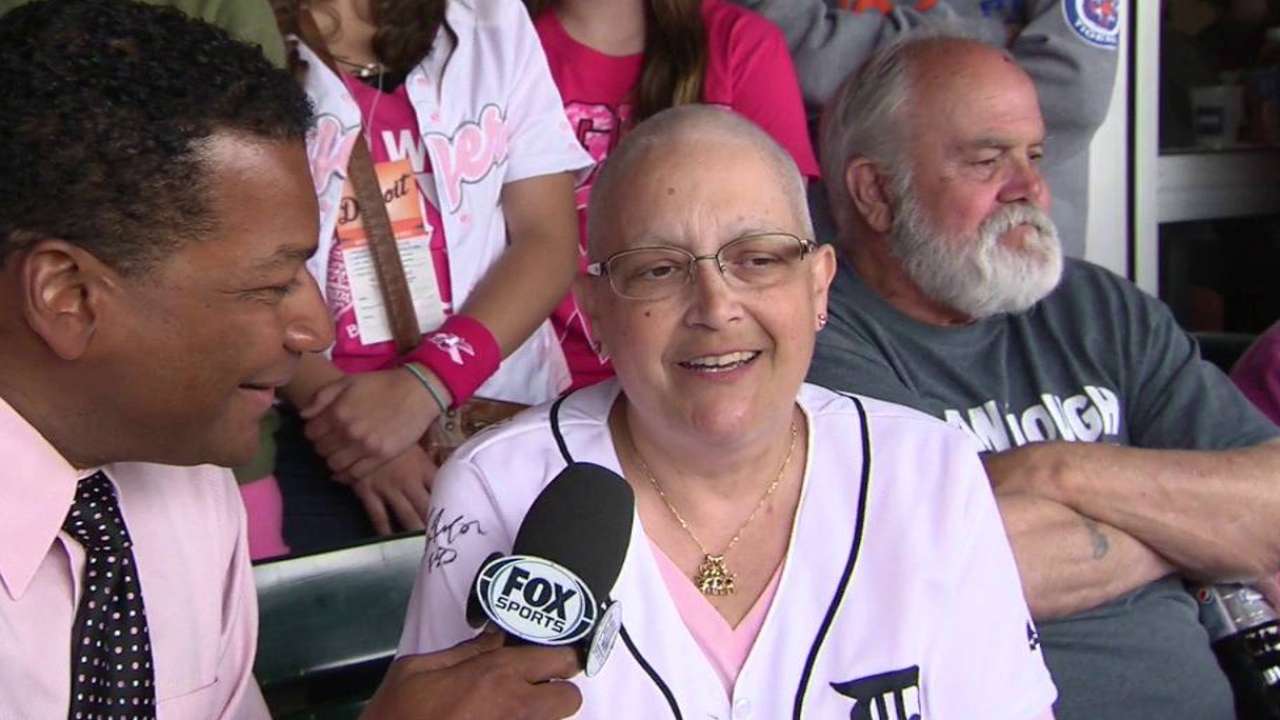 DETROIT -- Penny Russell couldn't believe when she got the call. After being nominated by her friend, Russell was the Tigers' winner of Major League Baseball's Honorary Bat Girl Contest, giving her a once-in-a-lifetime experience with her family before Sunday's game as she battles breast cancer.
The Honorary Bat Girl program was introduced in 2009 to raise awareness and support for MLB's annual "Going to Bat Against Breast Cancer" initiative each Mother's Day. A panel of judges selected winners for each club from a field of submissions. Russell was honored on the field before Sunday's game, took part in pregame activities, threw out the first pitch and received pink MLB merchandise with tickets to the game.
"My family is excited. My husband and boys are more excited than all of us. They've been giving me pitching lessons for throwing out the first pitch," Russell said. "Just seeing them be happy and not have to worry about me, it's good."
Russell was diagnosed with breast cancer last November and recently finished her sixth and final round of chemotherapy after a severe reaction to the first round. She's scheduled for surgery on May 31.
Russell is from New Boston, Mich., and her husband, Mike, has been supporting her and their three children. Sunday's events were a welcome change after a tough few months.
"This is a dream come true," Mike Russell said. "Unfortunately, it's under these circumstances. She's so excited. She deserves this day. It's been kind of a rough go, and the Tigers have been unbelievable, she's been unbelievable, and it's a dream come true. Plus my children get to do something like this. It's once in a lifetime. A good day and a bad day, but we're going to have a good day."
Penny Russell's favorite Tigers player is J.D. Martinez. She'd been on the Comerica Park field in the past when their kids ran the bases after games, but Sunday was a whole new experience. She couldn't stop smiling and taking pictures while on the field, and she talked to some Tigers players who came over.
Teams across Major League Baseball wore pink on Sunday and encouraged fans to do the same to increase breast-cancer awareness.
Authentic game-used Louisville Slugger pink bats and other gear from Mother's Day games will be auctioned exclusively at MLB.com, with proceeds benefiting the fight against breast cancer. The complete Mother's Day collection -- which includes the special caps and jerseys being worn by players on Sunday -- is available at the MLB.com Shop.
It meant a lot for Russell to see people in similar situations.
"Just to see how many people go through this and to see the survivors, it gives me hope, because I'm still in the process," she said. "I just finished my chemo. My surgery is May 31. I'm still fighting through all this. It means a lot to see how everybody comes together and hopefully can find a cure."
Chris Vannini is a contributor to MLB.com based in Detroit. This story was not subject to the approval of Major League Baseball or its clubs.