Over the Hill? Not Aaron, says Counsell
Veteran infielder's recent hot streak cements status in starting lineup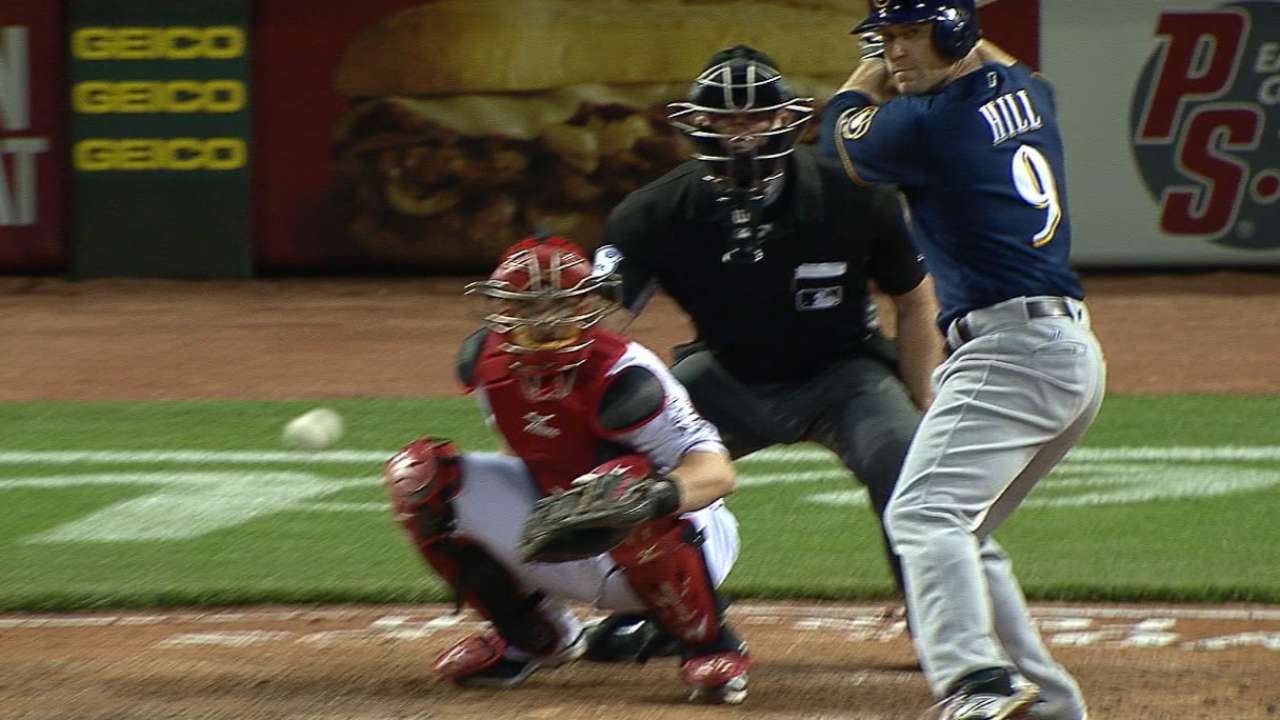 CINCINNATI -- Why would a team dive headlong into rebuilding and burn a starting spot on a 34-year-old who may be on the downside of his career?
Some Brewers fans have been asking that question about Aaron Hill, the veteran infielder who has started 27 of the Brewers' 31 games. The second-guessers grew louder when Hill followed an unproductive Spring Training with a slow start to the regular season, but Hill has quieted critics of late with a hitting streak that reached eight games Saturday, when he matched franchise records with three home runs and seven RBIs.
"It's not as simple as saying, 'Hey, let's put nine 23-year-olds out there,'" manager Craig Counsell said. "This is a team. Guys influence each other, guys help each other. There is a culture. There are priorities, of course, but you balance all that.
"It's not as simple as, 'Just put a young player out there.'"
In the Brewers' case, they happen to have young players who could man Hill's Opening Day position, third base. No. 22 prospect Yadiel Rivera has spent most of his time this season playing off the bench. Top prospect Orlando Arcia is at Triple-A Colorado Springs. Former Red Sox prospect Garin Cecchini did not distinguish himself in Spring Training, but he has some Major League experience.
The question, however, is whether those players are best served by being pushed into starting roles in the Major Leagues, or by developing where they are. The Brewers have chosen the latter.
Hill has helped make that decision, even as he struggled at the plate, by doing other things well. He played solid defense at third base. And a number of players have lauded Hill for what he does in the clubhouse.
"No. 1 is your ability to play. That's No. 1," Counsell said. "The other stuff is secondary, and it always will be. But [Hill] is playing because he can play."
Lately, that has shown on the field. Hill entered Sunday batting .414 (12-for-29) during an eight-game hitting streak. It lifted his slash line from .164/.206/.230 on the morning of April 29 to .244/.283/.400 entering Sunday.
"We've been working hard," Hill said."We've been happy with the at-bats, even though the results haven't been there. It was staying consistent with your mind with the process."
Said Counsell, "You're looking for signs that a player can come out of it and be productive. You're looking at a total package of what a player is bringing to the table. I always saw enough signs and thought Aaron was doing enough good things that I thought more performance would come."
Adam McCalvy has covered the Brewers for MLB.com since 2001. Follow him on Twitter @AdamMcCalvy, like him on Facebook and listen to his podcast. This story was not subject to the approval of Major League Baseball or its clubs.