Astros pay tribute to Honorary Bat Girl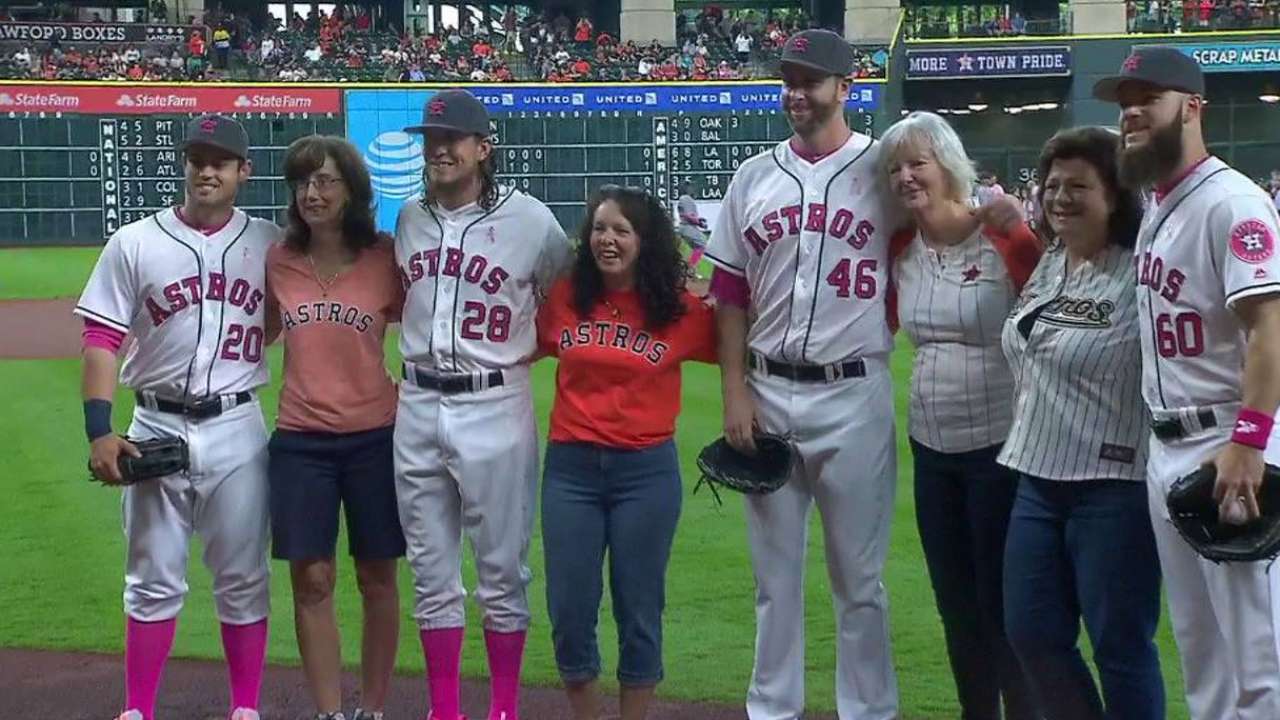 HOUSTON -- Belinda Sheldon once spent five days in a coma due to complications from breast cancer treatment, but she spent this Mother's Day surrounded by family and with her favorite baseball team.
Sheldon, a Humble, Texas, resident, is the Houston-area recipient of Major League Baseball's Honorary Bat Girl program this season. She was recognized on the field prior to Sunday's game against Seattle, meeting Jake Marisnick and throwing out the first pitch to Chris Devenski.
Sheldon was joined for the pregame festivities by her four children and husband, Erik, who nominated her for the Bat Girl honor.
"This is amazing," Sheldon said. "A dream come true to be here with my family."
The program recognizes baseball fans who have been affected by breast cancer and demonstrate a commitment in the community to fighting the disease. Sheldon earned the honor in Houston like so many women around the country, via her inspiring story in overcoming breast cancer.
Sheldon found out she had breast cancer a year and a half ago between her normal exams. She underwent a successful double mastectomy, but the cancer exacerbated an undiagnosed heart issue, and she nearly died as a result.
"A month out of recovery, I ended up coding," Sheldon said. "I had no heartbeat for 20 minutes. The doctors had to do CPR on me. I was transferred to a hospital and in a coma for five days, where I was under hypothermia treatment and they were watching me closely.
"They told my husband I wouldn't make it and told him to make plans. It was very grave at that point."
But Sheldon made it through, saying she came out of the scary ordeal "as feisty as ever" while continuing to work as a nurse. She still had a whole host of cancer treatment to work through, namely six months of chemotherapy and 33 rounds of radiation.
She emerged cancer-free and healthy and even tossed a strike in her ceremonial first pitch on Sunday.
The Honorary Bat Girl program, introduced in 2009 to foster awareness for MLB's annual "Going to Bat Against Breast Cancer" initiative, uses a panel of judges like health expert Jillian Michaels, several players such as Gregor Blanco, Kevin Gausman and Scott Kazmir and MLB.com's Lindsay Berra and Alyson Footer to determine the winning submissions.
The winners were chosen based on the following criteria: originality, quality of writing, demonstration of commitment to breast cancer awareness and public appeal (as determined by online fan votes).
The program is supported by MLB charity partners, Stand Up To Cancer and Susan G. Komen, the famous breast cancer foundation. Authentic game-used Louisville Slugger pink bats and other gear from Mother's Day games will be auctioned exclusively at MLB.com, with proceeds benefiting the fight against breast cancer. The complete Mother's Day collection -- which includes the special caps and jerseys being worn by players on Sunday -- is available at the MLB.com Shop.
Sheldon said she was proud and humbled to be the face of such a powerful cause, especially on a day that specifically recognizes women.
"I'm just really honored that I get to represent all the fighters and survivors that are still fighting the fight today," Sheldon said. "There are a lot of deserving women out here, and I hope I represent breast cancer survivors well."
Chris Abshire is a contributor to MLB.com based in Houston who covered the Astros on Sunday. This story was not subject to the approval of Major League Baseball or its clubs.