Altuve 'close to 100 percent' after brief respite
Astros reinstate Stassi, option catcher to Triple-A Fresno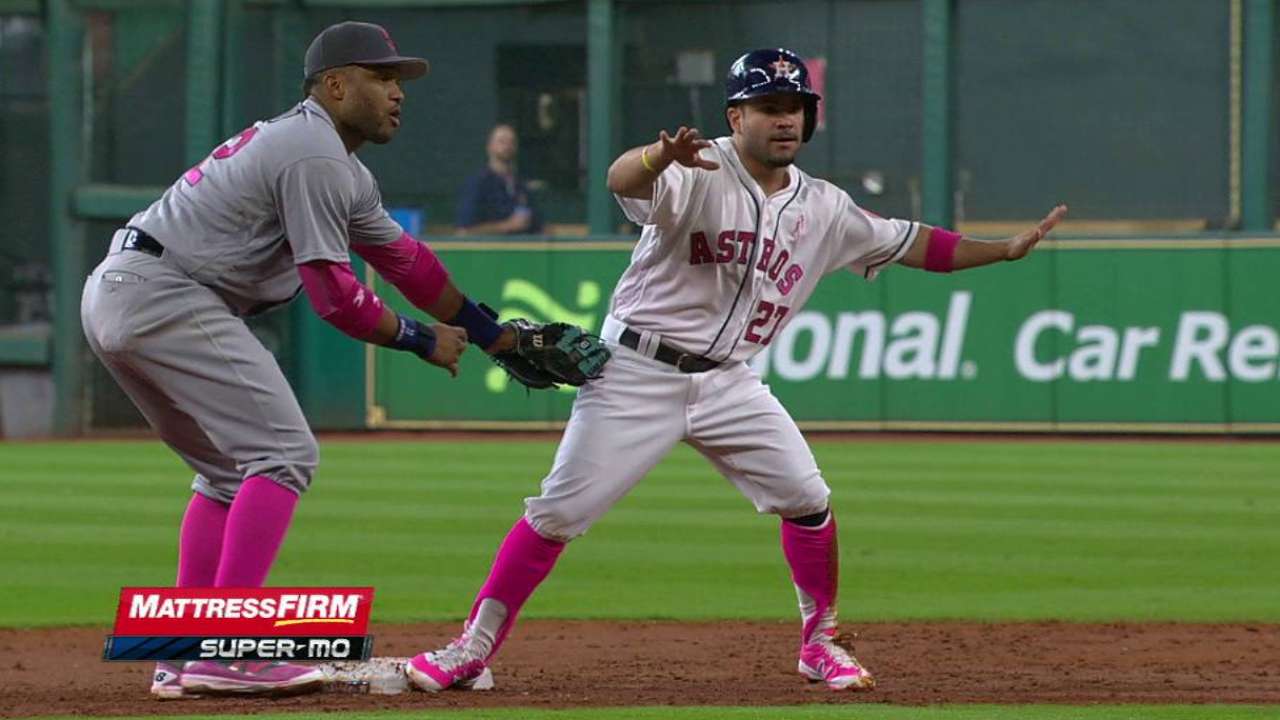 HOUSTON -- Jose Altuve's absence from the Astros' starting lineup was brief. After missing Saturday's 3-2 loss to Seattle with a sore left index finger, the second baseman returned to the leadoff spot for Sunday's series finale against the Mariners and went 2-for-3 with two runs and three steals in Houston's 5-1 victory.
"Feeling good and ready to go out there and play," Altuve said before the game. "I think the day off helped me a lot to recover and get close to 100 percent."
Astros manager A.J. Hinch joked that he didn't even consult with Altuve before penciling him in to the lineup, so strong and notorious is Altuve's desire to play every day.
"I think [he's fine]," Hinch said. "I haven't talked to him. I'm going on the assumption that he's OK. ... There's not a day when Jose doesn't want to play."
Altuve said there's not much treatment beyond rest for the issue, although contrasting warm water and cold water on the finger helps.
The three-time All Star did pinch-run in the eighth inning and grounded out in his only at-bat during Saturday's contest.
"He was bouncing around the dugout late in the game, which is why I put him in the game as the potential tying run," Hinch said. "Nothing came to my attention after the game or this morning."
Altuve has averaged 155 games played over the last three seasons, and he played each of Houston's first 30 games. Just don't tell him that he was due for a day of rest.
"It's too early to not be 100 percent," Altuve said. "Right now, everyone's still feeling good. Late in the season, that changes a bit. But it's no reason to stop right now."
Stassi reinstated, optioned to Triple-A Fresno
The Astros have reinstated catcher Max Stassi from the 15-day disabled list and optioned him to Triple-A Fresno. Expected to be the team's backup catcher on Opening Day, Stassi instead had surgery on his left wrist during Spring Training. The procedure repaired a hook of the hamate fracture on Stassi's catching wrist.
Stassi has already been with Fresno, though it was technically designated as a rehab assignment. He's just 2-for-11 with a RBI and five strikeouts in three games.
The move could clear the way for Stassi to return soon, although his role would be murky since the Astros acquired veteran Erik Kratz in Stassi's absence. The team also recently sent Evan Gattis to Double-A Corpus Christi to work as a full-time catcher in hopes Gattis could be a part-time catcher with the big league club.
Stassi is in his fourth season with the Houston organization and owns a career .357 batting average over 21 Major League games across three seasons in a limited role. He was hitting just .125 in the Grapefruit League before the wrist injury sidelined him in early March.
Chris Abshire is a contributor to MLB.com based in Houston who covered the Astros on Sunday. This story was not subject to the approval of Major League Baseball or its clubs.