Cards' Honorary Bat Girl, son celebrate life, love
Breast cancer survivor Christina Sego marks 2 years in remission with first pitch at Busch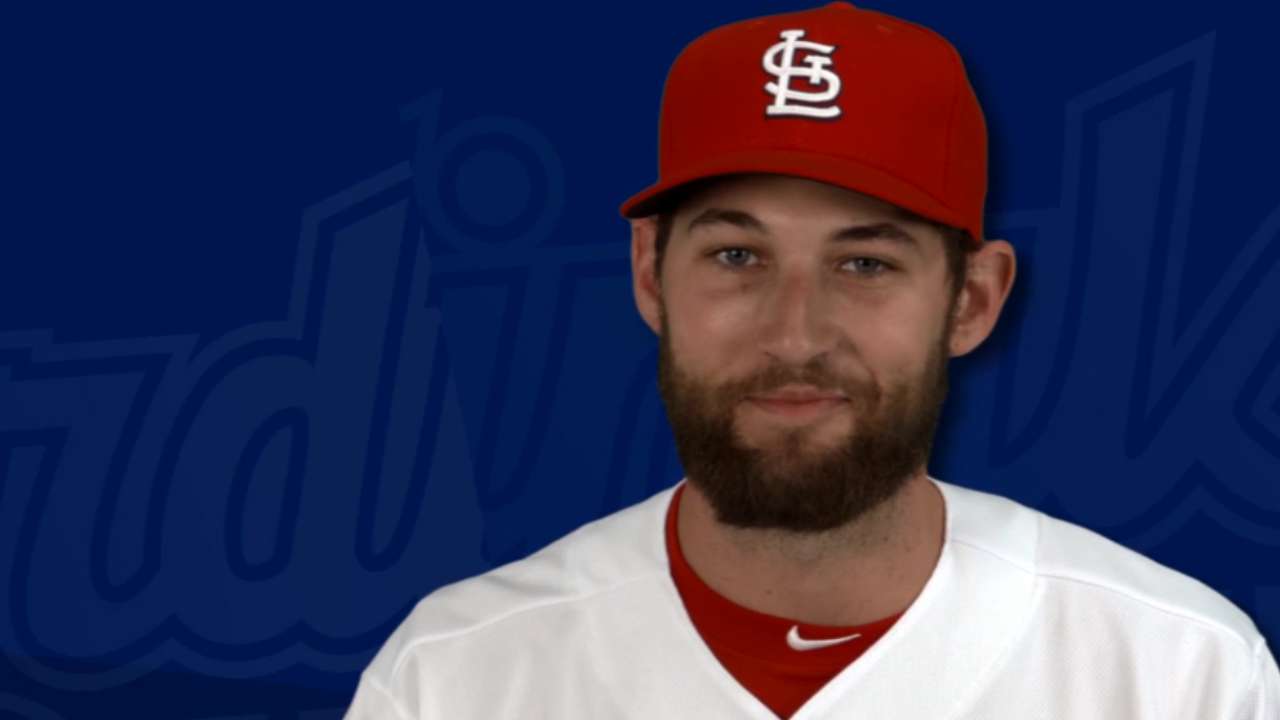 ST. LOUIS -- This Mother's Day is a special one for Christina Sego and her son, Jordan.
Sego, a single mother, is a breast cancer survivor. This month marks two years in remission.
The two celebrated at Busch Stadium as the Cardinals hosted the Pirates on Sunday. Sego was named the Cardinals' Honorary Bat Girl and threw out the first pitch.
• Mother's Day: Going to Bat Against Breast Cancer | Gear
"It's special, because it's like this is how far you've come, and all these people are here supporting you on your day," Jordan Sego said. "For something like Mother's Day, when I thought I was going to lose her, it's something special for me and her."
Sego was diagnosed with Stage 3 breast cancer in May 2013.
"I went to the doctor and I thought there was something wrong, found out that I had cancer and three days later they did surgery," Christina Sego said. "It was that fast, that progressing."
The diagnosis was hard on Jordan, who had just finished his freshman year at Sullivan High School (Mo.). It has only been him and his mom since he was 5.
"First thing that ran through my mind, she's going to die, because I've never been around someone with cancer before and that's the perception," Jordan Sego said.
Sego completed all six of her chemotherapy treatments and 33 radiation treatments within a five-month period. She still takes medication.
The treatment took its toll, but she had to stay positive for her son.
"He's everything to me, he's the reason why I got up every day, the reason that I fought so hard," Christina Sego said. "He gave me a desire to want to live, even through the darkest times. Even when I felt like giving up, I couldn't, because I knew that I had a son and he needed me more than anything in the world."
The Honorary Bat Girl program was introduced in 2009 to raise additional awareness and support for the annual "Going to Bat Against Breast Cancer" initiative celebrated on Mother's Day. Going to Bat Against Breast Cancer is a Major League Baseball initiative supported by MLB charitable partners, Stand Up To Cancer and Susan G. Komen. This initiative raises awareness about the breast cancer cause, while also raising funds to support breast cancer research.
Both teams wore uniforms with pink designed in them. The Cardinals' iconic birds on the bat logo was pink, and they wore gray caps with pink lettering.
.@Yadimolina04 sporting the first ever #STLCards pink uniform for #MothersDay pic.twitter.com/soRVZjynwo

— St. Louis Cardinals (@Cardinals) May 8, 2016
Authentic game-used Louisville Slugger pink bats and other gear from Mother's Day games will be auctioned exclusively at MLB.com, with proceeds benefiting the fight against breast cancer. The complete Mother's Day collection -- which includes the special caps and jerseys being worn by players on Sunday -- is available at the MLB.com Shop.
Every team honored a bat girl. Sego and the others were picked from a panel of judges to recognize baseball fans who have been affected by breast cancer and who demonstrate a commitment to supporting the fight against the disease.
Sego, a 7th grade Social Studies teacher at Sullivan Middle School, has tried to use her story as a lesson to her students.
"My students have been very big supporters through all of this," Sego said. "After I finished my last chemotherapy, I went back to school four weeks after that with no hair, no hat, anything. It was good for them to see somebody who looked like me so that they'll be more empathetic to others that they see, because there's such a stigma when people see someone with no hair and they'll stare and they'll make rude comments. But if I taught them anything, it's to be accepting of everyone."
Sego said she practiced her pitching with her boyfriend, Nathan Shelton, who accompanied her to the game with Jordan and Sego's cousin, Vic Moss. They had plenty to celebrate with Sego's health and Jordan's upcoming high school graduation.
"It just shows me that you can do anything," Jordan Sego said. "She battled through it. Yeah, it was a tough battle, but you just can't give up. Anything's possible, and it was nice to see how much she loves me to push through that and not give up."
Christina Sego said early detection is the key.
"It's never too early to start [checking monthly]," Sego said. "If you see or feel the littlest thing wrong, you should see the doctor as soon as you can, because it doesn't matter how old you are or how careful you are, it can happen to anybody."
Joe Harris is a contributor to MLB.com based in St. Louis. This story was not subject to the approval of Major League Baseball or its clubs.