Honorary Bat Girl grateful for experience, platform
Thomas takes break from chemo to head to Turner Field, raise breast cancer awareness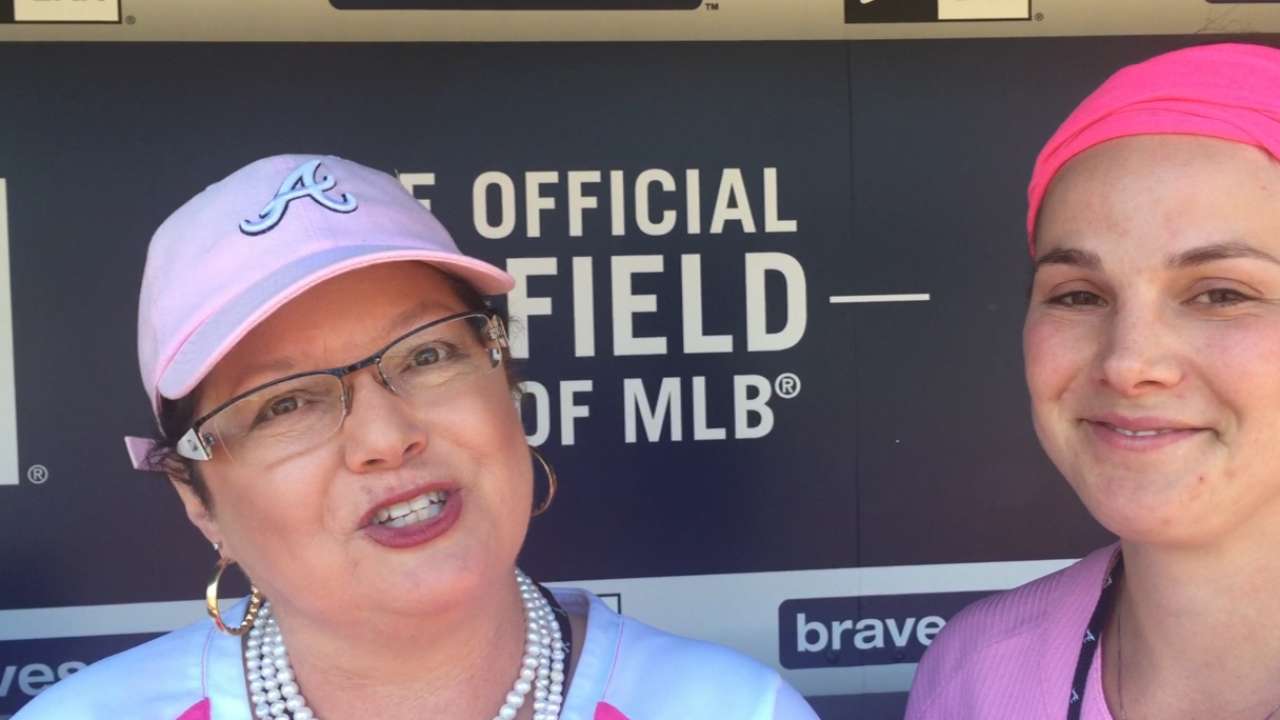 ATLANTA -- As Carol Thomas enjoyed the opportunity to serve as the Braves' Honorary Bat Girl for Sunday afternoon's game against the D-backs at Turner Field, it did not take long to see why she is described as "the strongest person I know" by her daughter, Nikki.
"Nobody deserves this more than she does," Nikki Thomas said as she experienced a special Mother's Day with Carol, who came to Turner Field with a vibrant energy that hid any indication that she has been battling breast cancer since 2013.
The two Thomas women toured Turner Field and spent a few moments with Freddie Freeman, Nick Markakis and Jeff Francoeur in the dugout before Sunday's game. The 50-year-old Guntersville, Ala., native considered this experience to be part of her "final grand slam and party" and a break from the chemotherapy treatments she is undergoing for the third time since being diagnosed with breast cancer.
"I'm just really thankful that the Braves and [Major League Baseball] gives women a chance to talk about breast cancer," Carol Thomas said. "I'm just absolutely thrilled to be here. This is a platform to talk about breast cancer, because a lot of people don't want to talk about it. If you're going to go to bat against breast cancer, the first thing you need to do is do your self exams and get your yearly mammograms."
MLB instituted the Honorary Bat Girl program in 2009 to raise additional awareness and support for the "Going to Bat Against Breast Cancer" initiative that is annually celebrated at big league stadiums on Mother's Day.
Authentic game-used Louisville Slugger pink bats and other gear from Mother's Day games will be auctioned exclusively at MLB.com, with proceeds benefiting the fight against breast cancer. The complete Mother's Day collection -- which includes the special caps and jerseys being worn by players on Sunday -- is available at the MLB.com Shop.
When she submitted her entry to gain this honor, Thomas wrote, "I am leaving the game tradition to my lovely daughter who played softball during her school years, including in college on scholarship!! I feel like this would be a perfect way to hand her the bat to carry on as well as to give me one last Turner Field experience to talk about when I get to heaven to see my Mom and Dad!!"
When she met the three aforementioned Braves players, Thomas provided a special thanks to Freeman, who was part of the committee that selected her entry. Freeman was just 9 years old when his mother died after a long battle with melanoma.
"It's so difficult because you really don't know how many votes you're getting," Thomas said. "We had no clue how many people were voting. I'd catch myself getting on there, reading other ladies' stories and wanting to vote for them because there were so many great stories out there."
href="mailto:mark.bowman@mlb.com">Mark Bowman has covered the Braves for MLB.com since 2001. This story was not subject to the approval of Major League Baseball or its clubs.