Baez shows stuff, confidence of setup man
Roberts likes right-hander at back end, thinks he will only get better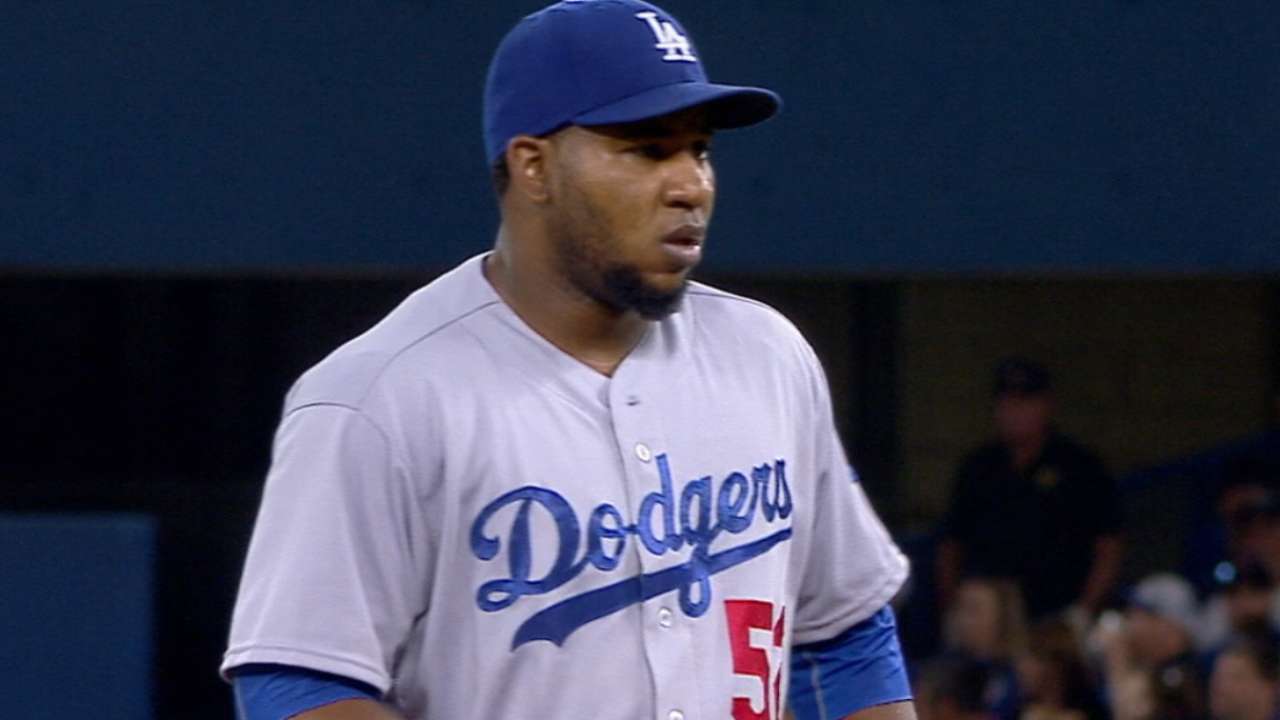 TORONTO -- Maybe Pedro Baez can be the answer.
Baez successfully took the Dodgers' 6-2 win over the Blue Jays from Clayton Kershaw to Kenley Jansen, providing a 1-2-3 eighth inning, the most troublesome frame for the Dodgers over the past few years.
There was one little hiccup after Baez entered with a three-run lead against Toronto, falling behind in the count, 3-2, to the first hitter he faced, No. 9 hitter Josh Thole. Catcher A.J. Ellis went to the mound to remind Baez that, with his stuff, he shouldn't mess around.
Baez got Thole on a weak grounder with a fastball, then retired the next two batters for a successful rebound from his previous outing, when he allowed three runs against Tampa Bay. Can he become a reliable setup man?
"The stuff is certainly there," manager Dave Roberts said. "I think it's the mound presence, the confidence and the way he carries himself, the look in the eye that he wants the ball and going after guys and trusts his stuff and [is] not nibbling.
"Yesterday, he had a little conversation with A.J. in midst of his outing and rared back and threw the 98. I think to be the back-end guy, you've got to be confident and be your biggest fan. The stuff plays, it's sharp."
How does a converted third baseman who has a higher walk ratio this year than in his two previous seasons convince himself?
"It's through success, and the more success you have, the more confidence you get," Roberts said. "I think there are many guys that have pitched at the back end for years that don't have the stuff Petey has. But it's just that confidence they have to get guys out at the end of the game. But Petey's getting there, and I trust him and like him at the back end, and he's only going to get better, which is scary."
Ken Gurnick has covered the Dodgers since 1989, and for MLB.com since 2001. This story was not subject to the approval of Major League Baseball or its clubs.