Blanco drives in winner wearing Mother's Day pink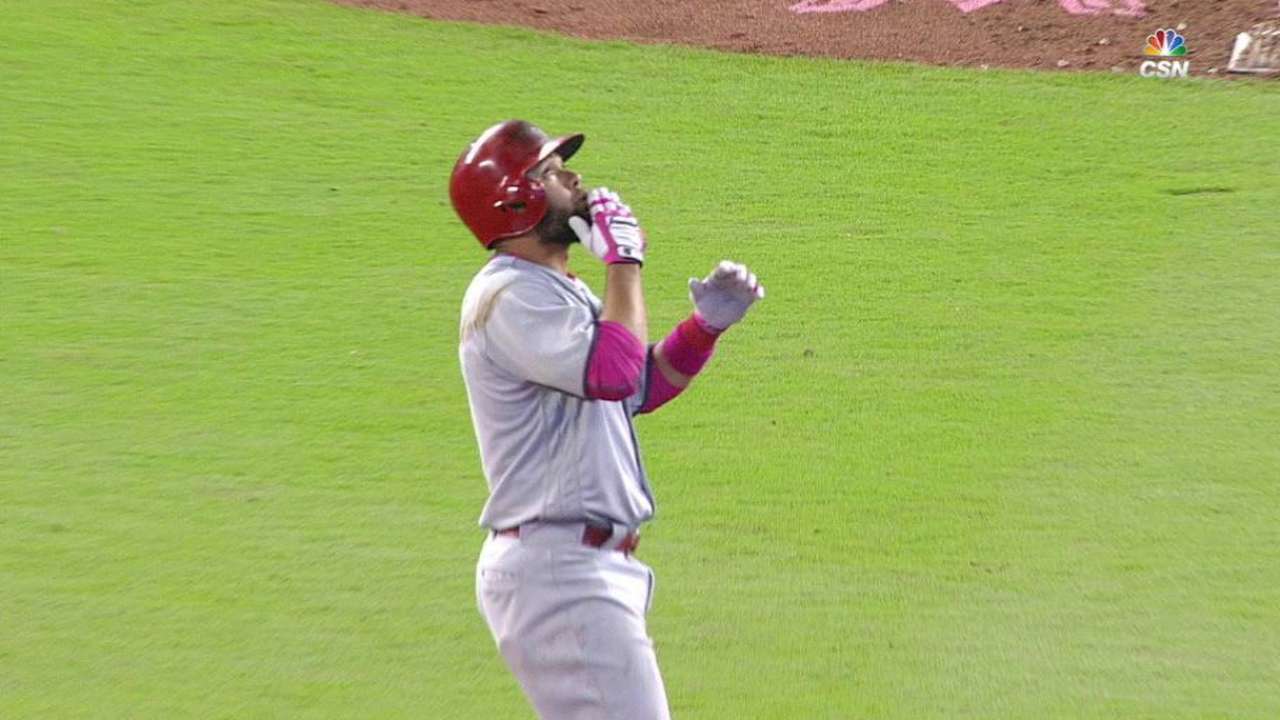 MIAMI -- Andres Blanco is a pleasure to be around. His infectious smile and bubbly personality is a welcomed addition to any clubhouse. His mom did well in raising him in Venezuela.
Blanco stood on second base, wearing pink shoes and pink high socks -- after swinging a pink bat, a league-wide showing of solidarity in the recognition of breast cancer awareness, and pointed to the sky following his eighth-inning go-ahead RBI double in the Phillies' 6-5 win over the Marlins. That's how he honored his mom on Mother's Day.
"That's for mom, and grandma passed away a couple of days ago," Blanco said. "It's appreciation and gratitude."
It has been many years since his mother died, but Blanco continues to celebrate Mother's Day in her honor and with his own family, a wife and two boys. He was glad she was able to spend three days with him on Thursday, Friday and Saturday, while the Phillies were in South Florida.
"At least I had time to wait for midnight when the day starts and give the present," Blanco said. "At least it's better than nothing."
Such is the life of a Major Leaguer traveling the country from March to October. Blanco knows well how precious the time is spent with family.
• Rupp's mom thrilled to see his dream come true
"It's always a pleasure to have your own family with you," Blanco said. "For American players, it's closer. They can fly mom in for the special day. For the Latin guys, it's kind of far away. We would like to have [our families] with us all the time, but it's impossible."
Mother's Day remains special each year for Blanco as it brings back memories of his mom.
"I'm reminded of what she always told me growing up, that if you want to do something, do it good, and if you want to be great, you've got to go out there and do everything exactly the way they ask you to and practice hard to get better," Blanco said.
Authentic game-used Louisville Slugger pink bats and other gear from Mother's Day games will be auctioned exclusively at MLB.com, with proceeds benefiting the fight against breast cancer. The complete Mother's Day collection -- which includes the special caps and jerseys being worn by players on Sunday -- is available at the MLB.com Shop.
Glenn Sattell is a contributor for MLB.com covering the Phillies on Sunday. This story was not subject to the approval of Major League Baseball or its clubs.