Pirates solve Wacha, run away for series win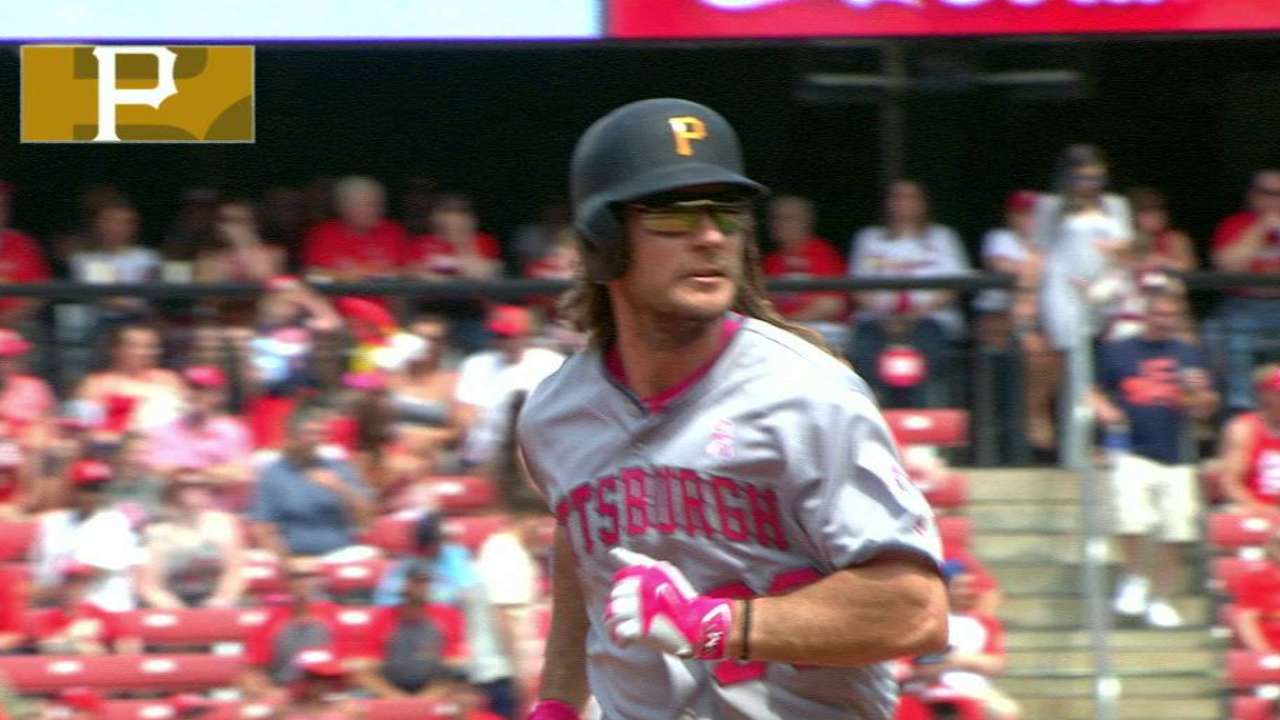 ST. LOUIS -- Seemingly no matter how well the Pirates played last season, they couldn't catch the Cardinals. Pittsburgh won 98 games, but St. Louis won 100. They played 19 times, and the Cardinals won 10 of them. But the Pirates have set the tone in their favor so far this year, as they showed in Sunday's 10-5 win at Busch Stadium.
The Bucs have won five of their six games against the Cards, and they were a bad bounce in Saturday's game away from another sweep. More than a month into the season, the Pirates are 17-14 and the Cardinals are 16-16.
• Cast your Esurance All-Star ballot for Jaso, Polanco and other #ASGWorthy players
"It's fun to play here," said Pirates right-hander Gerrit Cole, who threw six strong innings. "It's fun to play against the best competition."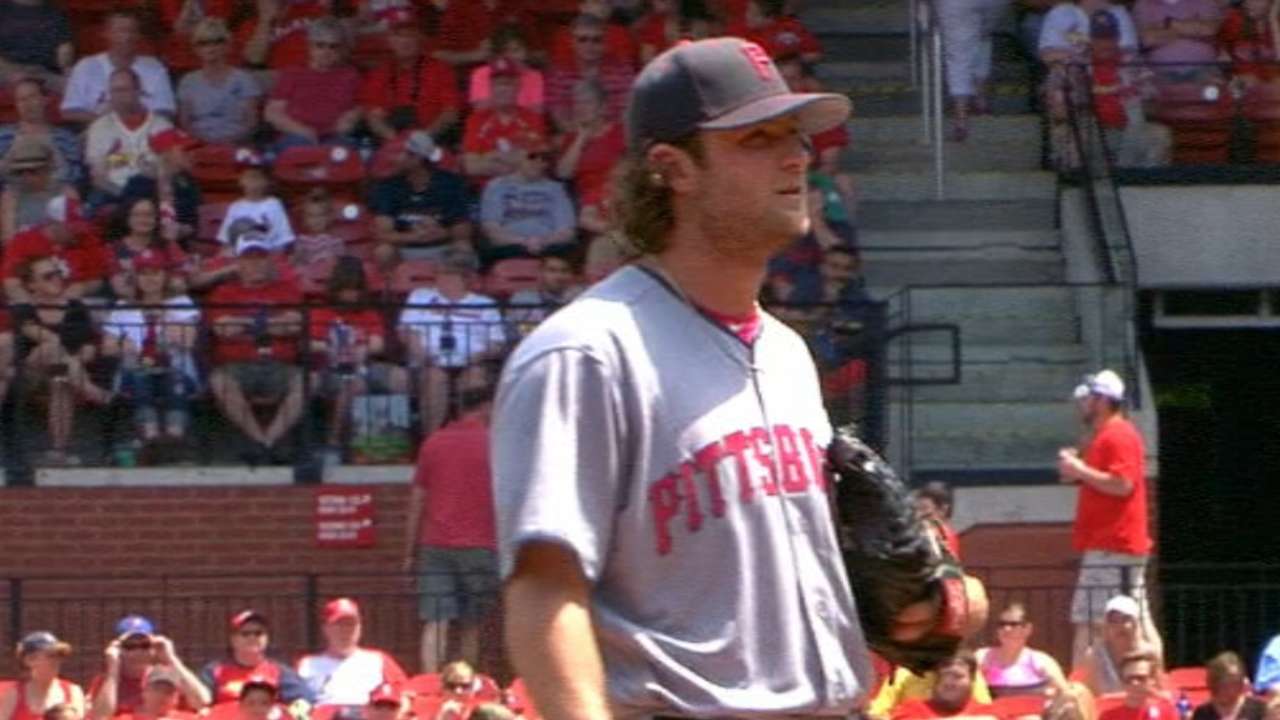 • 'Call your mom': Cardinals get the message
Cardinals starter Michael Wacha silenced the Pirates' pink bats -- part of MLB's annual "Going to Bat Against Breast Cancer" Mother's Day initiative -- for three innings, but the Bucs eventually broke out and backed up Cole. Wacha retired the Pirates' first nine hitters in order. John Jaso snapped the streak with a leadoff single in the fourth and put the Pirates ahead in the fifth with a two-run homer to right field.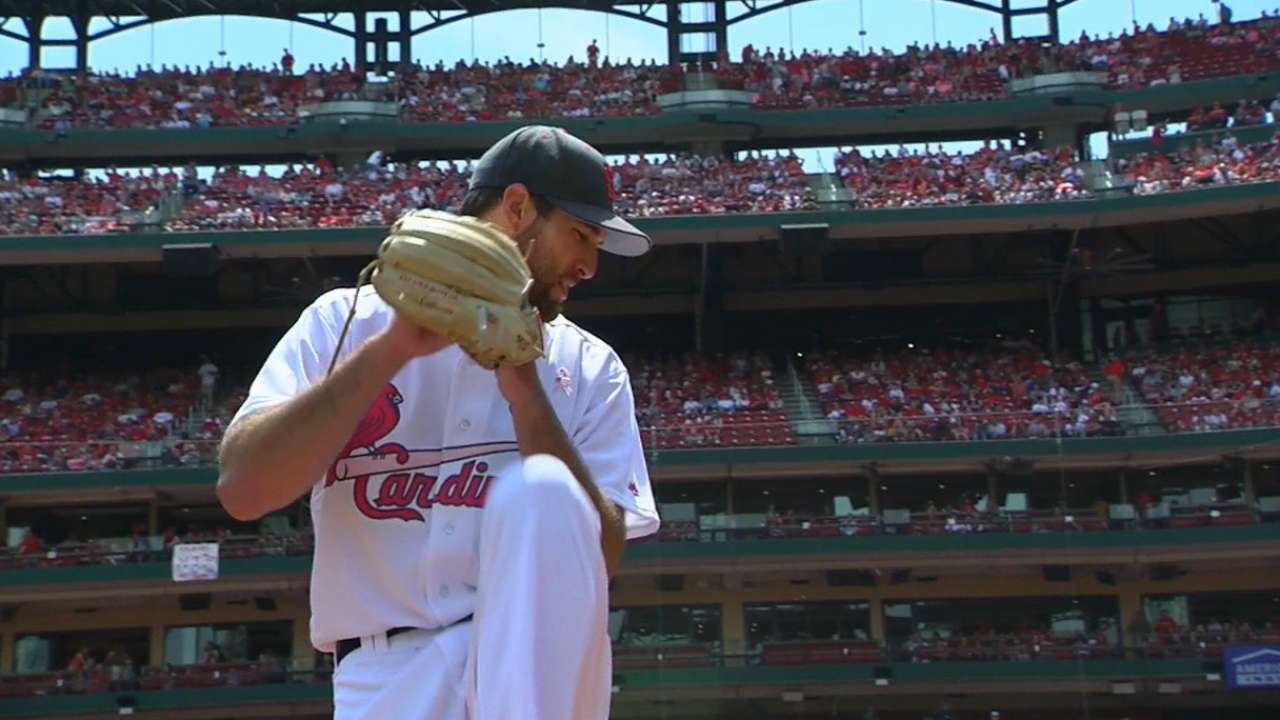 • Black, gold and pink: Pirates celebrate moms
"He put together a great at-bat there," Wacha said of Jaso's homer. "I was making some really good pitches, and he kept fighting and he got a pitch he could handle. It was a mistake, a changeup that I left up in the top of the zone that he didn't miss."
Gregory Polanco delivered the big blow in the Bucs' four-run seventh, bouncing a three-run homer off the left-field foul pole. Pittsburgh tacked on two more runs in the ninth on RBI hits from Josh Harrison and Chris Stewart.
"This offense, they were grinding at-bats against us," Cardinals manager Mike Matheny said. "They took some good at-bats all the way through."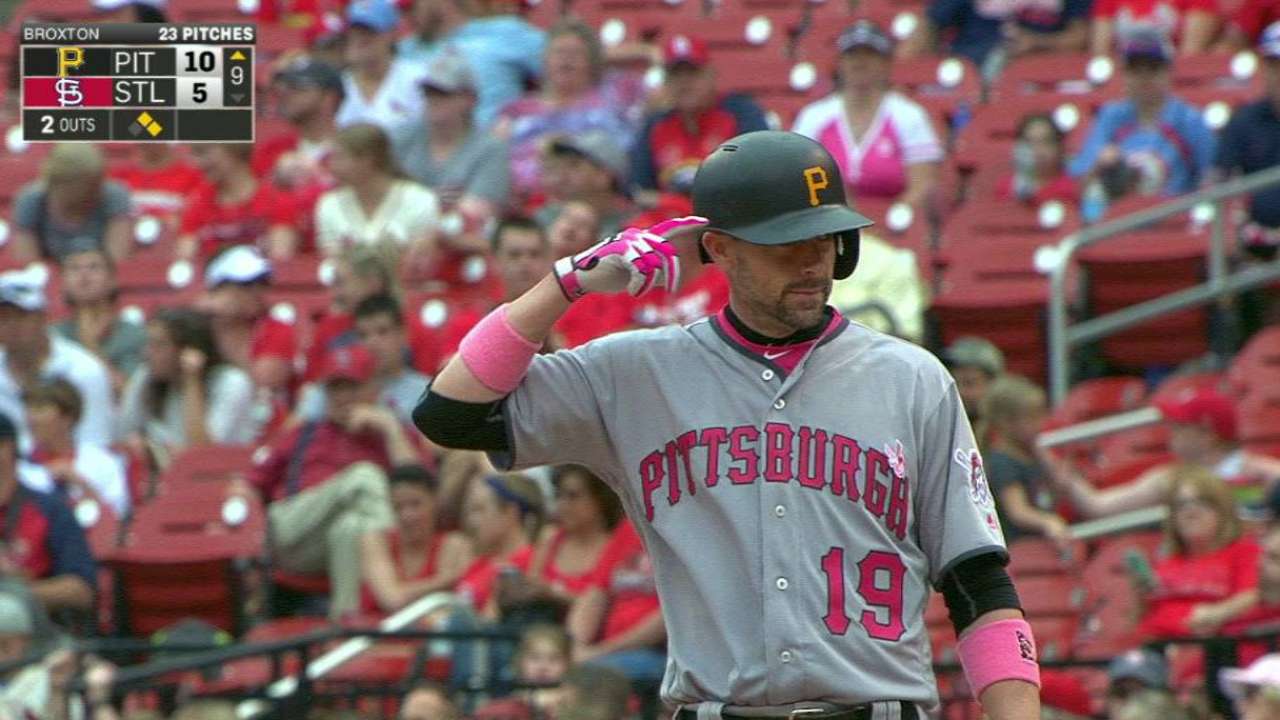 Cole held the Cardinals to two runs on six hits, including Jeremy Hazelbaker's sixth homer of the season, and struck out seven, but St. Louis pulled back into the game against Pittsburgh's bullpen. The Cards piled on three runs in the seventh and loaded the bases in the ninth, forcing the Pirates to call on closer Mark Melancon for the save.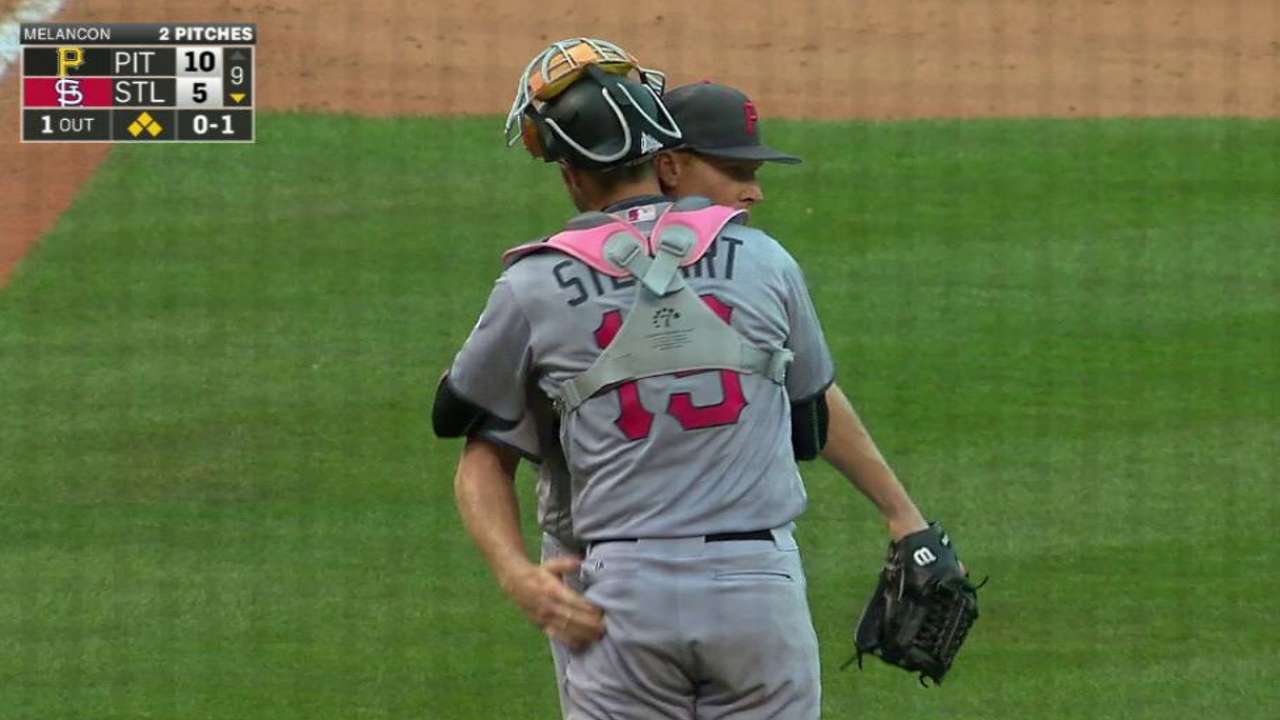 MOMENTS THAT MATTERED
Back on track: Over the last week, Jaso had mentioned several times that he wasn't feeling great at the plate. From April 19 to Thursday's off-day, Jaso hit .196 with a .644 OPS. But he's looked more like himself the last two days, and he showed it by blasting a two-run homer to right field in the fifth inning. Jaso's third homer ended a tough, nine-pitch at-bat in which he fouled off five pitches. He doubled to right-center during the Pirates' seventh-inning rally, capping a 3-for-4 day and his first multi-RBI game of the season.
"He continues to reignite," Pirates manager Clint Hurdle said. "He got in a little lull there ... and he had a nice series here for us."
Wasted opportunities: The Cardinals squandered two chances to put runs on the board against Cole. In the first, Stephen Piscotty singled and Matt Holliday struck out, but he reached on a wild pitch, sending Piscotty to third with one out. Brandon Moss and Hazelbaker struck out, ending the threat.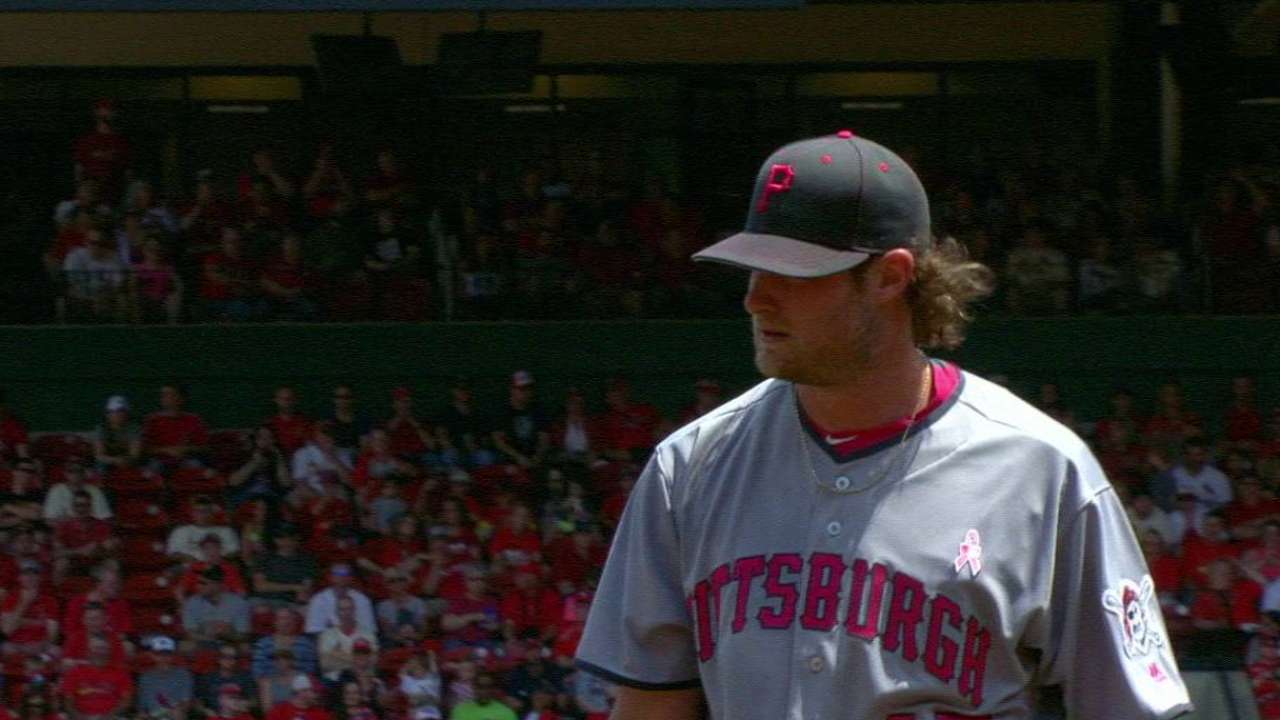 In the third, Matt Carpenter and Piscotty led off with singles, but Holliday's double play short-circuited a potential big inning.
"We had a great opportunity in the first -- we get the bases loaded, and we worked him up to 33-34 pitches, and we need to make a dent, at least in that inning," Matheny said. More >
Hot Coffee: Polanco's three-run shot in the seventh inning bounced off the left-field foul pole. It was the 24-year-old right fielder's fourth homer of the season, a figure he didn't reach until July 24 last year. Polanco hadn't homered with a man on base since that day, either. His last three-run homer was June 26, 2014.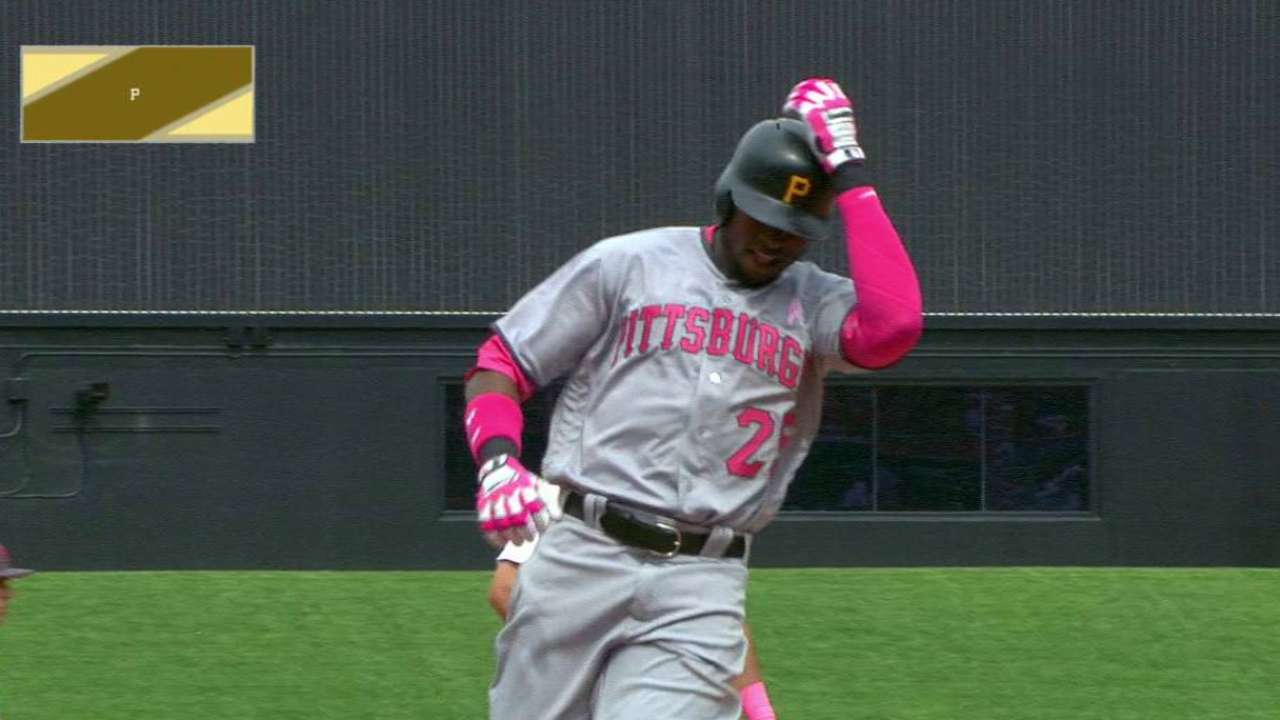 "To drive a ball down the left-field line, that is impressive," Hurdle said. More >
Bowman's setback: After earning a spot on the team's 40-man roster as a Rule 5 Draft pick, Matt Bowman has carved himself a prominent role in the Cardinals' bullpen, but he struggled mightily for the first time this season. Bowman was unable to record an out, and all four batters he faced scored, raising his ERA from 2.25 to 5.25. He hadn't allowed a run in seven of his previous eight appearances.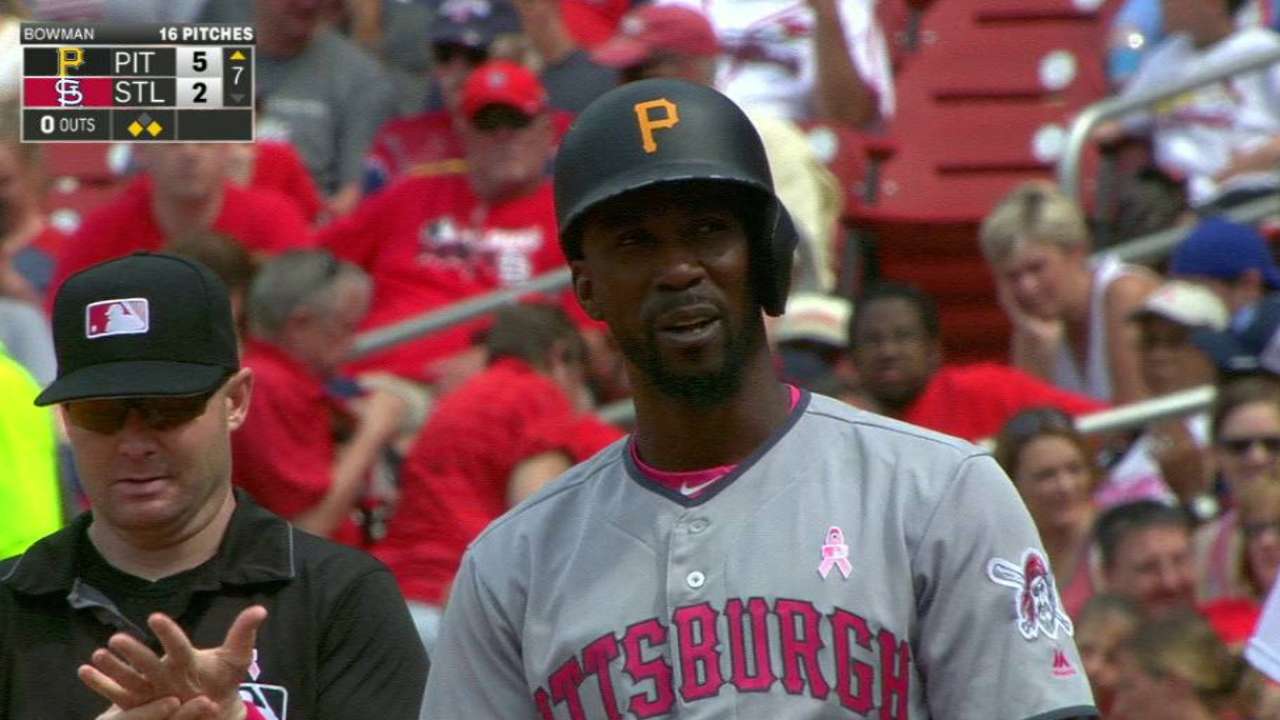 "Matt's been a guy with good sink, getting on top of the ball, working the ground balls to be able to get us out of some tough spots," Matheny said. "Today, he was elevated."
QUOTABLE
"We were a bad bounce away from sweeping the series." -- Hurdle
"It wasn't just giving up a meatball in the middle of the plate. You're talking about a guy fouling off four or five pitches, and pretty soon you've got to try something different. You keep working the count and keep wearing him out, there's a chance you're going to get something over the middle of the plate." -- Matheny, on Jaso's home run
• Cards' Honorary Bat Girl, son celebrate life, love
SOUND SMART WITH YOUR FRIENDS
• Pirates left fielder Starling Marte logged his third straight multi-hit game, his 15th of the season. He's picked up multiple hits in eight of his last 11 games at Busch Stadium.
• Pirates setup man Tony Watson recorded his 300th career strikeout in the eighth inning, fanning Aledmys Diaz. Watson ranks fourth in Pirates history in strikeouts among left-handed relievers, trailing John Grabow (326), Scott Sauerbeck (319) and Rod Scurry (311).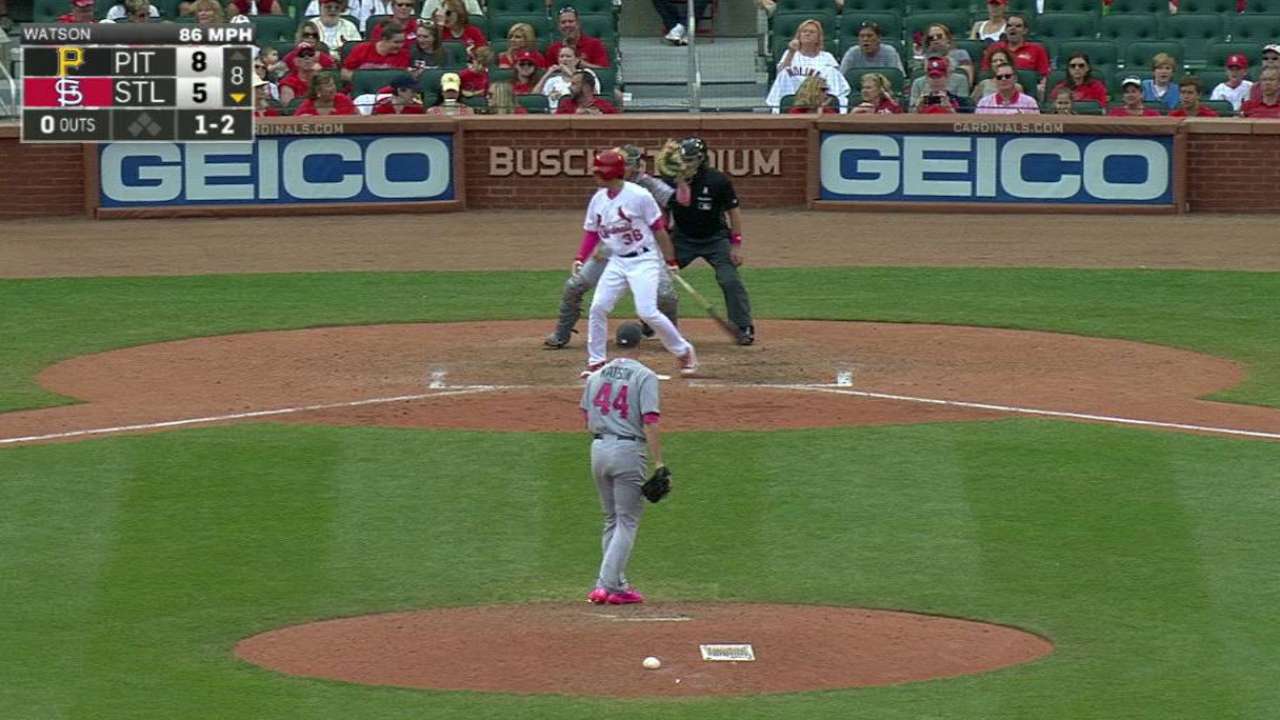 • Piscotty, who is hitting .323, recorded his second career four-hit day and first at Busch Stadium. His first four-hit game was at Arizona on April 27.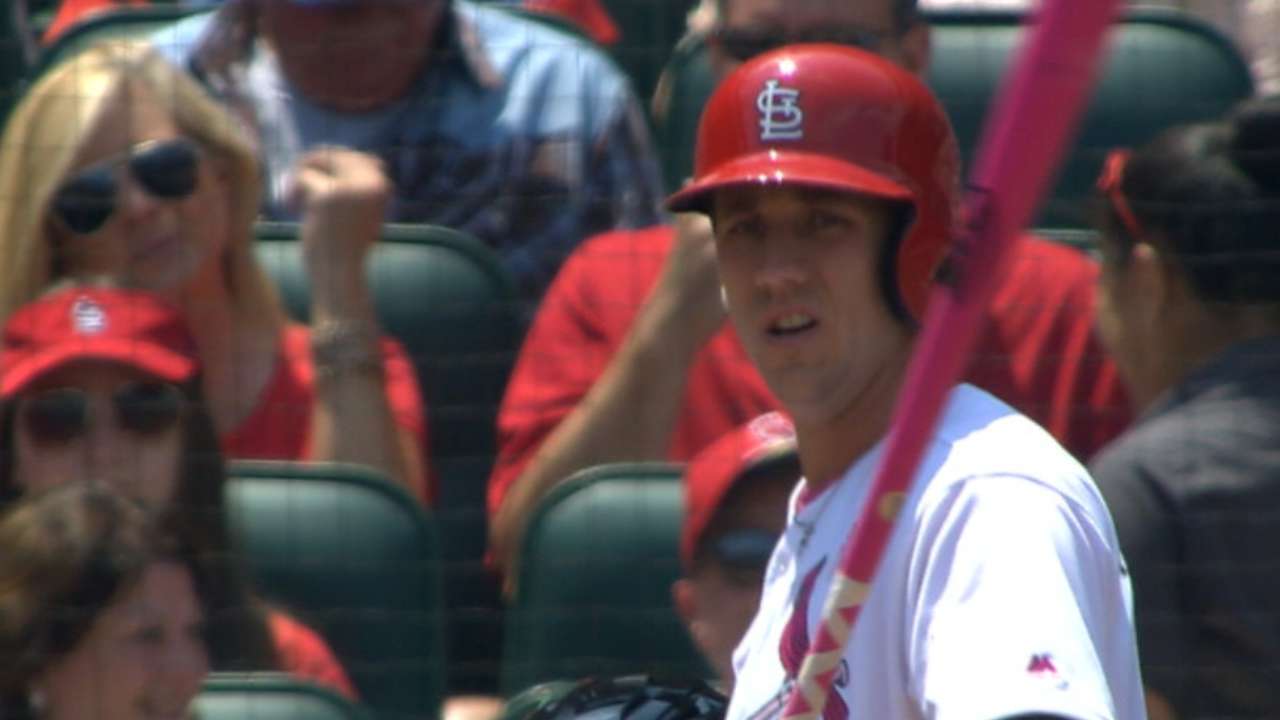 WARM WELCOME BACK
Pirates third baseman David Freese, a St. Louis resident and the Cardinals' hero in the 2011 World Series, received a long standing ovation before pinch-hitting on Saturday. The 42,441 fans at Busch Stadium delivered another before Freese's first at-bat Sunday, raucously cheering as catcher Molina milled around in front of the plate to let Freese soak in the moment.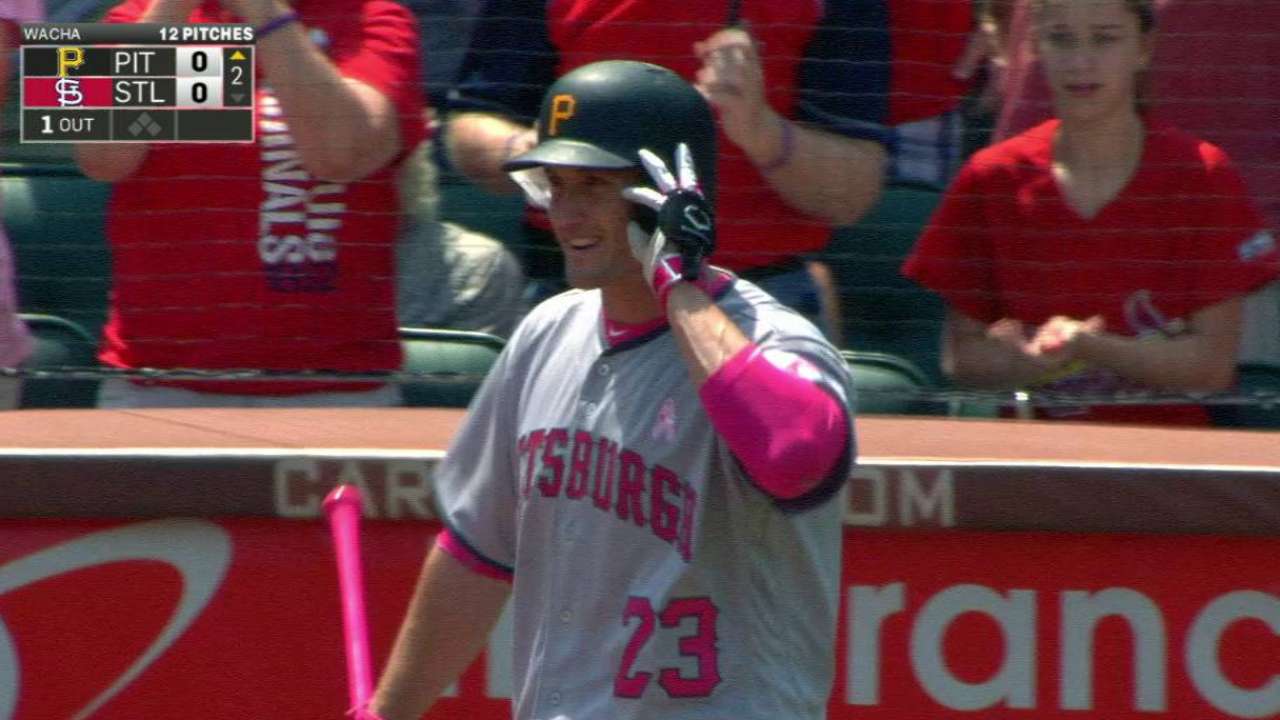 WHAT'S NEXT
Pirates: The Bucs' National League Central road trip will continue in Cincinnati, where lefty Jonathon Niese will start the opener of a three-game series against the Reds at 7:10 ET on Monday night at Great American Ball Park. The Pirates and Reds have split their six meetings so far this season, with each club winning two of three at its home ballpark.
Cardinals: Mike Leake (0-3, 6.03 ERA) gets the start as the team starts a six-game West Coast swing against Albert Pujols and the Los Angeles Angels on Tuesday at 9:05 p.m. CT. Leake has given up four or more runs in each of his six starts and is 5-8 with a 4.13 ERA in 22 career Interleague starts since 2010.
Watch every out-of-market regular season game live on MLB.TV.
Adam Berry has covered the Pirates for MLB.com since 2015. Follow him on Twitter at @adamdberry.

Joe Harris is a contributor to MLB.com based in St. Louis.

This story was not subject to the approval of Major League Baseball or its clubs.