Green confident Shields will turn it around
Citing command issues, Padres righty gives up pair of HRs, five walks in fifth loss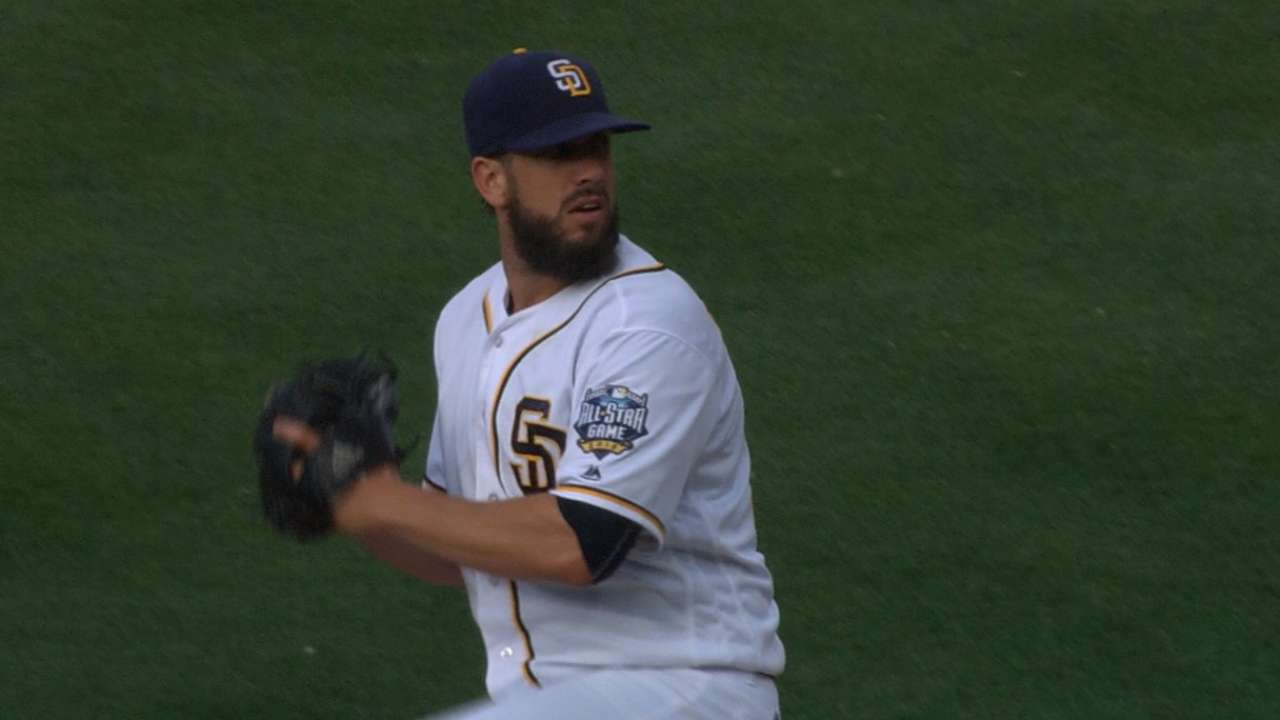 SAN DIEGO -- Padres pitcher James Shields was more "Big Fly" than "Big Game."
Shields was touched for two home runs -- including the first of 42-year-old pitcher Bartolo Colon's career -- as San Diego fell to the Mets, 6-3, on Saturday night at Petco Park.
"I just couldn't find the strike zone,'' Shields said. "I was inconsistent with my fastball and I was not making my pitches in the early innings. It was a battle all game, really. My delivery was kind of all over today. I did the best I could after the first two innings and tried to get six innings in.''
Shields (1-5) got through six, surrendering four runs on five hits and a season-high five walks. He struck out eight, another season high, but he was done in by two-run blasts from Yoenis Cespedes and Colon.
Cespedes hit his in the first, after Shields walked David Wright. It was good for a 2-0 Mets lead, and Shields was left scratching his head.
"It was a changeup, down,'' Shields said. "It was a good pitch, down and in. He is a strong human being.''
No on ever accused Colon of being ripped. But he pummeled Shields' belt-high offering in the second, with Kevin Plawecki aboard after a double.
Nearly every man, woman and child in Petco Park was amazed Colon went yard.
"I almost missed third base I was so excited,'' Plawecki said.
Shields wasn't as animated when asked for his reaction to Colon being the oldest Major Leaguer to hit his first home run.
"Next question, man,'' he said.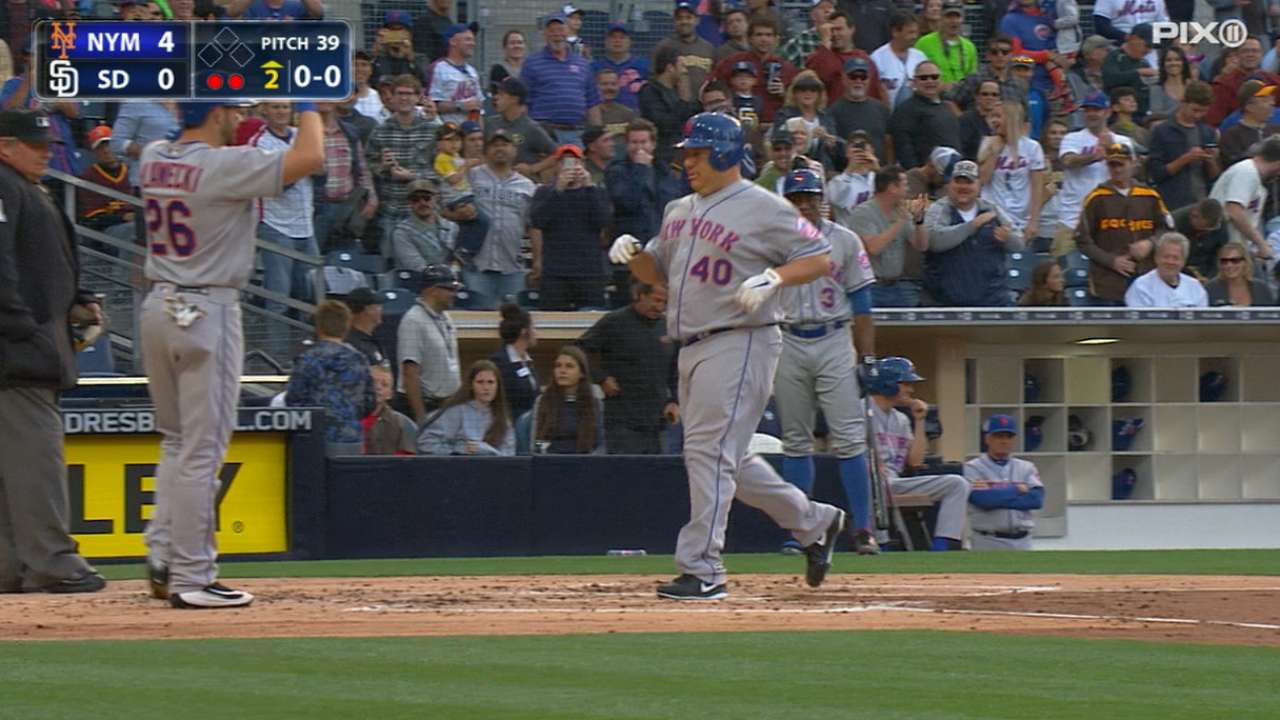 What's next for Shields? He already has only two fewer losses than last year.
"I don't think he needs to fix anything at all,'' San Diego manager Andy Green said. "You look up and he has a 3.60 ERA. It falls right into line with his career norms and he's been a winning pitcher his entire career.
"I don't read too much into that; just kind of how it has played out so far. He's going to be a winner before it is all said and done; he already is.''
Shields, who has had limited run support, will try to iron out his woes.
"You are always working every five days,'' said Shields, who allowed a Major League-high 33 homers last year. "You're continually trying to get better. There are days out there where you don't have your good stuff and you just have to pitch through it.''
Despite five walks, Shields said his release point isn't betraying him.
"It was my rhythm,'' he said. "I had to go to my curveball; that was really the only thing I was feeling out there. But sometimes you are going to have those games. You have to battle and try to keep your team in the game.''
The challenge of keeping the ball in Petco torpedoed Shields.
One came from Cespedes, a proven power source.
And another from a reliable out-machine in Colon, who won't be invited back to San Diego for July's Home Run Derby.
"It was one swing that you really don't expect,'' Green said. "Otherwise, you are looking at two runs in six innings.''
Jay Paris is a contributor for MLB.com based in San Diego. This story was not subject to the approval of Major League Baseball or its clubs.