Power stroke coming together for Freeman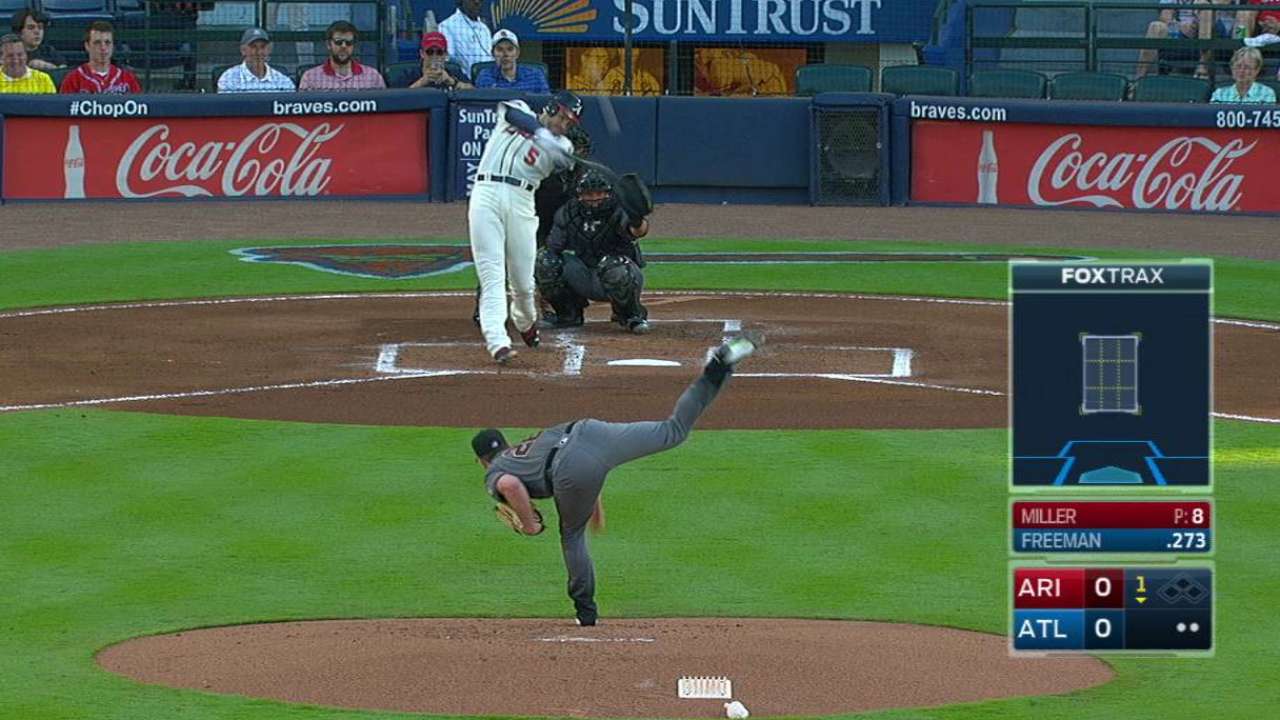 ATLANTA -- As the Braves endured a pair of losing streaks that consisted of at least eight games through this season's first few weeks, they maintained hope that their fortunes would turn once Freddie Freeman halted his frustrating slump and Ender Inciarte returned to the lineup.
This might prove to be true as Inciarte shakes off some of the rust that developed as he spent the past month sidelined by a left hamstring strain. But Freeman's recent resurgence, which was extended when he homered during Saturday night's 4-2 loss to the D-backs, has not halted the miseries experienced by the Braves, who own a franchise-worst 7-22 record through 29 games.
"We need to get some people on base either in front of or behind him to push him across because he's doing his job," Braves manager Fredi Gonzalez said. "(Nick Markakis) is doing his job. A lot of the guys might be pressing a little bit. This game is not real fun to play when you're not producing or winning games."
With his job security in doubt, Gonzalez can't help the fact that 39-year-old A.J. Pierzynski has shown the lingering effects of starting 104 games last year or that instead of being an offensive upgrade to Andrelton Simmons, Erick Aybar entered Saturday with the National League's worst OPS.
But with Inciarte back for the first time since straining his left hamstring on April 8, Gonzalez can at least attempt to create more opportunities for his slumbering offense by constructing his lineup in the manner that he did on Saturday, when his first three lineup spots were filled with Markakis, Inciarte and Freeman.
"Hopefully with Ender being back up there, providing a more steady one-two punch up there, I'll get some more opportunities," said Freeman, who has drawn a walk in seven 27 plate appearances with runners in scoring position.
Unfortunately for the Braves, Shelby Miller retired Markakis and Inciarte before surrendering Freeman's first-inning solo shot on Saturday night. Two innings later, Inciarte drew a leadoff walk before Freeman followed with a long fly ball that was knocked down by the wind before being caught on the warning track in right-center field.
Since beginning the season with two hits in his first 25 at-bats, Freeman has batted .338 with a .939 OPS. The former All-Star has collected seven extra-base hits, including three home runs, within his past 33 at-bats. But the Braves have averaged just 2.4 runs a game while going 3-6 during this stretch.
"It was just a matter of time before things started to fall," Freeman said. "I'm kind of tired of talking about my 2-for-25 start. I'm trying to put that behind me. I'm going out there and trying to put up good (at-bats) every single night. I feel good and the ball is coming off my bat nicely."
Mark Bowman is a reporter for MLB.com. This story was not subject to the approval of Major League Baseball or its clubs.