Unlucky bounce on Marte double changes game
Ground-rule hit caused go-ahead run to stop at third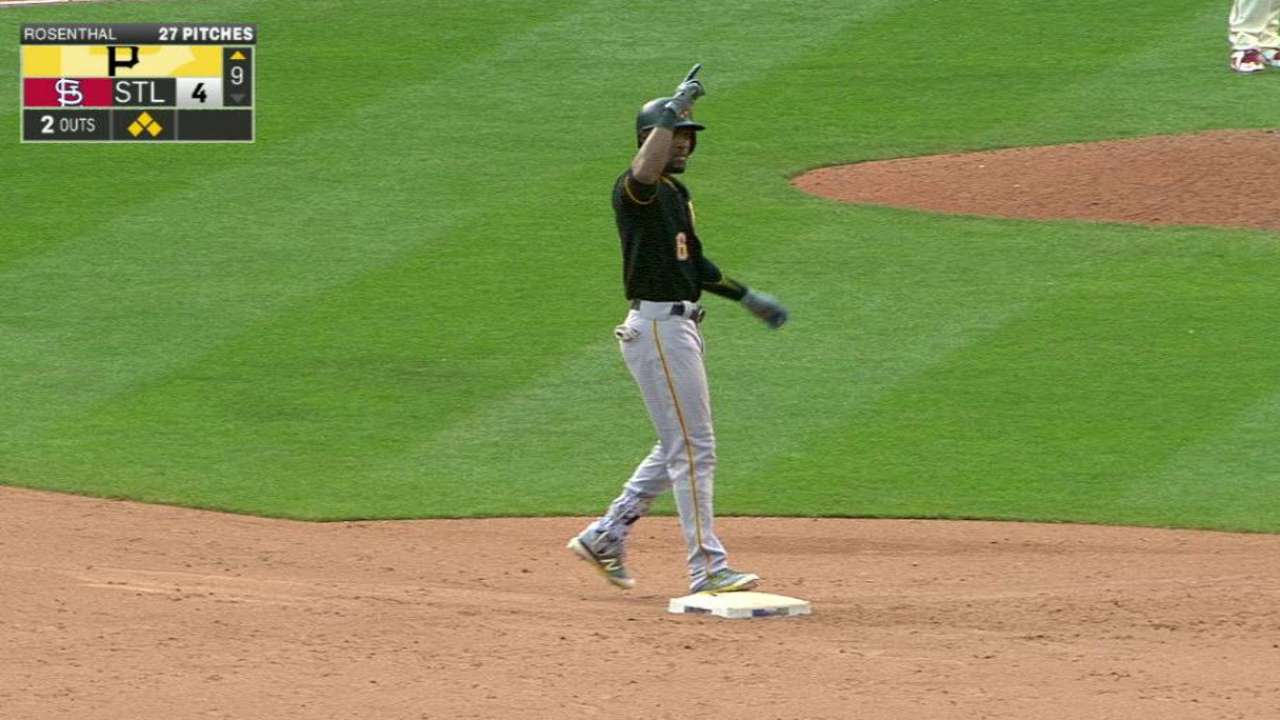 ST. LOUIS -- With the Pirates down to their last strike Saturday afternoon, Starling Marte ripped a double to left field, driving in David Freese and keeping the Bucs alive. So why did he look a little bummed out about it?
Marte's game-tying hit bounced over the left-field wall and into the stands for a ground-rule double. That meant Gregory Polanco, running from first, had to stop at third base. He easily would have scored if the ball had remained in play. In that situation, maybe A.J. Schugel wouldn't have been on the mound, maybe the Pirates wouldn't have suffered a 6-4, walk-off loss in the bottom of the ninth.
"That's the definition of a bad bounce," Pirates manager Clint Hurdle said.
The Pirates had several other chances to keep the game going. How did they wind up in that situation in the ninth, with Schugel serving up a two-run homer to Matt Carpenter?
Start with Marte's bounce. Instead of coming home, Polanco stopped at third, stranded there on Francisco Cervelli's inning-ending groundout just in front of the plate.
"You think just a hit in the gap would have brought Polanco in," Marte said of his hit. "It's OK. Things happen, and we continue on."
Marte's double bounced into the seats next to the Pirates' bullpen, where closer Mark Melancon and Schugel were throwing. If Pittsburgh had taken a lead, Hurdle likely would have called on Melancon to finish the game.
The Pirates seldom use their closer in the ninth inning of a tie game on the road. Hurdle didn't want to use setup man Tony Watson, either, because he pitched two of the last three days. It isn't necessarily good practice to use a reliever in a day game, like Saturday, after a night game, like Friday.
Collectively, the Bucs' bullpen has struggled. Their 4.25 ERA is the 10th-highest in the Majors, uncharacteristic of a group that finished with the lowest mark last season, ninth-best in 2014, and third-best in '13.
So, Hurdle turned to Schugel. The right-hander didn't open the season with the Pirates, but he has earned the their trust. He had made nine appearances and given up runs in two of them, virtually all of the damage done against him coming April 23 in Arizona.
In his last four appearances, Schugel had allowed four hits and a walk while striking out five over 6 1/3 scoreless innings.
"The job he's done for us, yeah, I had confidence sending him out there," Hurdle said.
Perhaps the inning would have unfolded differently if rookie Aledmys Diaz hadn't raced safely to first base for an infield single. Schugel retired Jeremy Hazelbaker, then up came Carpenter, who had never hit a walk-off homer in the Majors.
Schugel was ahead in the count, 1-2, but left a pitch up. Carpenter unloaded on it, making the Pirates' bad bounces and what-ifs a little more frustrating.
Adam Berry has covered the Pirates for MLB.com since 2015. Follow him on Twitter at @adamdberry. This story was not subject to the approval of Major League Baseball or its clubs.