First inning once again Wainwright's only issue
After allowing two early runs, right-hander settled in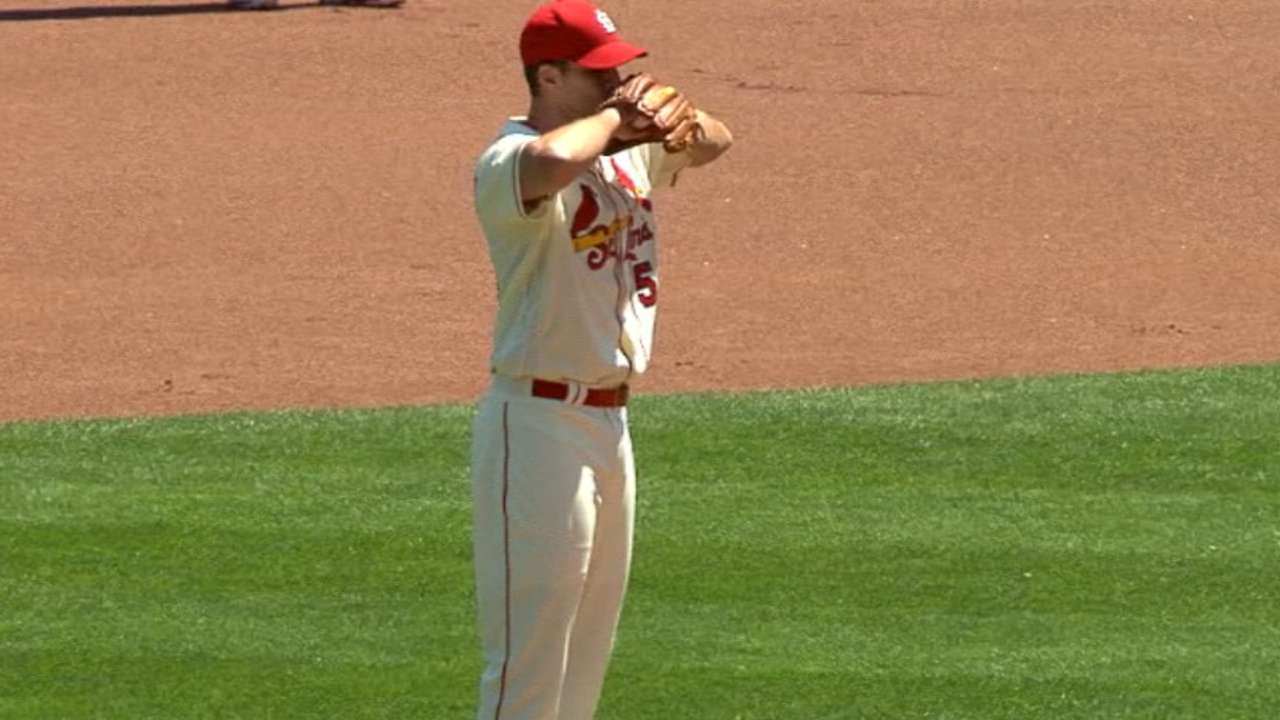 ST. LOUIS -- Adam Wainwright settled into a familiar pattern in the Cardinals' 6-4 win over the Pirates on Saturday. For his fourth start in a row, Wainwright struggled early and got stronger as the game went on.
But this time Wainwright, who missed most of last season with a torn left Achilles, believes that pattern could be changing soon.
"I found that next gear I've been looking for, and the conviction that goes behind each pitch was evident, I thought," Wainwright said. "They pushed that last run across, but if you look at the quality of the pitches and the difference when the ball comes out, there's no comparison."
The day looked to be a long one based on Wainwright's first 10 pitches of the game, four of which went for hits. The key was Wainwright being able to snap one of his patented curveballs to get Francisco Cervelli to swing and miss on a 3-2 count. Wainwright then forced Jung Ho Kang into a sacrifice fly and Josh Harrison to ground out to escape the first with just two runs being scored.
"Frankly it was a pitch, 3-2 right there, when I throw a curveball, that's a newly found confidence in that pitch for me that I haven't had in the first few games of this season," Wainwright said of the Cervelli strikeout. "It's good to be back."
Wainwright settled in, retiring 14 straight from the second through the sixth inning.
"He got locked in, and whatever it was, when he got locked in that looks like Adam," Cardinals manager Mike Matheny said. "We just need to figure out how to take that next time out at the top."
In his past four starts, Wainwright has a 6.75 ERA in innings one through three. From the fourth and beyond, the ERA drops to 3.08.
"If there's that much of an extra gear, I need to be very conscious going into my next start of coming out with that gear, as opposed to how I'm going to get there after they push a couple across," Wainwright said. "That's a good [lesson] for me. That's something that now I know it's in there and I know how to get it."
Wainwright didn't allow a homer for the second consecutive outing and didn't walk a batter for the first time this season. He threw 62 of his 95 pitches for strikes.
The right-hander also continued his torrid hitting with a ground-rule double into the left-field corner his first time up in the second. It was the fourth consecutive extra-base hit for Wainwright, who had tripled, homered and doubled in his previous three plate appearances.
According to Elias, Wainwright is the first Cardinals pitcher in the modern era (since 1900) to have extra-base hits in four consecutive at-bats.
"We need the offense, too, from Adam," Matheny said of his pitcher's exploits at the plate. "He's been a big producer for us."
Joe Harris is a contributor for MLB.com based in St. Louis. This story was not subject to the approval of Major League Baseball or its clubs.