Cano takes AL homer lead by victimizing Astros
HOUSTON -- Don't blame the Astros if they never want to pitch to Robinson Cano again.
The Mariners' second baseman continued torturing Houston by going 4-for-5 with two home runs on Saturday night -- including a game-winning shot in the 10th inning of a 3-2 victory at Minute Maid Park.
• Cast your Esurance All-Star ballot for Robbie and other #ASGWorthy players
Cano has hit four of his American League-leading 11 homers and picked up 16 of his MLB-leading 32 RBIs off the Astros in six games while batting .500 in 26 at-bats.
"The rest of the league isn't having a tremendous amount of success against him, but he certainly has our number," said Astros manager A.J. Hinch. "He's found a way to do damage. A lot of his RBIs are against us. We haven't solved the challenge. We have a game tomorrow, and then the rest of the league can have him."
The Mariners have ridden Cano's hot bat to an 18-12 start and an early lead in the AL West. It's reached the point where first-year manager Scott Servais turned to bench coach Tim Bogar before Cano's 10th-inning at-bat against lefty reliever Tony Sipp and predicted the homer.
"It's unbelievable, the run he's had," Servais said. "Certainly the damage he's done against the Astros. It's crazy. We're sitting on the bench and I said to Bogey, 'Man, he needs to hit one in the Crawford Boxes.' I'll be danged if he didn't do it. It's crazy."
"I told him to call 'em more often," Cano said with a smile.
Cano is riding a seven-game hitting streak, during which he's put up a .548/.548/.935 line in 31 at-bats while raising his batting average from .226 to .306.
"He's pretty special," said third baseman Kyle Seager, who had a homer and triple in his own three-hit night. "He's incredible anyway, and when he gets in a groove like this, he's unbelievable. There's not too many people that can do what he's doing."
Cano and Seager both homered early in the game off Astros ace Dallas Keuchel, who had given up just three homers to left-handed hitters in his previous 35 starts since the beginning of last season.
"Cano is Cano," Keuchel said. "It seems like him and Seager are riding that heat wave. I've had good success against those guys in the past, and it seems like I didn't make as quality of a pitch. Take out those two guys and it is a whole different ballgame."
But nobody has been able to take Cano out of the equation this year, as he's burst out of the gates with a huge turnaround season after last year's first-half struggles.
After 30 games last year, Cano had one homer, nine RBIs and a line of .276/.321/.380. This year, he's at 11 homers, 32 RBIs and a .306/.358/.621 line.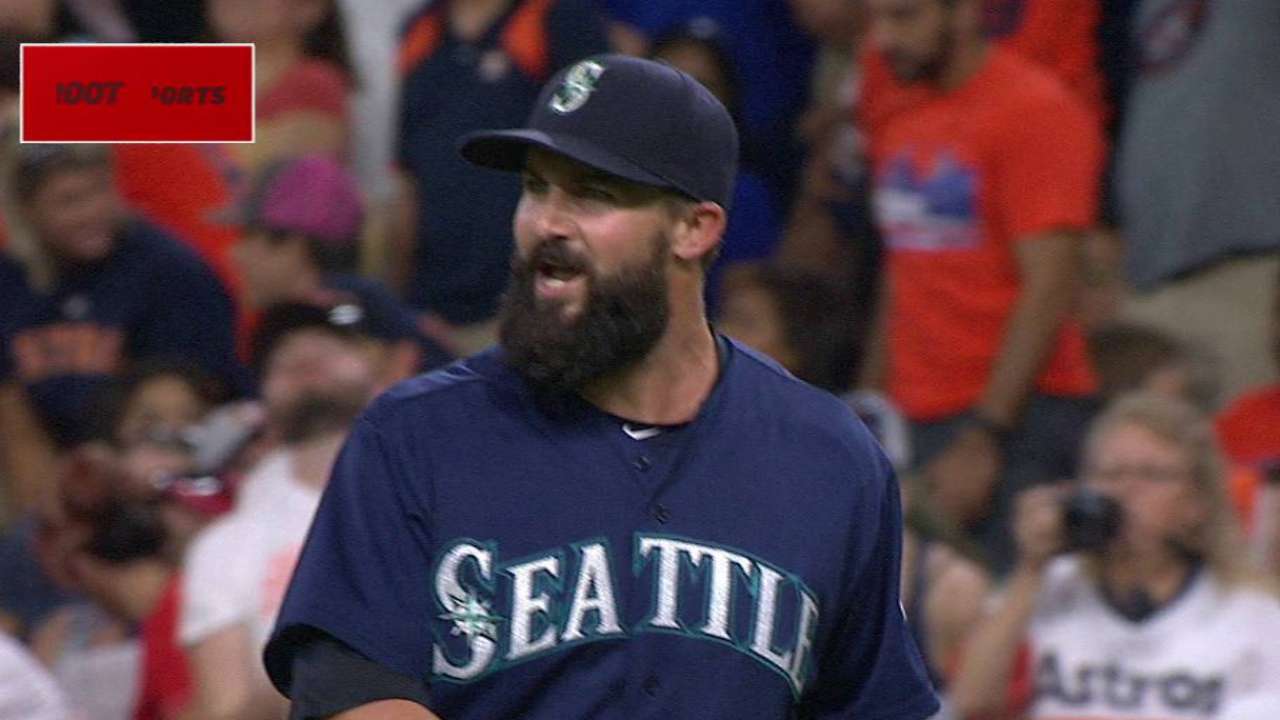 Cano had his first three hits off Keuchel on three pitches.
"Yeah, I was looking early," he said. "I mean, it was working, so why not swing?'
And the big picture for a club that keeps finding ways to win in dramatic fashion, this time overcoming a blown save by closer Steve Cishek in the bottom of the ninth to come back and win it in the 10th?
"We are just staying together as a team," Cano said. "We got to give credit to [hitting coach Edgar Martinez]. He's amazing. All the positive things he says to everyone in here. He was one of the best hitters in any situation. And that's a guy you can go and ask questions to. He's been so big for us."
Greg Johns has covered the Mariners since 1997, and for MLB.com since 2011. Follow him on Twitter @GregJohnsMLB and listen to his podcast. This story was not subject to the approval of Major League Baseball or its clubs.