Cishek makes good on chance at redemption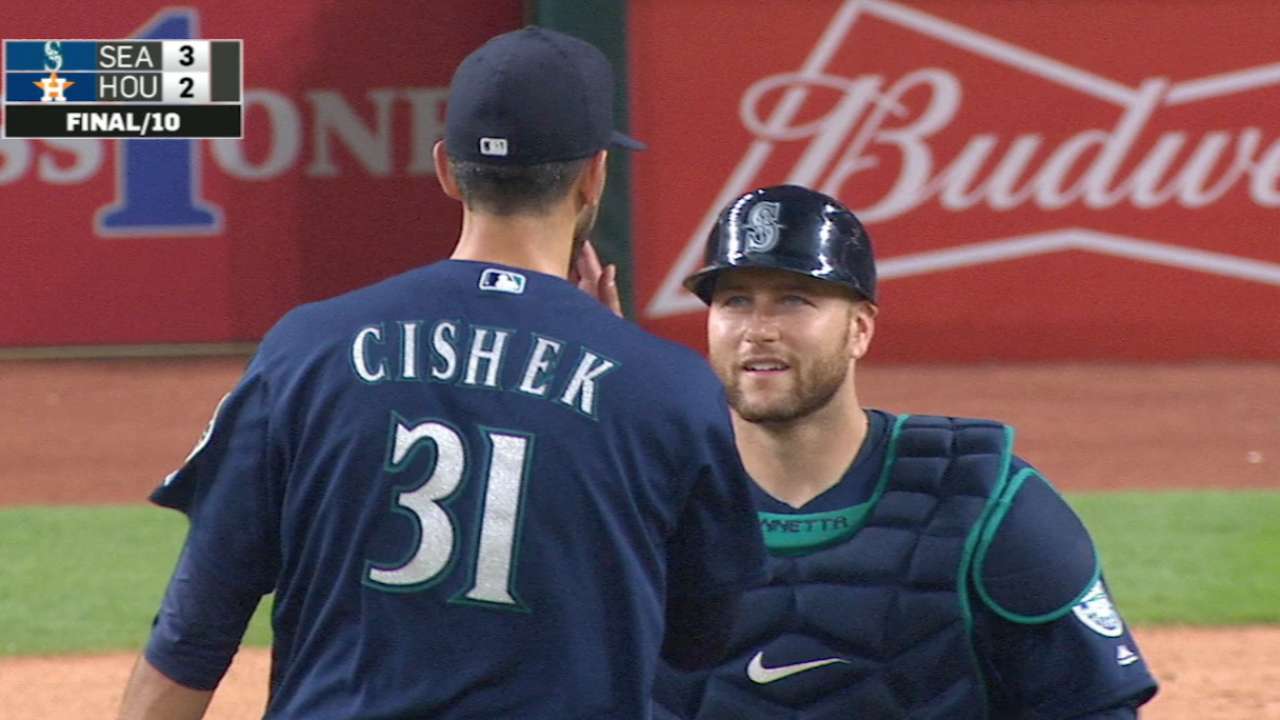 HOUSTON -- For a guy who'd just blown his first save in 10 chances this season, Mariners closer Steve Cishek was all smiles on Saturday night. And for good reason.
After giving up a game-tying homer to Houston's Luis Valbuena in the bottom of the ninth, Cishek watched teammate Robinson Cano respond with his own solo blast, giving Cishek the chance to go back out and earn Seattle's fifth win is six games with a perfect 10th inning. The 3-2 victory for the red-hot Mariners was their sixth in a row by a margin of one run.
"It was incredible," Cishek said. "I knew I was going back out there no matter what. I knew we were thin [in the bullpen]. So just to have that opportunity to get the team a win was all I wanted. Just another shot."
The Mariners have won 16 of their last 22 games and are 13-5 on the road, putting them 1 1/2 games ahead of the Rangers in the early American League West race. And it's the way the club keeps finding ways to win that adds to the storyline.
"It was ecstatic," Cishek said of the Mariners' dugout when Cano launched his second homer of the night to put them back on top, 3-2. "Everyone could sense it. Once he hit it, I was thinking, game over. I'm ready to go back out there. I'm fired up and the bench was just going insane. Huge hit. It was incredible. What a game."
The Mariners rallied from an 8-4 deficit to beat the A's earlier in the week, and they've had to come from behind in half of their 18 wins.
"We just don't back down," Cishek said. "I make a mistake, they tie it up, it's easy to just say, 'Oh, we blew it,' and kind of tuck your tail between your legs. But not this team. We just keep grinding it out, and it's really fun to be a part of it. Robbie is just on a tear right now."
As for the game-tying homer by Valbuena? Cishek, who has a 1.13 ERA in his first season as Seattle's closer, was able to shake it off on this night.
"I schlepped a fastball, too much middle," he said. "I was just trying to be aggressive. I know he's been kind of grinding lately so I wasn't trying to be too picky with him. I was just trying to get an early out and unfortunately I left him a cookie to hit and he put a good swing on it. I think he went second deck and the wind was blowing in from that direction, so he got every bit of it. So hat's off to him."
And in the end, it was Cishek getting the win as he mowed down the middle of the Astros' order in the 10th. The 29-year-old acknowledged it's a rare roller-coaster night for a closer to get a blown save and then chance to redeem himself.
"I know in '13 [with the Marlins] I went three innings one time to finish off a game, similar to this," he said. "That's the last time I remember doing anything like that. It's not often you get a second chance. That was definitely nuts."
Greg Johns has covered the Mariners since 1997, and for MLB.com since 2011. Follow him on Twitter @GregJohnsMLB and listen to his podcast. This story was not subject to the approval of Major League Baseball or its clubs.