Catcher position a balancing act for Phillies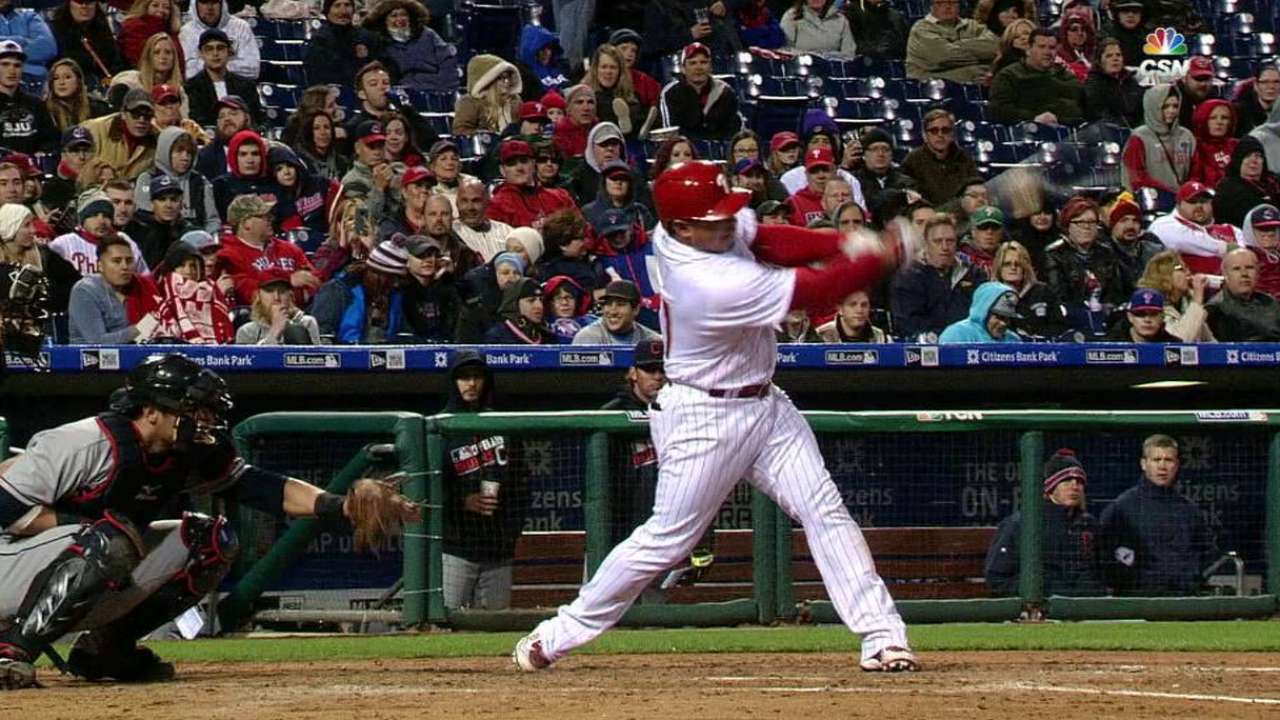 MIAMI -- As the Phillies continues looking for ways to score runs, Carlos Ruiz remains a viable option. The 37-year-old lifetime .267 hitter is enjoying a good season, with his shoulder healthy once again following surgery in 2014.
But the dilemma persists for manager Pete Mackanin, who must balance a juggling act with Ruiz and Cameron Rupp, the organization's up-and-coming catcher.
"I believe he's swinging the bat well because he's not overworked," Mackanin said of Ruiz, who entered the weekend series hitting .311 with three homers in 45 at-bats. "I'm giving Rupp every opportunity. Rupp's been swinging the bat pretty well. He hasn't produced a lot of runs, but he still gives you a pretty good at-bat most of the time."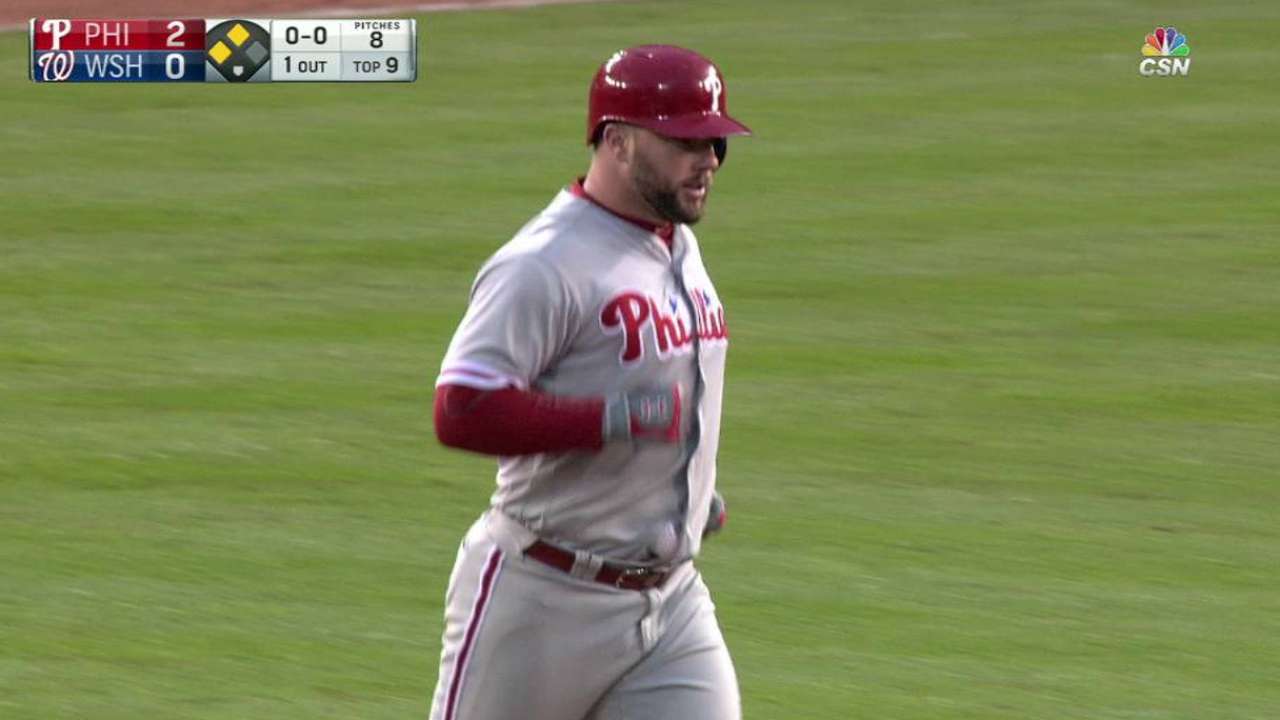 And that's where Mackanin must find a happy medium. Ruiz is bouncing back from posting a .211 average in just 86 games in 2015.
"I don't want to jump on Chooch's bandwagon right now and say that he's going to provide more offense, because if you catch him three or four days in a row, it wears and tears on your body," Mackanin said. "That position beats you up."
Ruiz could be in his final season with the Phillies. With a $4.5 million option for 2017, it is likely the club will instead opt for the $500,000 buyout.
"We're looking towards the future here," Mackanin said. "[At the same time], I'd like to add to the offense. If Chooch were giving us quality at-bats every time he plays, I might lean to him more."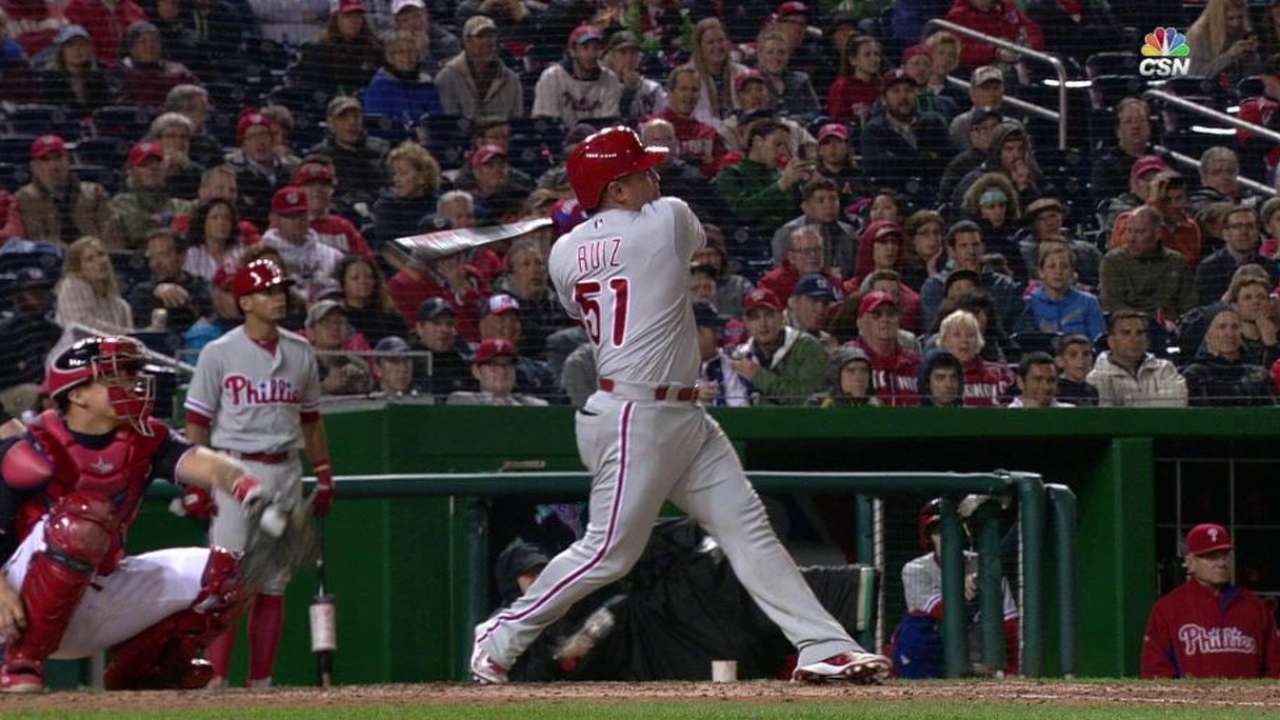 Ruiz continues to add to his value with outstanding defense.
"One thing about Chooch, you can never question his work ethic," Mackanin said. "He's not a guy that worries about his offense. He takes his defense real seriously. That's a bonus. That's a defensive position.
"He's a quality player. I just want to keep him healthy, because it is a long season. But I'd also like to get offense from anywhere I can."
Glenn Sattell is a contributor for MLB.com covering the Phillies on Saturday. This story was not subject to the approval of Major League Baseball or its clubs.