'Embarrassed' Pelfrey comes undone in sixth
Veteran right-hander still winless with Detroit after allowing five runs vs. Rangers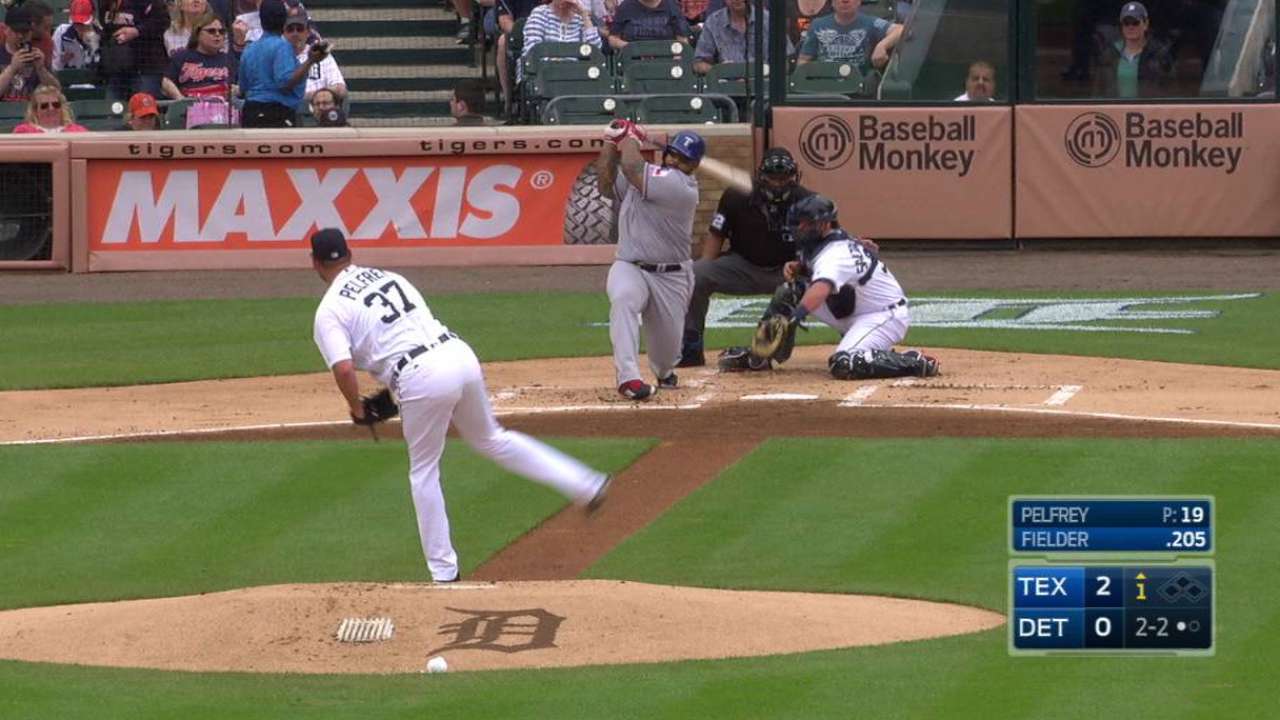 DETROIT -- For a stretch Saturday, it looked like the Tigers finally had the Mike Pelfrey they expected when they signed him to a two-year, $16 million deal in the offseason.
After allowing two Texas Rangers home runs to lead off the game, Pelfrey retired 14 of the next 16 batters and entered the sixth with a 5-2 lead. But three batters later, the game was tied at 5, Pelfrey was pulled and the Rangers went on to win 10-5.
"I'm embarrassed," Pelfrey said. "These guys gave me a three-run lead in the sixth inning, and I couldn't hold it. That's on me. I feel terrible."
It was a no-decision, but Pelfrey's ERA on the season jumped to 6.23, and his record remains 0-4.
Pelfrey fell behind 2-0 in the count to Rangers second baseman Rougned Odor to lead off the game, and Odor drove the next pitch over the left-center-field wall. That was followed by a home run on a full count by Nomar Mazara. Six of the nine pitches to the two hitters were sinker fastballs.
But Pelfrey settled in after that, going more to his offspeed pitches. When Odor came up in the third inning, Pelfrey threw four offspeed pitches to start and got a swinging strikeout with a sinker on the fifth pitch.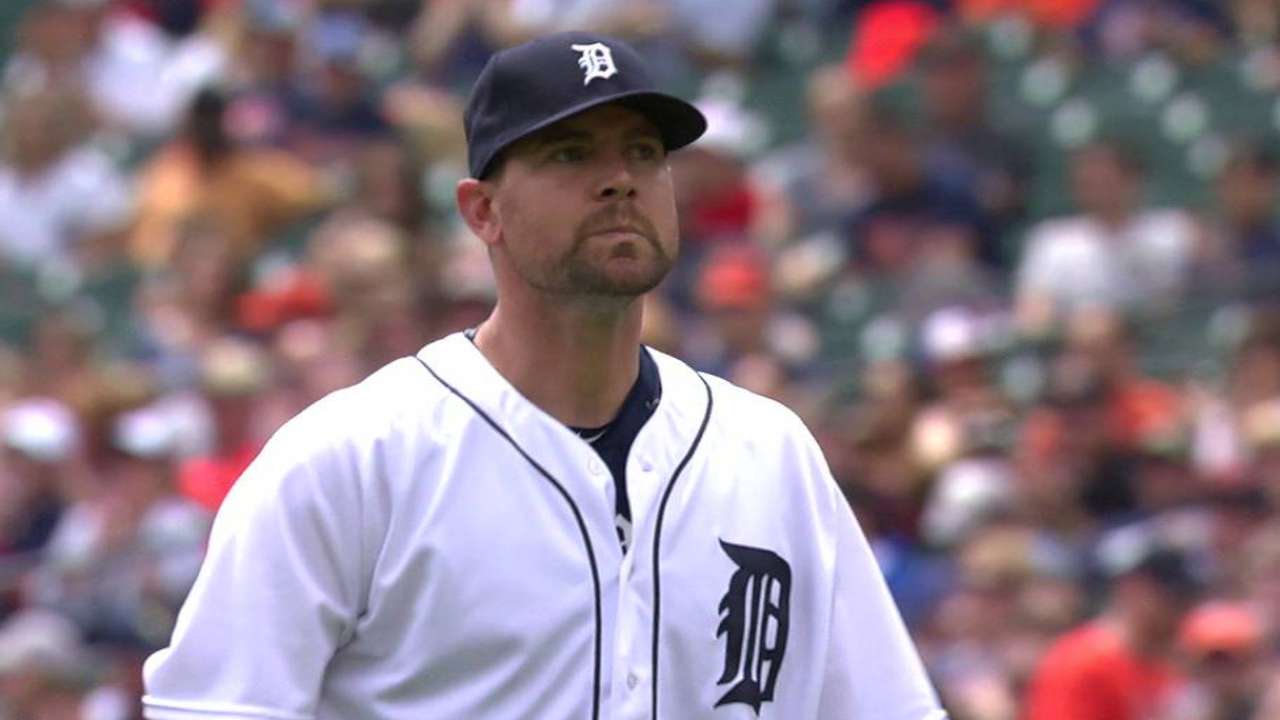 "We were really using his off-speed a lot," catcher Jarrod Saltalamacchia said. "You're starting to see these guys swing and hit the fastball, even in counts where they shouldn't. So we started mixing up pitches, really going soft, not pitching the same way every time. Credit to him, he kept making pitches, and that's the name of the game."
Pelfrey had been given little run support by the Tigers this season, but he entered the sixth with a three-run cushion.
Odor led off the sixth with a bloop single then came home when Mazara doubled a 2-0 splitter. Two quick strikes to Adrian Beltre were followed by two sinkers that were fouled off. Pelfrey went to the splitter on the fifth pitch, but it stayed belt-level, and Beltre took it the other way, just over the right-field fence, and the game was suddenly tied.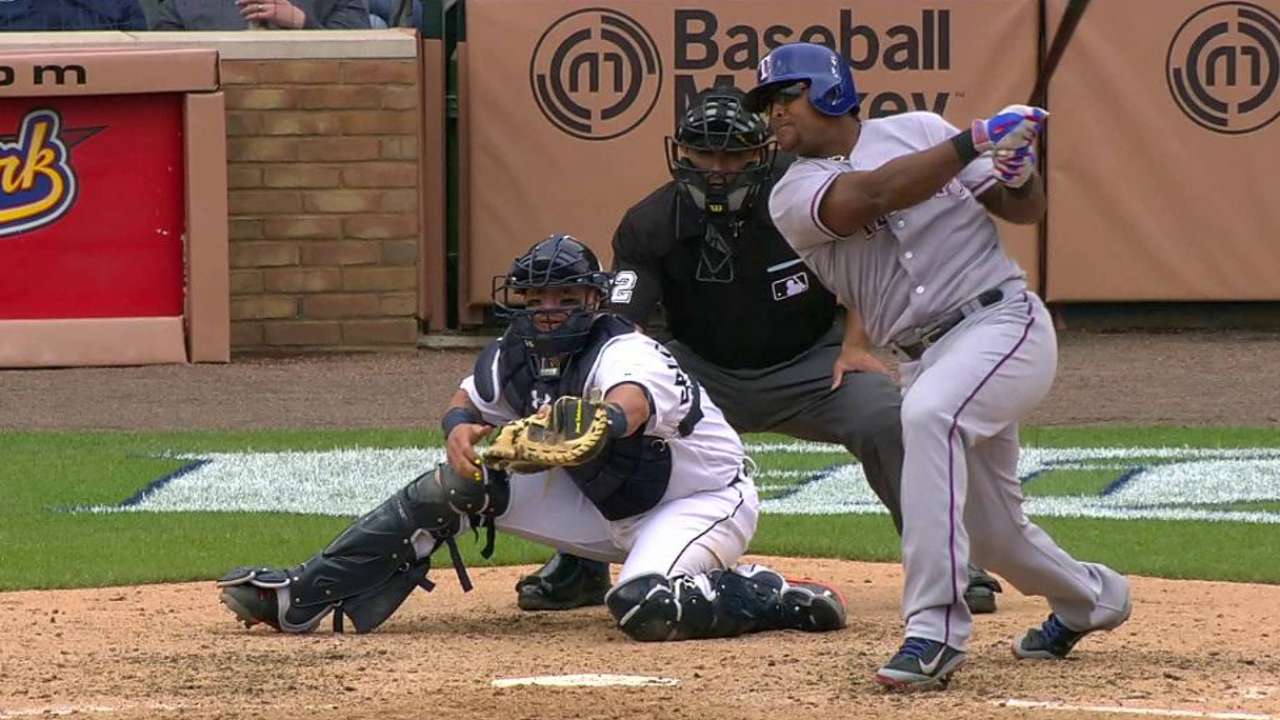 Tigers manager Brad Ausmus had decided Beltre would be Pelfrey's last batter beforehand, but he didn't expect a homer.
"You feel pretty good about a sinkerballer keeping the ball in the park, but it didn't work out that way today," Ausmus said.
Ausmus added, "His pitch count was strong, his velocity was up. He looked like he was in a groove, and he was for a while."
It's the fifth straight loss for the Tigers, who had come off a five-game winning streak, and it dropped them back under .500 at 14-15. Just when it looked like Pelfrey had found it, it was gone in an instant.
"It's not what I wanted," Pelfrey said. "I feel terrible. I know that I'm better than this. It's kind of a [bad] stretch to go through. It's not what I want to do, and it's not what I want to do for these guys, or how I envisioned starting off. I know that I'm better than this, and I just gotta find it."
Chris Vannini is a contributor to MLB.com based in Detroit. This story was not subject to the approval of Major League Baseball or its clubs.