Phelps' improved cutter giving hitters fits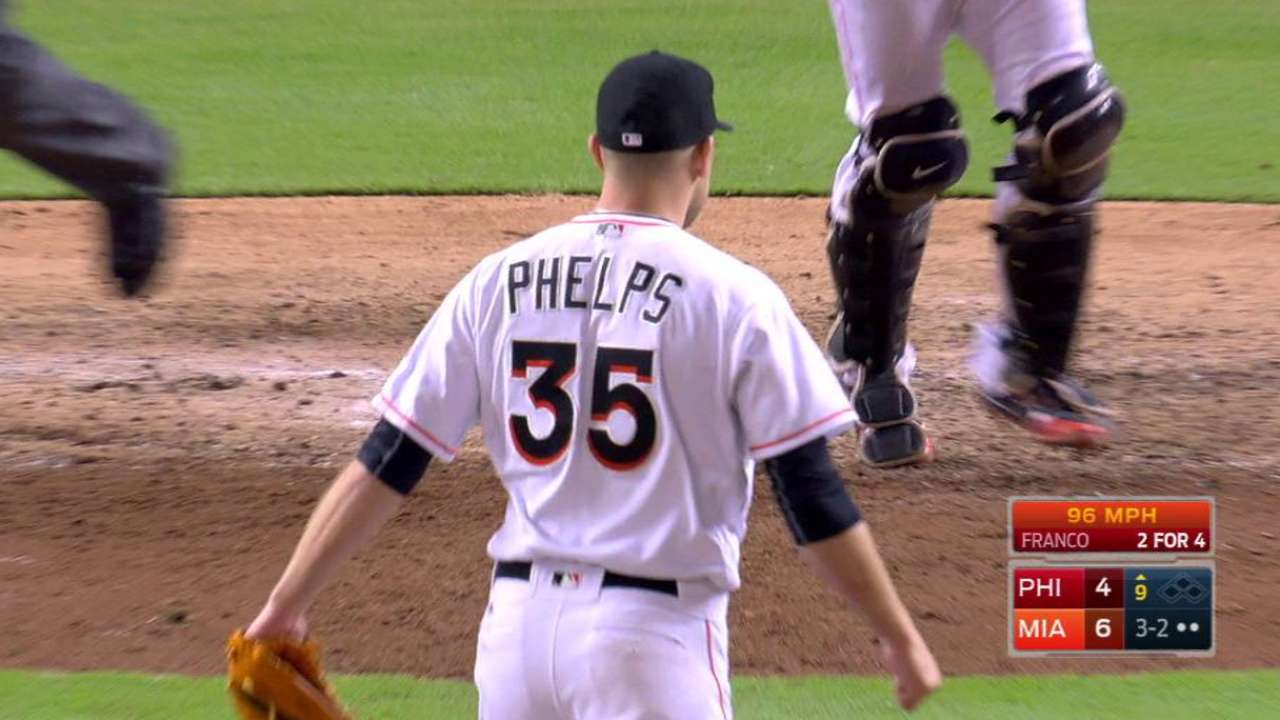 MIAMI -- The way Marlins reliever David Phelps is carving up both sides of the plate with an assortment of different pitches is giving opposing hitters plenty to think about.
One of his most improved pitches is a cutter, which runs in on left-handed hitters and away from right-handers. It's not a huge surprise that Phelps would develop the cutter when you consider he broke in with the Yankees in 2012 and observed the great Mariano Rivera, who mastered the pitch.
"Watching the way he used his cutter more than anything was helpful to me," Phelps said.
Phelps' daily throwing partner while in New York was reliever David Robertson, now with the White Sox.
"His fastball has got natural cut to it," Phelps said. "I watched the way he worked with his, and the way Mo worked with his."
One reason the cutter has been effective for Phelps is because he mixes in his two-seam fastball, or sinker, that breaks in the opposite direction of his cutter. So to a lefty, the cutter would break in, while the sinker would bend away.
After opening the season as a spot starter and long reliever, Phelps has settled into the Marlins' eighth-inning role. He has been one of the main reasons why the team has made a dramatic turnaround after starting 5-11.
Able to let it loose for one inning compared to throwing multiple frames has increased Phelps' velocity. According to Statcast™, his four-seam fastball average velocity is 94.11 mph. The league average is 92.61.
In Saturday's 6-4 win over the Phillies, Phelps logged a save. His fastball touched as high as 97 mph, while his cutter was in the 91-93 mph range.
"I saw my whole career with the Yankees how effective that [cutter] could be," Phelps said.
A breakthrough moment with the cutter for Phelps came during what could have been a washed-out night. Late in Spring Training, Phelps was scheduled to start in a game that was rained out. He threw several simulated innings in the cage.
Mattingly was one of the simulated hitters, and Phelps worked sequences, throwing more than 20 cutters.
"Those pitches look like balls, so you give up on them," Mattingly said. "So when you combine the cutter, it makes [the hitter] make a decision. One ball is going in one direction and one ball is going in the other. They start at the same spot. You don't know which way it's going to go."
Joe Frisaro has covered the Marlins for MLB.com since 2002. He writes a blog, called The Fish Pond. Follow him on Twitter @JoeFrisaro and listen to his podcast. This story was not subject to the approval of Major League Baseball or its clubs.