Starters pacing Padres' recent improvement
San Diego is 28-14 at Petco Park against the Mets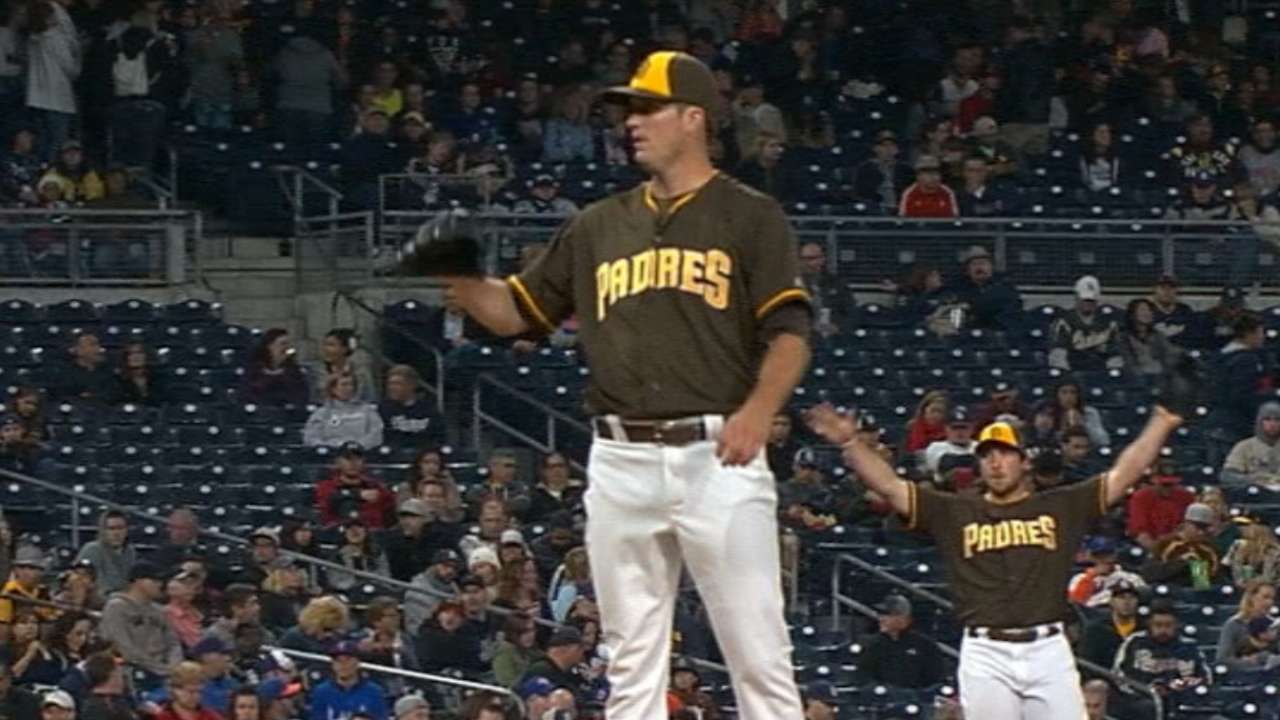 Bill Center, longtime sportswriter for U-T San Diego, is an employee of the Padres.
For all the modern analysis of data, there is an adage in baseball that I totally support.
"Momentum in baseball is only as good as the next day's starting pitcher."
I offer the Padres' last eight games as evidence to support that theory.
San Diego is on a bit of a run. The Padres have won six of their last eight games. In each of the losses, they were shut out while allowing one and two runs.
What is behind the Padres' run? Pitching. Specifically starting pitching.
Starting pitchers have a 1.64 earned run average over the past eight games against the Dodgers, Rockies and Mets, and they have a 5-2 record. They have allowed nine runs on 33 hits and 19 walks with 38 strikeouts in 49 1/3 innings. And over the past 23 games, Padres starters have a 2.60 ERA.
With Friday night's win, San Diego now has a 28-14 record against the Mets at Petco Park. It is the Padres' best record against any team at home since the stadium opened in 2004.
Notes from the scorebook
• Right-handed closer Fernando Rodney might be in line for a day off. Rodney has appeared in five of the Padres' past seven games after appearing in only seven of the first 23. He has picked up five saves on those seven appearances to give him eight on the season. Rodney has yet to allow an earned run in 12 appearances covering 12 innings (six hits, six walks and 13 strikeouts).
• Left-handed starter Drew Pomeranz is 2-0 in his two starts at Petco Park this season without allowing an earned run. He has given up one unearned run on five hits and six walks in 11 2/3 innings with 15 strikeouts. Overall, he has allowed two runs on four hits and four walks with 10 strikeouts over 12 innings in his past two starts.
• Center fielder Jon Jay was 3-for-4 with a double, an RBI and a run scored Friday night. He is hitting .524 (11-for-21) with runners in scoring position this season. Jay matched his season-high in hits Friday, and he is hitting .330 (32-for-97) in 28 career games against the Mets.
• Left fielder Melvin Upton Jr. moved into a first-place tie for the National League lead in outfield assists Friday night with his fourth on the Upton-Alexei Ramirez-Derek Norris relay that cut down Asdrubal Cabrera at the plate and preserved the Padres' first shutout of the season. Matt Kemp is tied for fourth with three outfield assists.
• Kemp drove in the Padres' first run with a sacrifice fly Friday night. He has 12 RBIs in the past 12 games.
• First baseman Wil Myers grounded into a double play in his third at-bat Friday night, his first of the season in his 119th at-bat. Myers entered the game as the toughest hitter in the Major Leagues to double up.