Altuve gets rare day off with sore left hand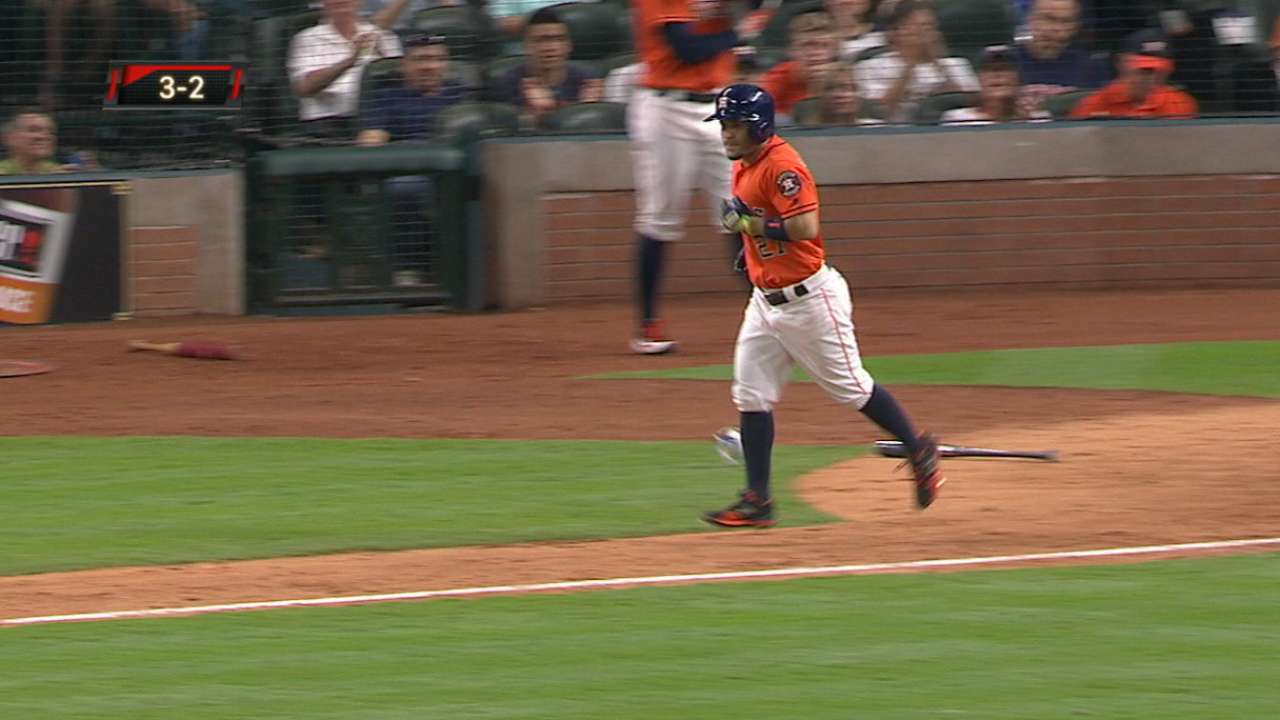 HOUSTON -- It's one of the rarest sights for the Astros during the past half-decade.
The Houston starting lineup didn't feature Jose Altuve for Saturday's game against Seattle as he deals with a sore left index finger and thumb.
The second baseman injured the hand during Thursday's game while diving for a ball -- "Hit the ground and jammed it" -- but he played through it in Friday's 6-3 win.
"Well, he went 0-for-4, so something happened," manager A.J. Hinch quipped. "Even super humans need a day off every now and then. He's been battling this finger soreness for a day, and he didn't look very comfortable when I talked to him last night.
"You could tell he was in a bit of pain. We'll give him the day to recover or at least part of the game off and see how it goes."
Altuve's hand was noticeably blue from the bruising, especially on the area between the finger and thumb.
"This is [the part] of the hand that really grabs my bat," Altuve said, pointing toward the sore spot. "I was good to play, but A.J. said it's going to be good to get a day to be 100 percent."
It's an exceedingly rare off-day for the durable leadoff hitter. He's averaged 155 games per season over the last three years.
And since the beginning of the 2012 season, Houston has played 684 games (including postseason) prior to Saturday. Altuve played in 647 of them.
Hinch had only written a lineup without Altuve four times in his 198 games as the Astros' manager, and he acknowledged how strange it was to post one sans his All-Star second baseman.
"It wasn't any fun," Hinch said. "I like putting him at the top of the lineup. Springer is pretty good in the leadoff spot anyway… Marwin [Gonzalez] swung the bat yesterday, so we can reward him by getting him near the top. But it's never easy write a lineup without Altuve in it."
The 26-year-old Altuve celebrated his birthday on Friday, but he went hitless, drew a walk and scored a run. It was not a game up to his lofty standards. Entering Saturday, Altuve had the highest WAR in the American League and had slugged an AL-best nine home runs.
Altuve was available to pinch-hit Saturday, but he did not take batting practice before the game. The team doesn't expect it to be a multi-day issue, though it made sense to sit him prior to Sunday's early game.
"I hope [to be back]," Altuve said. "A.J.'s the manager. He talks to the trainers. They made the decision, and I'll agree with what they say. You want to go out there and be 100 percent. You don't want to be 70 or 80 because you know we need to win the game. …
"It's too early in the season to be sitting in the dugout and watching the guys play."
Chris Abshire is a contributor to MLB.com based in Houston. This story was not subject to the approval of Major League Baseball or its clubs.