Cano-doubter stuns Astros in extras
HOUSTON -- Robinson Cano continued his torrid start with two home runs on Saturday night -- including the go-ahead shot in the top of the 10th off reliever Tony Sipp -- as the Mariners topped the Astros, 3-2, at Minute Maid Park.
"It's all about winning games, and to be able take advantage of a situation like that and be able to hit a homer, it just makes it more special," said Cano, who took over the American League lead with 11 home runs and increased his MLB lead in RBIs to 32.
Luis Valbuena ripped a leadoff homer off Mariners closer Steve Cishek to tie the game, 2-2, in the ninth, but Cano answered with his his opposite-field shot as the surprising Mariners improved to 13-5 on the road and 18-12 overall, 1 1/2 games ahead of Texas atop the AL West.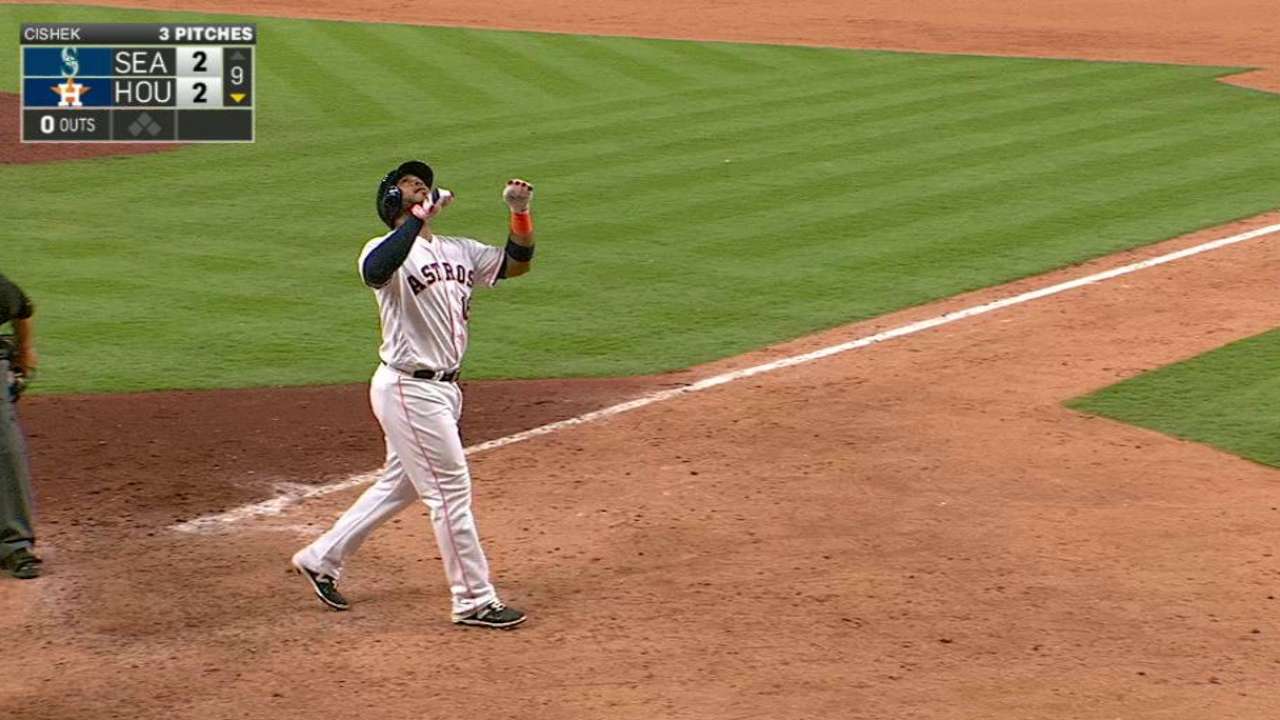 Kyle Seager and Cano each hit solo homers off Dallas Keuchel in the first three innings, and Mariners right-hander Nathan Karns turned a 2-1 lead over to his bullpen after allowing one run and six hits with nine strikeouts in 6 1/3 innings.
"I thought it was the best stuff we've seen out of any pitcher this season," Astros manager A.J. Hinch said of Karns. "It was mid-90s, big hammer, he changed the shape of his breaking ball, he threw the curve in fastball counts. He had his stuff going for the first half of the game and we couldn't really get anything started against him."
The no-decision leaves Karns at 3-1 with a 3.38 ERA. Cano went 4-for-5 and Seager was 3-for-4, adding a triple in the eighth. Mariners relievers Nick Vincent and Joel Peralta each stranded runners in scoring position in the seventh and eighth innings. Cishek couldn't close the door as he took his first blown save in 10 chances, but he came back to pitch a scoreless 10th and earn the win.
Keuchel only allowed the two runs in seven innings, with eight hits and eight strikeouts as his record remains 2-4 with a 4.70 ERA. The loss dropped the Astros to 11-20.
"You look up, and we had a winning week this week," Hinch said. "We feel good about how we're playing. We don't feel good tonight going out of the ballpark, having lost a really tough game where we came back and had opportunities."
MOMENTS THAT MATTERED
Cano's quest continues: The Mariners' second baseman has been a man on a mission this year, and much of that has come at the Astros' expense. Cano's two homers hiked his MLB-leading RBI total to 32. He's racked up four homers and a whopping 16 RBIs in six games against Houston while going 13-for-26. His homer off Keuchel in the third was a high moonshot to right that Statcast™ projected at 399 feet, while his game-winner measured 359 feet to left. Cano has been on fire the past week. His four-hit night puts him at 17-for-31 in the past seven games as he's hiked his average from .226 to .306.
"It's unbelievable, the run he's had," Mariners skipper Scott Servais said. "Certainly the damage he's done against the Astros, it's crazy. We're sitting on the bench and I said to [bench coach Tim Bogar], 'Man, he needs to hit one in the Crawford Boxes.' I'll be danged if he didn't do it." More >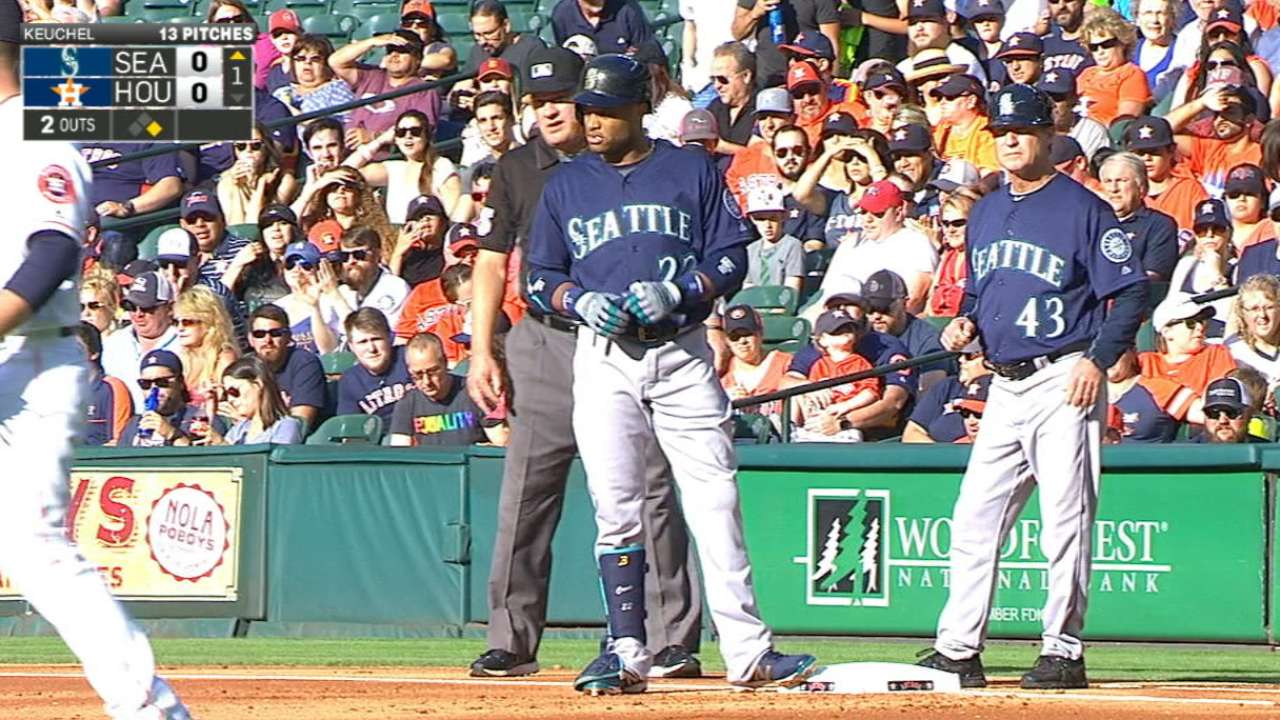 Keuchel composed: The Astros' lefty pitched a mostly brilliant game, allowing only the pair of solo home runs. The performance was an encouraging one after his five-run, 4 1/3-inning outing against Minnesota last week. He pitched to contact, tossing an efficient seven innings and working around eight hits via three double-play balls. It still wasn't the Keuchel who went 15-0 with a 1.47 ERA at home last season, but he did enough to keep the door open for Houston and somewhat steady the ship on his 2016 campaign.
"The command and the stuff was there," Keuchel said. "I tightened a few things up after the fourth and fifth and just felt better going on as things rolled along." More >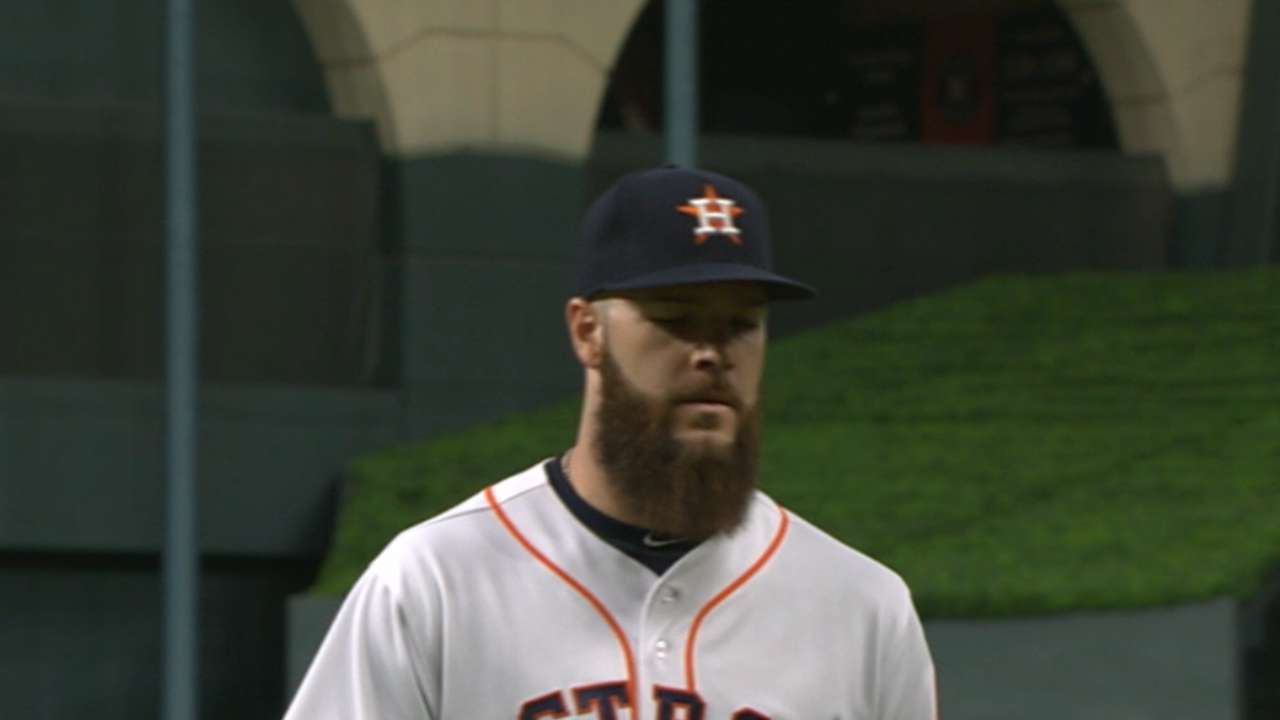 Karns shuts the door: The Mariners' right-hander breezed through his first five innings on just two hits and a walk before the Astros finally got to him a bit in the sixth with three straight hits, including an RBI double by Colby Rasmus. But with one out and runners on second and third, Karns dug in and struck out Preston Tucker on a 95-mph heater and Carlos Gomez on an offspeed pitch in the dirt to preserve the 2-1 lead.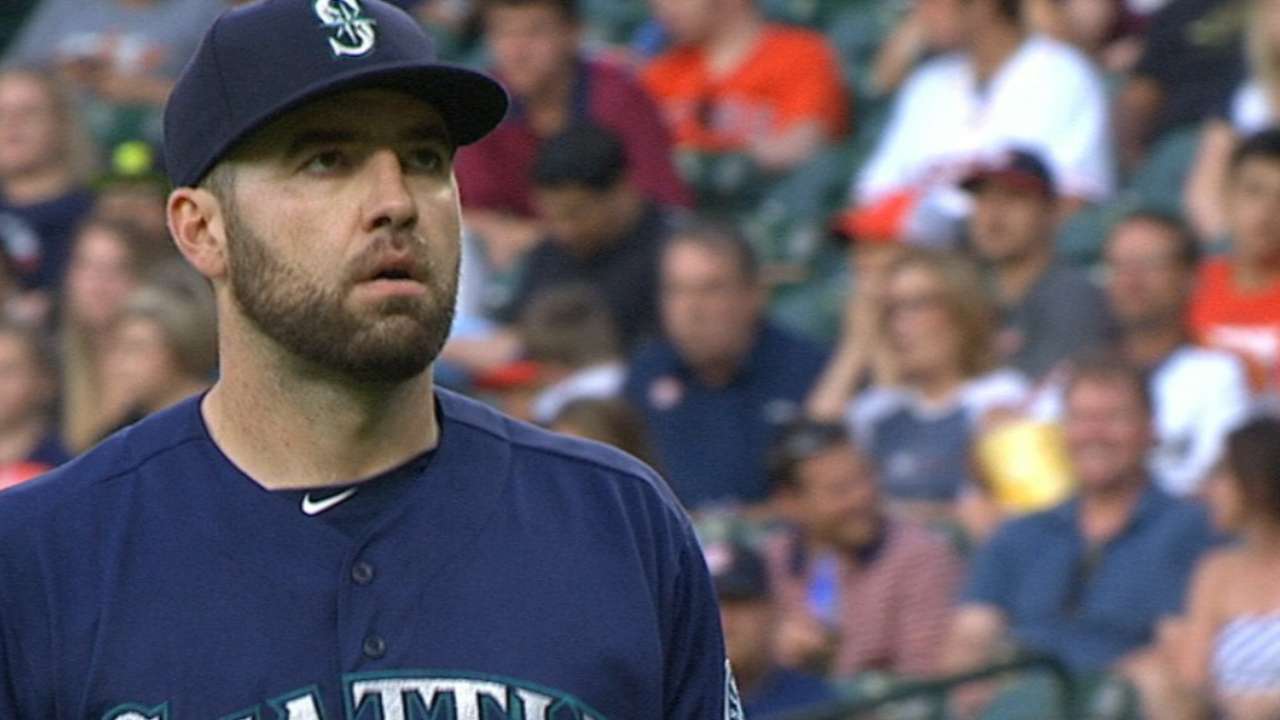 Ejection Season: Houston earned a pair of ejections in the latter innings. Manager A.J. Hinch got the hook first by arguing balls and strikes from the dugout with home-plate umpire Ben May after Carlos Correa's caught-looking strikeout in the eighth inning. It was Hinch's first ejection this season.
"I thought Carlos got a rough call on him, and I didn't appreciate it, and [the umpire] didn't appreciate what I had to say," Hinch said. "And then I went out to make sure he understood exactly what I thought of his strike zone."
Gomez's ejection came shortly after he sought out first-base umpire and crew chief Jeff Nelson on the way out to center field to start the 10th inning. According to Gomez and George Springer, the animosity stemmed from Gomez expressing displeasure at a called strike from the dugout and Nelson responding to the gesture by staring Gomez down.
"I just put my head down and didn't say a word [after the initial exclamation], and you're going to stare at me like that?" Gomez said. "You want respect and don't respect me? He said, 'You have two seconds to bounce out of here.' And I just flipped. That's how everything started." More >
QUOTABLE
"Just pure excitement. It really doesn't matter who's throwing right now to him, you feel really good about where he's at, and that's the guy you want up in that situation, really in any situation. So just a huge shot of life right there for us." -- Seager, on the feeling in the dugout when Cano hit his game-winner
"I feel like there's some conspiracies against us. It really feels like it. I know that is not the case. Guys are grinding. We are all quality Major Leaguers, and sometimes it feels like we are all rookies. That's just debilitating. We are going up there grinding. Valbuena hits a rocket to tie the game up in the ninth inning, and then it is deflating because we are getting calls at the ankles." -- Keuchel, on the strike zone and ejections
SOUND SMART WITH YOUR FRIENDS
Keuchel had allowed three home runs to left-handed hitters in 221 at-bats over 35 games since the start of the 2015 season, but gave up long balls to lefties Seager and Cano in the first three innings in this one.
Tucker struck out with runners on second and third with one out in the sixth inning and again with a runner on second and one down in the eighth. He's now 0-for-14 with seven strikeouts with runners in scoring position this season.
AFTER FURTHER REVIEW
Seager's solo shot in the second inning off Keuchel curled down the right-field line and clanked off the foul pole. A crew-chief review quickly confirmed that the ball hit the pole above the home run line, giving Seager his seventh homer of the season and the Mariners a 1-0 lead.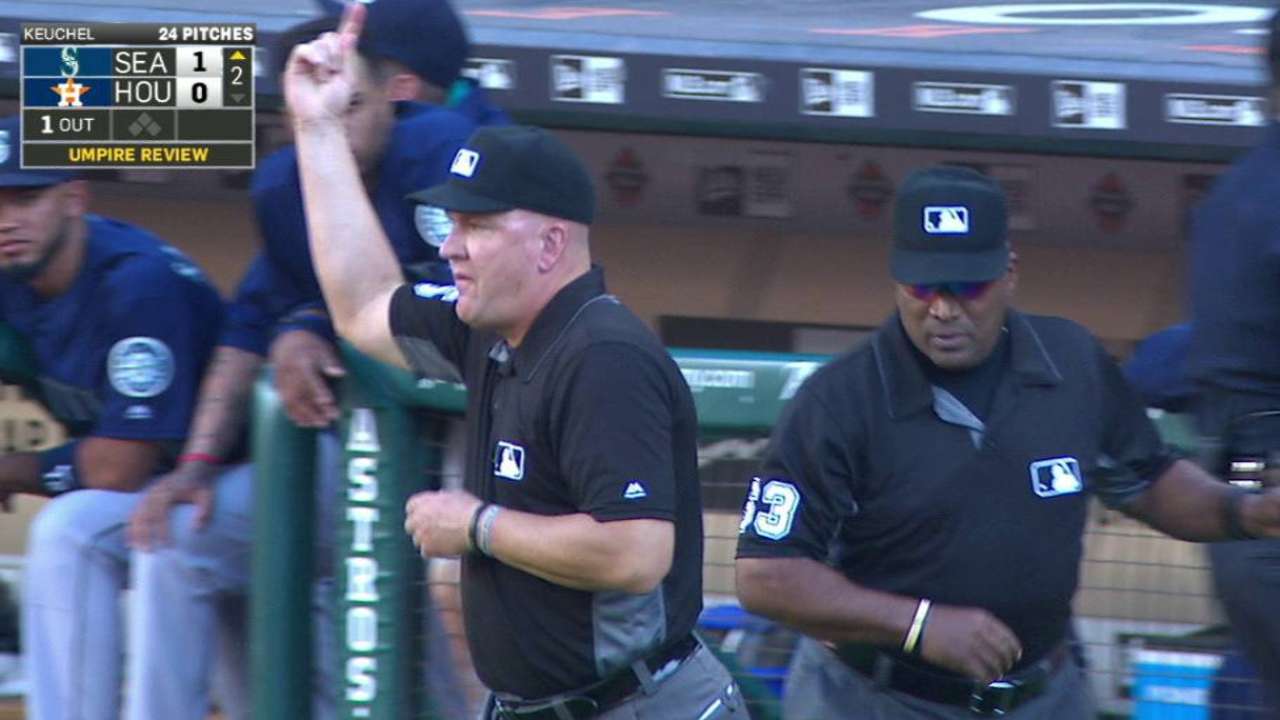 WHAT'S NEXT
Mariners: HIsashi Iwakuma, coming off his first win of the season, closes out the four-game series at Minute Maid Park in Sunday's 11:10 a.m. PT game. Iwakuma (1-3, 4.03 ERA) lost to the Astros in Seattle two weeks ago when he allowed seven hits and five runs in five innings.
Astros: Collin McHugh (3-3, 6.59 ERA) goes for Houston at 1:10 p.m. CT in the series finale. He's been erratic this year, pitching into the seventh inning just once in six starts and sporting an unenviable 6.59 ERA and a brutal 1.83 WHIP. He is 6-3 all-time against Seattle, but he's also allowed 12 homers in those nine starts.
Watch every out-of-market regular-season game live on MLB.TV.
Greg Johns has covered the Mariners since 1997, and for MLB.com since 2011. Follow him on Twitter @GregJohnsMLB and listen to his podcast.

Chris Abshire is a contributor to MLB.com based in Houston who covered the Astros on Saturday. This story was not subject to the approval of Major League Baseball or its clubs.