Anderson burned again by HR ball vs. Royals
Despite the loss, Indians righty fared better than final line shows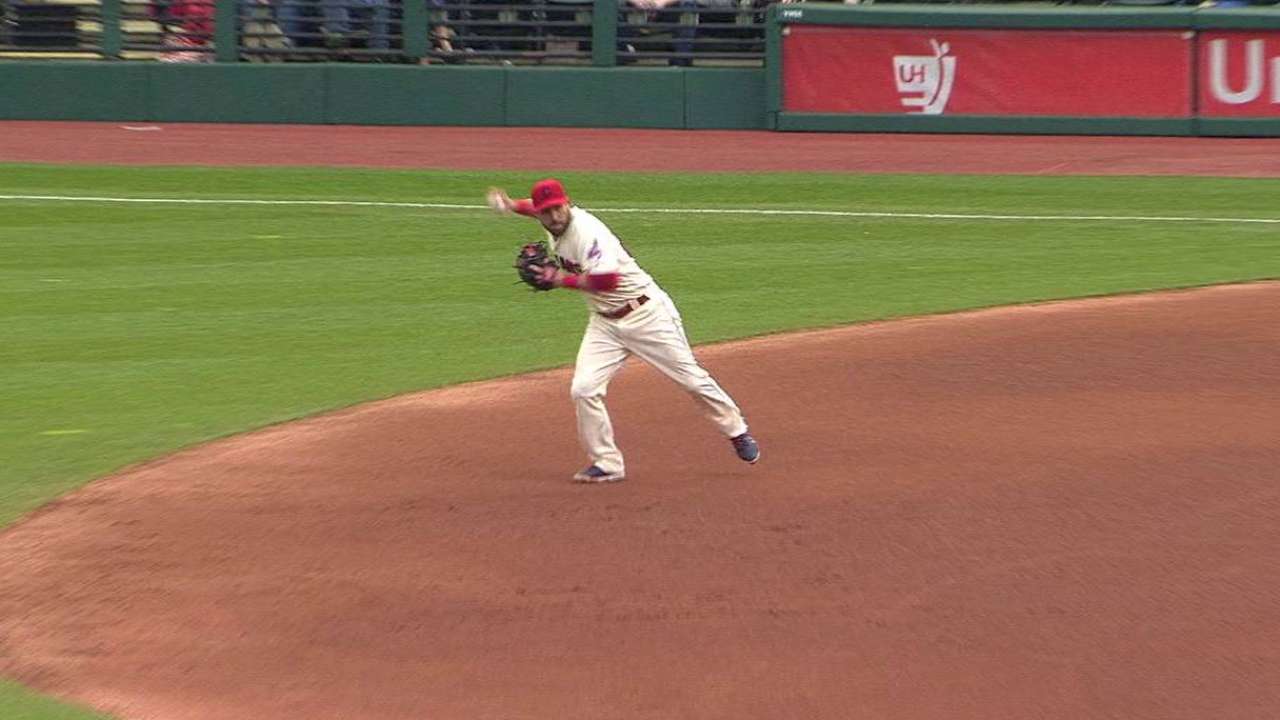 CLEVELAND -- After starting Kendrys Morales off with consecutive outside changeups, Indians starter Cody Anderson began thinking two pitches ahead. First, he would send a cutter low and inside to the Royals' designated hitter, setting up the following offering.
Anderson never reached that next stage during this first-inning battle in Saturday's 7-0 loss to Kansas City. Morales dropped the head of the bat on the cut fastball with a short, powerful swing, and the baseball rocketed over the right-field stands and bounced into the main concourse.
Just like that, Morales put Anderson and the Tribe in a 3-0 hole, and the pitcher's early-season problems persisted in his first outing back from Triple-A.
"He tried to bust him with a cutter in," Indians manager Terry Francona said. "He hit it a long way. That was an 0-2, three-run home run that hurt."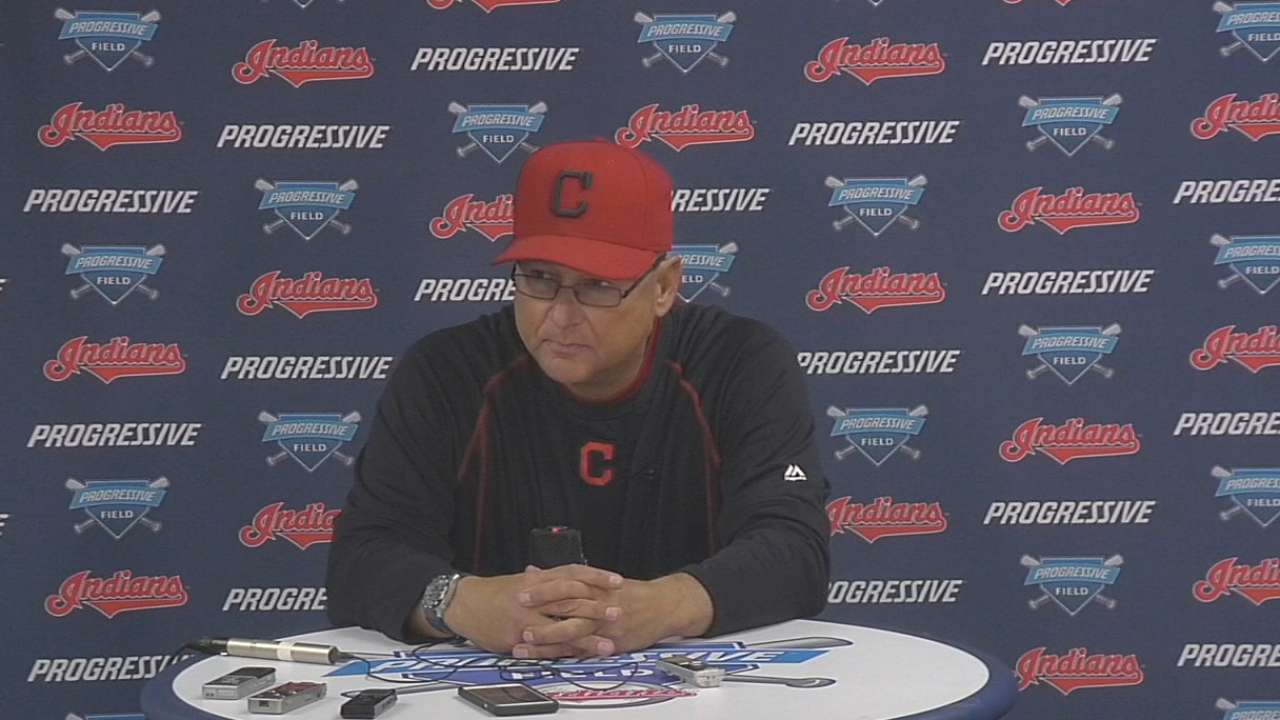 On the surface, Anderson's final line looks like more of the same issues, considering he surrendered four runs on six hits in five innings. In taking a closer look at his performance, there was improvement over the previous three outings that warranted the one-start stint at Columbus. Anderson was sent to the Minors for a spell to work on a mechanical flaw, and he showed strides on Saturday.
The issue in April for Anderson (0-2, 7.56 ERA) stemmed from closing off his delivery too much with his landing foot. It created a chain reaction that led to diminished velocity, elevated pitches and a lack of downward movement on his pitches. That combination contributed to an uncharacteristically high home run rate (six allowed in the 20 innings prior to the stop at Triple-A).
That 0-2 mistake to Morales aside, pitching coach Mickey Callaway saw better results.
"I thought it was better," Callaway said. "Obviously, 0-2 cutter, trying to go in deep on the lefty early in the game and we didn't execute. So, [we're] down, 3-0, really quick. I thought he battled the rest of the game and did a pretty good job. Overall, we're encouraged by what we saw. And [it's a] good learning lesson for him. Trying to throw a cutter in -- his third best pitch -- to a pretty good hitter that hits it everywhere."
Cody Anderson sent a cutter (3-run HR) inside to Morales in the 1st. Right into his hot zone. pic.twitter.com/sinzTipFSD

— Jordan Bastian (@MLBastian) May 7, 2016
The two hits that preceded Morales' homer consisted of a bloop single to left field by Lorenzo Cain and a ground-ball single to right from Eric Hosmer. Anderson also gave up an RBI double in the fifth inning to Jarrod Dyson. Throughout the game, Anderson generated more weak contact than he had throughout April. Evidence of that can be found in the nine outs he created via ground balls, including a pair of double plays.
During his first four starts of the season, Anderson generated 10.4 outs via grounder per nine innings, compared to a 16.2 rate on Saturday. Against Kansas City, Anderson averaged 94.9 mph on his fastball and topped out at 97 mph, showing the kind of life he displayed on his pitches in Spring Training.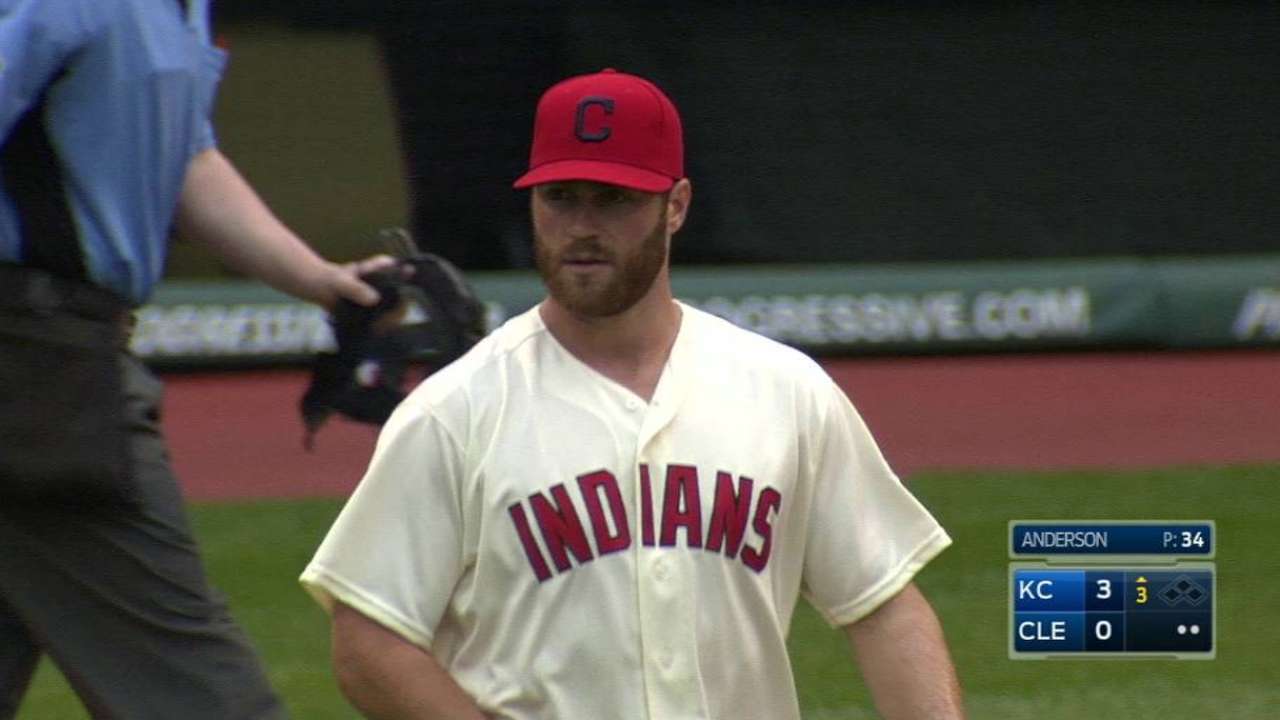 "I was starting to get some of that weaker contact and some of those different swings, which is huge," said Anderson, who left after 69 pitches due to cramping in his legs. "I was getting some ground balls. Predominantly, they were hitting the ball on the ground, so that's something to build off and keep moving forward."
Those are the kinds of things Cleveland will continue to emphasize with Anderson, too.
"That's what we'll talk about," Callaway said. "Sometimes, it's easy to start spinning out there, especially when things aren't quiet going your way. You can get caught up in, 'Oh no, things went bad again.' We're going to make sure we stress the good parts and the good adjustments he made and go from there."
That starts with the mistake Anderson made against Morales.
"I was just trying to go in, in off the plate, with a cutter. And he got to it before it cut," Anderson said. "Obviously, I don't ever want to go out there and put my team in a hole, especially against a pitcher like [Ian] Kennedy. That's just not how you win ballgames. I'll take that loss."
Jordan Bastian has covered the Indians for MLB.com since 2011, and previously covered the Blue Jays from 2006-10. Read his blog, Major League Bastian, follow him on Twitter @MLBastian and listen to his podcast. This story was not subject to the approval of Major League Baseball or its clubs.