Gray shows more maturity with each start
Rockies righty still in search of first Major League win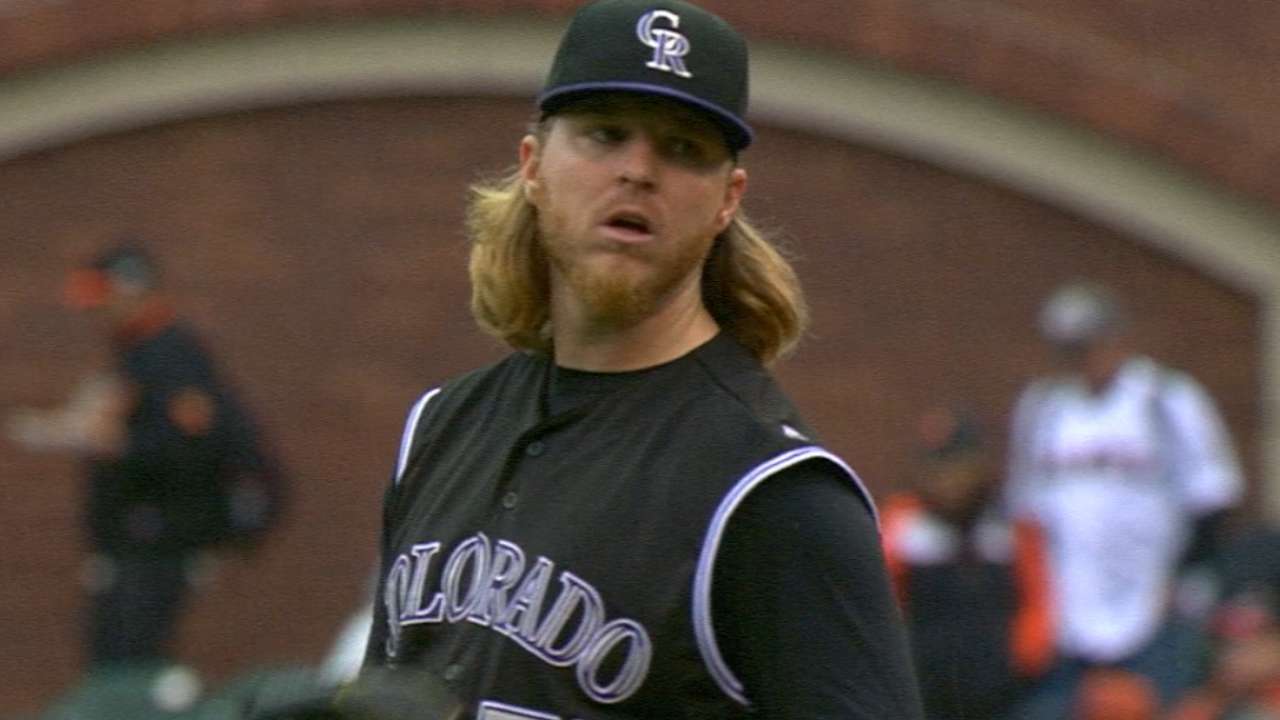 SAN FRANCISCO -- Rockies rookie right-hander Jon Gray decided Saturday he doesn't have to always be the talented guy whose inexperience bites him.
By using his slider and curveball effectively from the beginning, Gray schooled the Giants by holding them to one hit, with five strikeouts against two walks, in seven scoreless innings. As his luck would have it, Gray's work didn't earn him a victory -- the Rockies lost, 2-1, in 13 innings.
But Gray's last two outings have graded out to A-plus, even though he still doesn't have a W beside his name after 13 Major League starts. Counting a galling 2-1 loss to the Padres earlier this road trip, Gray has retired 35 of the 39 batters he has faced with only one advancing beyond first base.
After sitting out the early weeks with an abdominal strain, Gray had an up-and-down no-decision against the Dodgers in his first start and was beaten by the Pirates in his second, but the games against the Giants and Padres show why the Rockies made him the third overall choice in the 2013 MLB Draft.
"I think the confidence does carry over, and I'm excited for that," Gray said. "It was a rough start, but I didn't lose my faith."
Gray made nine starts last season, when the Rockies clamped down on innings and pitches and merely wanted him to get used to the Majors. Now he is 13 games into his career without a win. But with one run scored in his support in his last 17 innings, the result has been beyond his control. However, hitters have been under his spell.
"It looked a lot like his last outing -- an explosive fastball and a really good slider, and he mixed in the curveball," Rockies manager Walt Weiss said. "Another outstanding outing."
Gray's best chance always has been with his fastball, and he touched 96 mph Saturday. But Gray broke off a 76-mph curveball -- a pitch he adopted during the offseason -- on his second pitch of the game and kept mixing that and his slider to a degree not seen previously in the Majors.
"We knew right away we were going to come out and throw everything," Gray said. "We weren't going to try to wait until the second or third time up to show slider or curveball."
Brandon Belt drew a one-out walk in the second, but Gray worked Hunter Pence into a double play. The closest he came to trouble occurred in the fourth, when Denard Span led off with a single and advanced to third on two grounders before Gray struck out Buster Posey on a bouncing 2-2 slider.
With Rockies nemesis Johnny Cueto pitching for the Giants, the Rockies needed Gray to dominate. Cueto went 8 1/3 innings and extended his shutout streak against the Rockies to 18 1/3, but Gray kept pace.
"I'm just glad I can be a guy that my teammates want out there," Gray said. "I was really proud about that."
Thomas Harding has covered the Rockies since 2000, and for MLB.com since 2002. Follow him on Twitter @harding_at_mlb, listen to podcasts and like his Facebook page. This story was not subject to the approval of Major League Baseball or its clubs.