Twins reinforce 'pen as Escobar lands on DL
Dean, Kintzler, Polanco called up; Milone to Minors; Fien claimed by Dodgers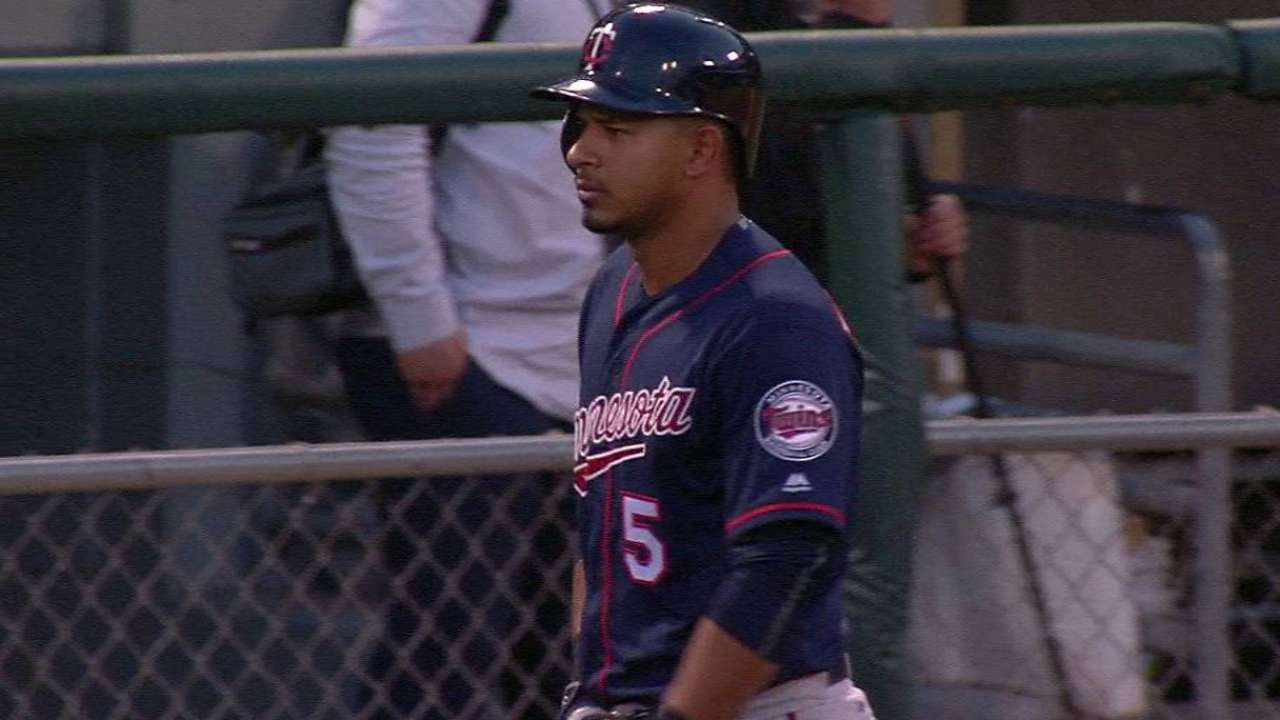 CHICAGO -- In case Friday's bevy of roster moves didn't make the atmosphere in the Twins' clubhouse tense enough, manager Paul Molitor also had to go through the night knowing two of his bullpen arms were on waivers and likely on the move.
Those moves came Saturday. Right-hander Casey Fien was claimed by the Dodgers, while left-hander Tommy Milone cleared waivers and was outrighted to Triple-A Rochester.
The bullpen reinforcements come in the form of left-hander Pat Dean and right-hander Brandon Kintzler, both promoted from Triple-A.
The Twins also moved shortstop Eduardo Escobar to the 15-day disabled list after he suffered a left groin strain in Friday's 10-4 loss to the White Sox. His spot was filled by infielder Jorge Polanco, who will make his third Major League stint already this season. He is ranked as the Twins' No. 5 prospect by MLBPipeline.com.
"There was an awkwardness about the day yesterday that was uncomfortable for me," Molitor said. "You have relationships, at least you try to, with your players. And because of the circumstances, you're a little bit limited on how you can address those things until there's clarification on where it's going to go. So I tried to express that to both those guys today -- it was a hard day for everybody that was involved."
In 23 1/3 innings, Milone had a 5.79 ERA. And though Milone could rejoin the Twins at some point, Fien is gone for good despite four-plus productive seasons with the club.
Last season, Fien threw 63 1/3 innings with a 3.55 ERA. This season, his ERA was 7.90 through 13 2/3.
"He's pitched really well for this team," Molitor said. "I'm glad he's getting an opportunity to go somewhere and maybe be a contributor to a team."
Dean has spent his Minor League career as a starter and was 1-3 with a 3.00 ERA in Rochester. He will take over Milone's role as long reliever.
Kintzler will likely be a two-inning middle reliever, with his power sinker serving as an asset for the Twins' bullpen.
Polanco was slotted in Saturday's lineup at second base, and Eduardo Nunez is likely to assume the primary shortstop duties for now. Nunez, once a prime contender to succeed Derek Jeter with the Yankees, was hitting .371 in 70 at-bats this season.
Worth noting
• Brian Dozier was out of the lineup for a second consecutive day Saturday as he deals with right hamstring tightness. Molitor said he considered playing Dozier at DH but opted for caution instead.
• Joe Mauer was supposed to have a planned day off Saturday, and Molitor said it had nothing to do with his 28-game on-base streak ending with an 0-for-4 performance Friday. However, Mauer was called into action in the first inning, taking over for Byung Ho Park at first base. Park was hit by a pitch near his right knee in his first at-bat against White Sox lefty Chris Sale.
• The complete prognosis on Escobar's injury remains unclear. "I don't have a way to measure," Molitor said. "I haven't been given any indication about optimism in terms of 15 days being enough. We'll just have to see how it goes the first couple of days."
Cody Stavenhagen is a reporter for MLB.com based in Chicago and covered the Twins on Saturday. This story was not subject to the approval of Major League Baseball or its clubs.