Infielders make highlight-reel plays in extras
Defense from Panik, Duffy keeps Giants in game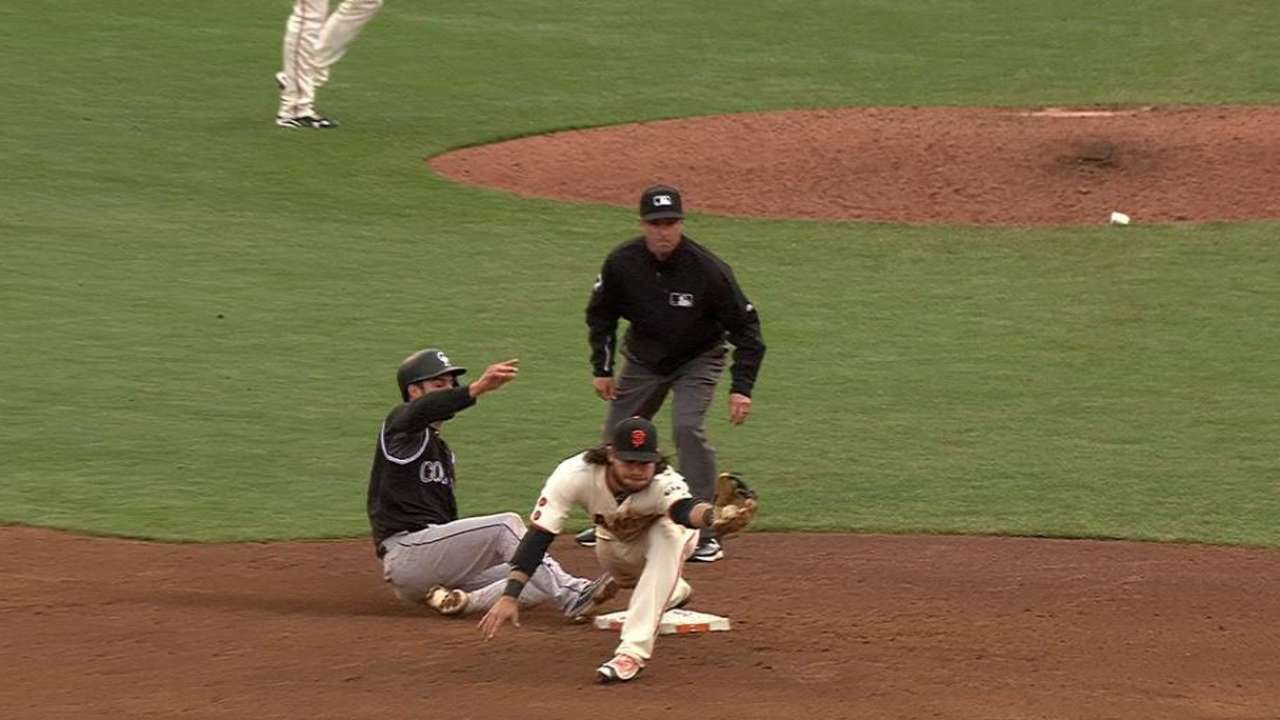 SAN FRANCISCO -- Most of the sellout crowd of 41,590 at AT&T Park stayed for all 13 innings to watch the Giants' 2-1 win against the Rockies on Saturday. In addition to Matt Duffy's walk-off double, fans saw two special defensive plays.
Third baseman Duffy made a terrific near-basket catch over his head to save Carlos Gonzalez' blooper down the left-field line from becoming a double with one out in the 11th and the game tied, 1-1.
"That was a very important play to keep Carlos Gonzalez from getting on and keeping them from getting close to scoring," left fielder Gregor Blanco said. "We communicated well on that one."
The second defensive highlight in extra innings, by second baseman Joe Panik, needs some superlatives in order to communicate its improbability. "Kareem hook" and "one of the best plays I've seen" were common after the game.
With two outs in the 13th inning and Nolan Arenado on first, Gerardo Parra grounded to his right and Panik dove to his right with all of his body on the outfield grass. Panik made a no-look hook throw while on his stomach to second. Parra was called safe, but the Giants challenged and the call was overturned, revving up the crowd.
Panik compared the play to a similarly acrobatic one he made in the 2014 World Series against the Royals, but that one was from a spot between second base and the outfield grass, albeit while throwing the ball with his glove hand.
"Obviously the situation of the World Series is a lot bigger," Panik said.
"[On Saturday] I felt that was a lot different, just because the distance I had to toss that ball and that was kind of a no-look. I knew Parra was running and I wouldn't be able to get him. So my only shot was to just to try to get rid of it and do a little Kareem [Abdul-Jabbar] hook shot. Yeah, for me I would say it was more difficult just because of the distance I had to throw the ball."
The Giants were amazed yet again.
"That play by Panik -- I didn't even think he was going to be able to do it in the position he was in laying on the ground," Duffy said. "I didn't even think he was going to be able to get a throw off, let alone an out. That's one of the better plays I've ever seen, especially in person."
Added Blanco: "One of the best I've ever seen."
In the bottom half of the inning, Duffy recorded his second career walk-off, almost one year to the day after his walk-off on May 10, 2015, against Miami. Duffy felt like Panik's play was a shot in the arm in the in the bottom half, which was set up with back-to-back one-out walks before Duffy's walk-off double.
"When you get into an extra-inning game, it's really easy for things to get in a lull," Duffy said. "But that play by [Panik] really kind of pumped some life back into us and back into the stadium That was huge because no one really has momentum at that point. That kind of shifts it into our dugout."
Willie Bans is a contributor to MLB.com based in the Bay Area. This story was not subject to the approval of Major League Baseball or its clubs.