Maddon: Wrigley 'like no other place'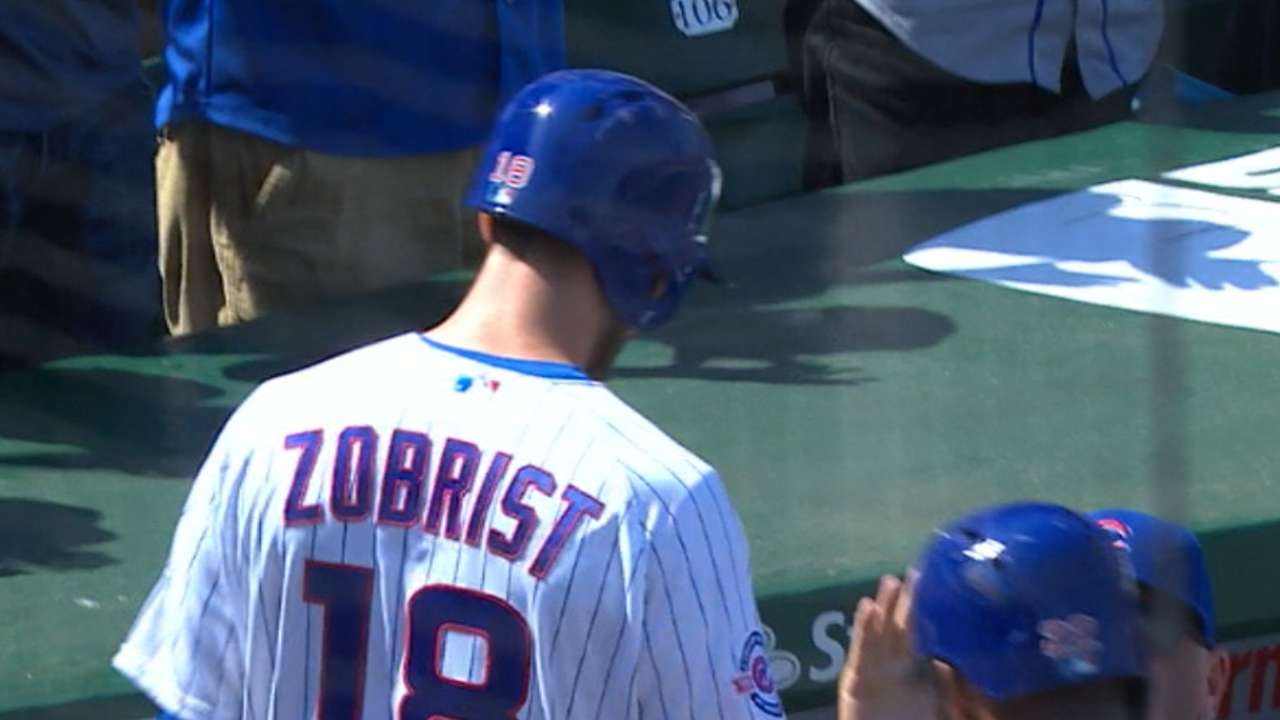 CHICAGO -- Former Cubs manager Don Zimmer used to talk about Wrigley Field I and Wrigley Field II, saying that the ballpark changes dramatically depending on the weather, especially the wind. A perfect example is the difference between Friday's and Saturday's conditions. On Friday the wind was blowing out, which is more favorable for hitters. On Saturday the wind was blowing in.
"Going from yesterday to today, you expect an entirely different game," skipper Joe Maddon said on Saturday. "It's like no other place. There's no other ballpark I've been involved with anywhere, anywhere, that can change so dramatically from day to day. That's what it is, and it's a beautiful thing."
The Cubs have emphasized the importance of making contact since Spring Training, which works no matter which way the wind is blowing, Maddon said.
"You can still puncture the wind once in a while, but you've got to be able to move the baseball and force the defense to play and execute, and I think we've done that," Maddon said. "That's a part of what we got done in Spring Training. That's something you'd want to continue moving forward. It's definitely a different thought process."
Maddon's only experience at Wrigley before he took the job with the Cubs was a three-game Interleague series when he was managing the Rays.
"I just thought it was a small ballpark and the ball flew out easily," he said. "That first game [with the Rays], I was astonished. Some balls were really well hit and barely got to the warning track."
• Saturday was a day of rest for catcher Miguel Montero, who is on the disabled list with stiffness in his lower back. He is expected to increase his hitting on Sunday.
"He's getting better," Maddon said. "I don't have the finish line in sight yet, but he's doing better."
• Does it matter where Kris Bryant plays? Entering Saturday, Bryant was batting .304 when he starts at third base and .237 when he starts in left field. Maddon said the difference may be the matchups. Bryant starts in the outfield against some right-handed pitchers in order to get the left-handed-hitting Tommy La Stella in the lineup.
"Maybe it's the fact that Tommy is in the lineup, and there's a difficult righty who [Bryant is] facing on those days when he's in the outfield compared to when he's not," Maddon said.
• Even though the Cubs have won 22 games, closer Hector Rondon has had just five save opportunities. So far he's 5-for-5; Maddon said that he needs to make sure Rondon gets enough work to stay sharp. Rondon has struck out 17 of the 35 batters he's faced.
"My take on Hector is the more you pitch him, the better he throws," Maddon said. "There's that fine line between resting someone and giving them enough work to be sharp. With him you have to be aware of that. ... He looks much sharper when he plays on a consistent basis."
• Shane Victorino, limited to four games this spring because of an injury, made his debut with Triple-A Iowa on Friday and hit a double. Victorino has been rehabbing a strained left calf at the Cubs' complex in Mesa, Ariz.
Victorino, 35, who signed a Minor League contract with the Cubs on Feb. 26, was limited to 71 games last season with the Red Sox and Angels because of injuries.
Carrie Muskat has covered the Cubs since 1987, and for MLB.com since 2001. She writes a blog, Muskat Ramblings. You can follow her on Twitter @CarrieMuskat and listen to her podcast. This story was not subject to the approval of Major League Baseball or its clubs.