Taylor staying positive through struggles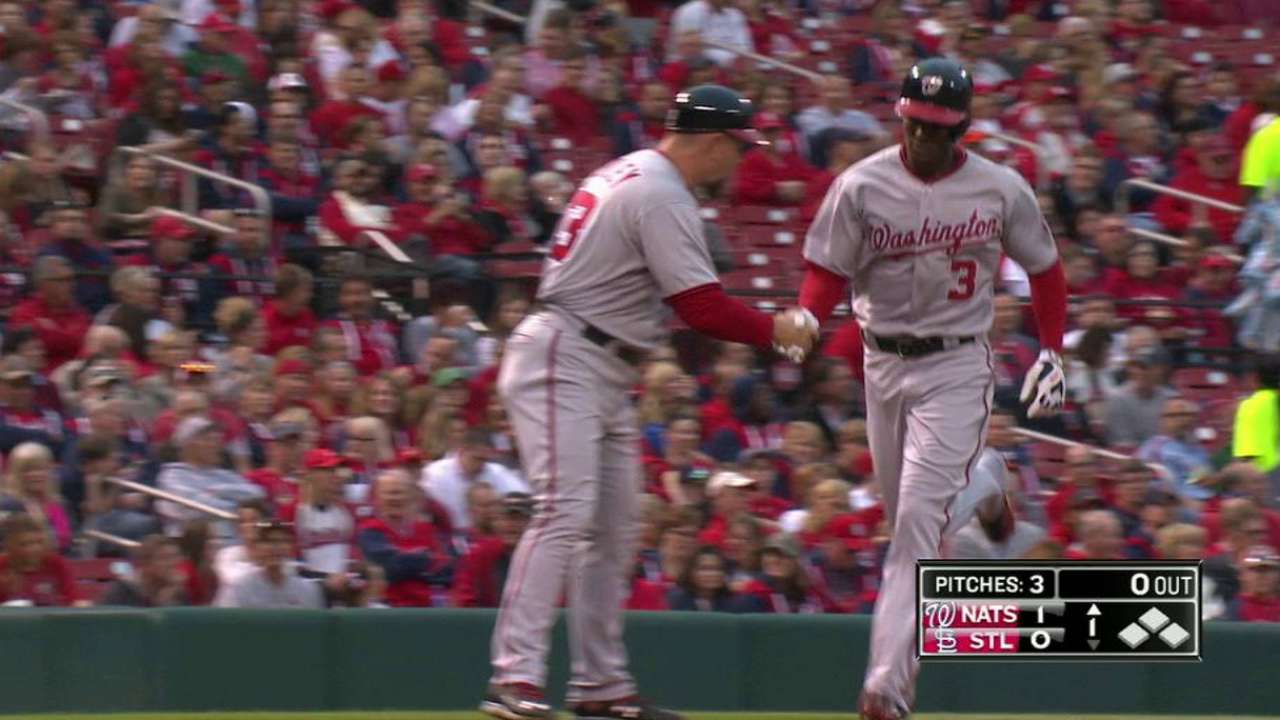 CHICAGO -- Spring Training stats are often inconsequential, but Michael Taylor was the Nationals' hottest hitter in camp, batting .453/.491/.849 with five home runs, leading fans to clamor for him to be in the starting lineup. Then Ben Revere landed on the disabled list after sustaining an injury on Opening Day, catapulting Taylor into the role of starting center fielder and leadoff hitter.
However, Taylor has struggled mightily at the plate. Through the first 25 games, he is hitting .186/.222/.304 with 32 strikeouts while swinging at too many pitches outside the strike zone. When Revere returned from the DL on Friday, Taylor was sent to the bench as the fourth outfielder, his chance to cement the starting role having slipped away.
"It teaches you perseverance," Taylor said of his slow start. "There's a ton of things that you learn just in going through it, and the hardest part is not being able to help your team and letting guys down. But the guys around me have picked me up in situations and off the field and things like that. That definitely makes it a lot easier."
The role of fourth outfielder is what the Nationals had originally intended for Taylor, although manager Dusty Baker has said that he will find plenty of opportunities for him to receive at-bats. Perhaps being on the bench could ease the pressure and allow Taylor to get comfortable at the plate, but not having consistent at-bats could make it difficult for him to ever get into a rhythm.
"Everybody wants to play," Baker said. "If anything, there's going to be tension, because you're seeing your year kind of go by and you're still on the Interstate, so to speak. If anything, you've got to wait your turn because Mike, he had a heck of an opportunity to take the job, because there's a lot of people that lost jobs because of injury. Didn't happen, so we've got to wait until the next opportunity."
The Nationals are still invested in Taylor, who is still only 25 and once one of their top prospects. Taylor has received help from a variety of places, from Baker to hitting coach Rick Schu to assistant hitting coach Jacque Jones. Baker even had Taylor sit next to second baseman Daniel Murphy, who is hitting .406, on the bench during a recent day off for both players, so they could talk about hitting and approach at the plate.
"When you're not going good, that's when I think you learn the most, trying to snap out of it," Taylor said. "Because during the season, it's going to be ups and downs. It's about how fast you can get out of it. When you're not feeling good, you have to learn how to get the job done."
Taylor will not change anything about his approach, and says that he has to prepare the same way whether he gets one at-bat or is asked to serve as a pinch-runner. He has stayed positive through the past month, a trait he learned through struggles in the Minor Leagues and, in part, through his faith.
"It's baseball. You're not going to have the best week in the world, can't go out and get a hit every time and make every play," said third baseman Anthony Rendon, one of Taylor's closet friends on the team. "I think he understands that. He stays positive throughout this whole process. He knows how the game works, and he'll have another opportunity. He's ready for it."
Jamal Collier covers the Nationals for MLB.com. Follow him on Twitter at @jamalcollier. This story was not subject to the approval of Major League Baseball or its clubs.