Griffin exits early with right shoulder stiffness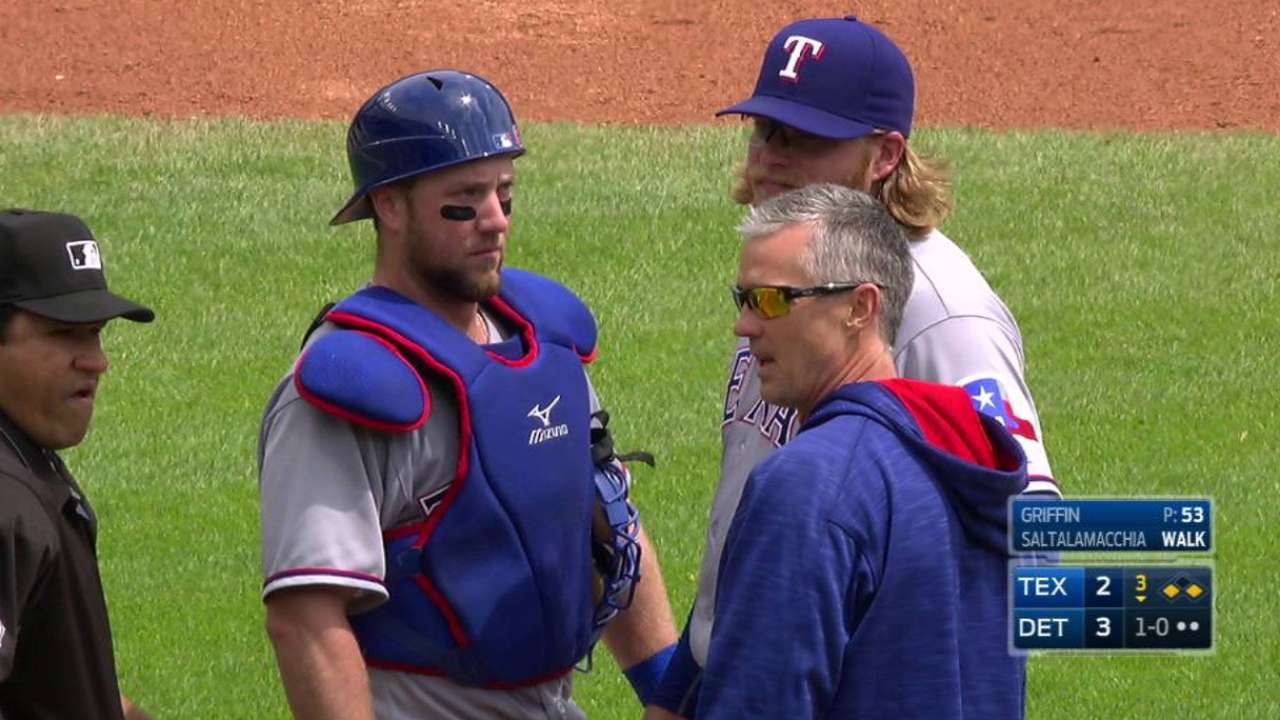 DETROIT -- Right-handed starter A.J. Griffin exited the Rangers' 10-5 win over the Tigers on Saturday in the third inning after experiencing stiffness in his right shoulder. The Rangers will wait until they get back to Texas before making any further decisions.
"I feel alright," Griffin said after the game. "The shoulder's a little sore right now, but I had some tightness out there. [I] couldn't get extended and couldn't get the pitches to do what I wanted to do. Fastball [velocity] dropped a little, so it was time to shut it down for the day."
Griffin didn't begin to feel a discomfort in his shoulder until he was warming up for the third. He got two quick outs, but then allowed a single and two walks to load the bases. Eight of his last 10 pitches to that point were outside the strike zone, and the command he exhibited earlier had eroded.
Pitching coach Brad Holman paid a visit to the mound to get a sense of where Griffin was when it became clear he was losing steam. A first-pitch slider to the next batter, Nick Castellanos, dropped for a two-run single, and Griffin threw one pitch to Jarrod Saltalamacchia before catcher Bryan Holaday noticed something amiss with his pitcher. After a quick meeting on the mound, Griffin was pulled, replaced by right-hander Anthony Ranaudo.
"I had a little shoulder hiccup last year, but I feel like I let it get to a further-on point last year," Griffin said. "Tried to pitch through some stuff [in 2015], but this year it doesn't feel as bad. I felt a little twinge last year, but this year I didn't feel anything like that."
Much of Griffin's 2015 season was spent recovering from Tommy John surgery performed in 2014. He'd initially gone on the DL for flexor tendinitis that spring. Coming into Saturday's game, this year he's held a 3.30 FIP across five starts and averaging 7.55 strikeouts per nine innings.
Saturday's outing marked Griffin's shortest start of the year and is a tie for the second-shortest start of his career dating back to Oct. 3, 2012. The shortest of his career remains the 1 2/3 innings he lasted on Aug. 4 of the same season.
Catherine Slonksnis is a contributor to MLB.com based in Detroit. This story was not subject to the approval of Major League Baseball or its clubs.