Freese makes first return to St. Louis since exit
Former Cardinals third baseman played crucial role in team's 2011 championship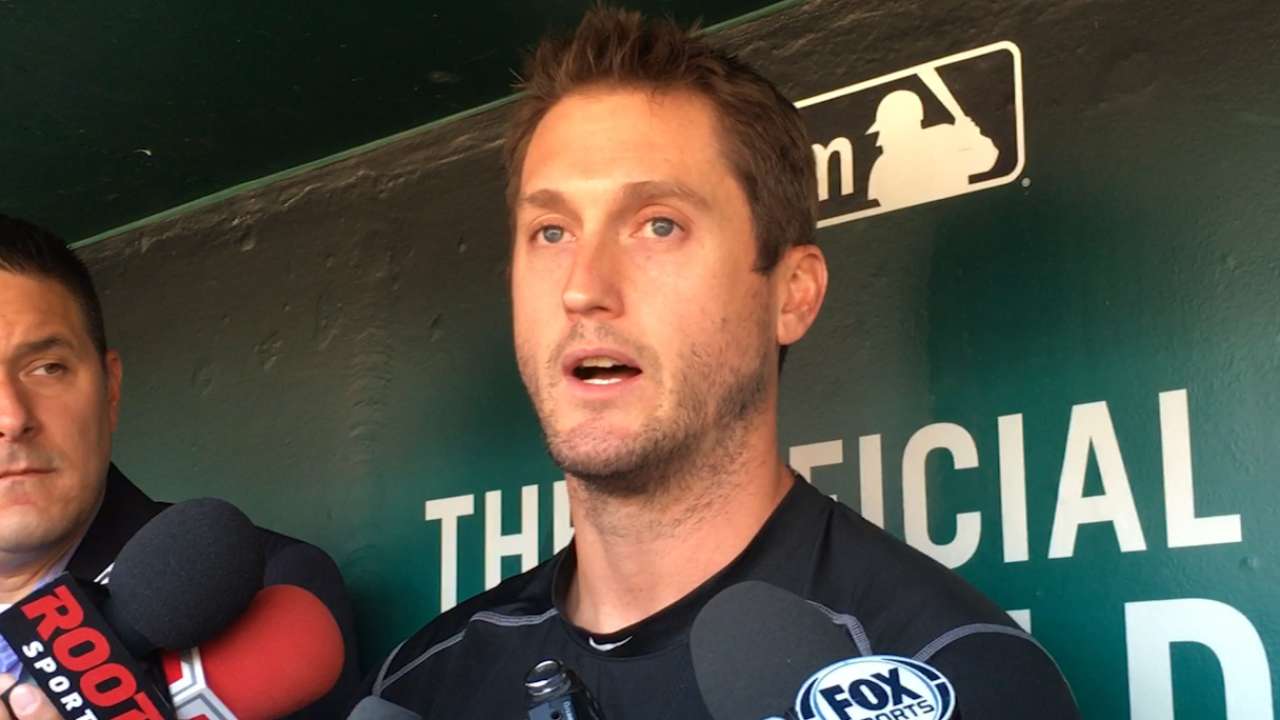 ST. LOUIS -- David Freese woke up Friday morning in his home a few blocks north of Busch Stadium and made the short ride down to the ballpark, the same routine he kept for years with the Cardinals.
But this trip was different for Freese. He found his locker in the visitor's clubhouse. The longtime Cardinal and 2011 World Series hero returned to his hometown ballpark as a Pirate, his first time here as a visiting player.
"Coming back here has always been in my mind," Freese said. "To be on a team in the [National League] Central, a rival, a team that has done some great things the last handful of years, it's going to be electric. I'm glad to be a Pirate walking in here."
Freese, who grew up in nearby Wildwood, Mo., made his Major League debut in 2009 and gained national fame for his heroics in the Cardinals' 2011 World Series victory. The following year, he was named to the NL All-Star team. After the 2013 season, they traded him to the Angels.
"There's nothing sad about getting traded," Freese said. "I knew I'd miss everybody, but it was good for me. It was a good move for the Cardinals. ... I'm grateful for how much the Cardinals have cared for me over the years."
Freese remains close with a number of his former teammates and manager Mike Matheny. How has he changed since his time in St. Louis?
"I definitely live in the moment more," Freese said. "Even [Pirates manager] Clint Hurdle has told me, 'If you've got one foot in yesterday and one foot in tomorrow, you're [wasting] today.' I've lived a lot of my life like that.
"Honestly, I loved every second of being a Cardinal. But it was a lot, especially after '11. I was older, but I was still kind of a kid in a lot of ways. Just kind of getting away from it, looking at yourself in the mirror and understanding life, what the important things are, what it's all about, that was huge for me."
Freese learned more about himself this offseason while waiting for a job. He signed a one-year deal with the Pirates in mid-March, and he was their everyday third baseman for the first month of the season.
Perhaps fittingly, as Freese was speaking in the Pirates dugout, Jung Ho Kang was preparing for his season debut. Freese will still play plenty -- he's expected to start Sunday's series finale -- but Kang's return will force him into a lesser role.
Hurdle recently reminded Freese of what Kang's impending return would mean for him.
"I kind of wanted to surprise him with the fact, just to let him know that we're revisiting the hard part of this deal that we've talked about for a while," Hurdle said. "He was like, 'I get it. Good, I'll be ready. However you need me, I'll be ready for the guys.'
"He's been all professional with everything he's done across the board since he's been here."
Adam Berry has covered the Pirates for MLB.com since 2015. Follow him on Twitter at @adamdberry. This story was not subject to the approval of Major League Baseball or its clubs.